 News
Shakespears Sister / Singles Party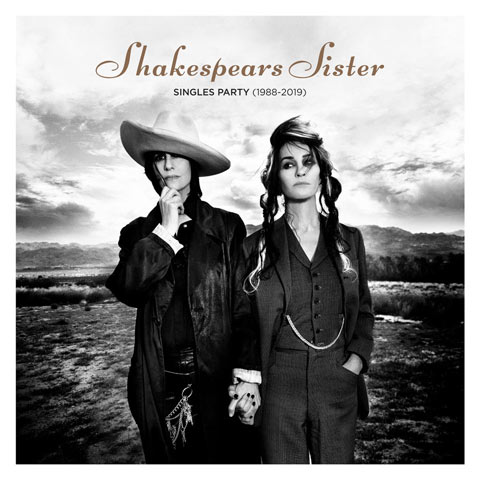 Duo reconvene after over 25 years. Signed CD sets available.
Shakespears Sister are back. Back. BACK!
Marcella Detroit and Siobhan Fahey have patched up their differences and about to hit Rock's highway later this year for a short tour.

The duo have also announced details of a compilation entitled Singles Party (1988 – 2019), which rounds up all their 45s together as well as featuring two new numbers 'All The Queen's Horses' and 'C U Next Tuesday'. A two-CD deluxe edition features an array of remixes, rarities and bonus tracks.
Originally forming in 1988 after Siobhan fled Bananarama, Shakespears Sister racked up a number of hits across the end of the eighties/ early nineties, including 'You're History', the eight-weeks-at-number-one smash 'Stay' and accompanying album Hormonally Yours. However it all went a bit sour went Siobhan announced cheerio to Detroit at an awards ceremony over 25 years ago, which was news to Detroit at the time, leading to a somewhat undignified separation. Siobhan occasionally carried on with the name in later years, but both her and Detroit finally sat down with each other last year and decided to bury the hatchet and resume operations again.
The duo play a number of UK dates later this year and you can gain access to a ticket pre-sale if you order Singles Party through their official store. Initial orders for both standard and deluxe 2CD come with a signed photograph, so that's perhaps an even better incentive.
Singles Party (1988-2019) is released via London Records on 19 July 2019
Compare prices and pre-order
Shakespears Sister
Singles Party - 2CD deluxe
Compare prices and pre-order
Shakespears Sister
Singles Party - standard CD


2CD deluxe of Singles Party
Singles Party (1988-2019)
CD1
1 Break My Heart (Remastered)
2 Heroine (Remastered)
3 You're History (Remastered)
4 Run Silent (Remastered)
5 Dirty Mind (Remastered)
6 Stay (Remastered)
7 I Don't Care (Remastered)
8 Goodbye Cruel World (Remastered)
9 Hello (Turn Your Radio On) (Remastered)
10 My 16th Apology (Remastered)
11 I Can Drive (Remastered)
12 Bitter Pill (Remastered)
13 Pulsatron (Remastered)
14 Bad Blood (Remastered)
15 It's a Trip (Remastered)
16 All The Queen's Horses
17 C U Next Tuesday
18 Stay [Acoustic Version] (Remastered)
CD2 *deluxe edition only
1 Cat Worship
2 You're History [Catz 'n Dogz Remix]
3 You Made Me Come to This [HMD Pulsatron Mix]
4 Pretty Boy (Remastered)
5 Mr Wrong (Remastered)
6 Remember My Name (Remastered)
7 Do I Scare You? (Remastered)
8 Excuse Me John (Remastered)
9 Singles Party (Remastered)
10 Heroine [Heavenly Mix] (Remastered)
11 Black Sky [The Black Dub] (Remastered)
12 Break My Heart [Shep Pettibone Dub] (Remastered)
13 Goodbye Cruel World [BTO Remix] (Remastered)
14 You're History [Brothers In Rhythm Remix] (Remastered)