 News
Be Bop Deluxe / Live! In The Air Age 16-disc box set
15CD+DVD super deluxe edition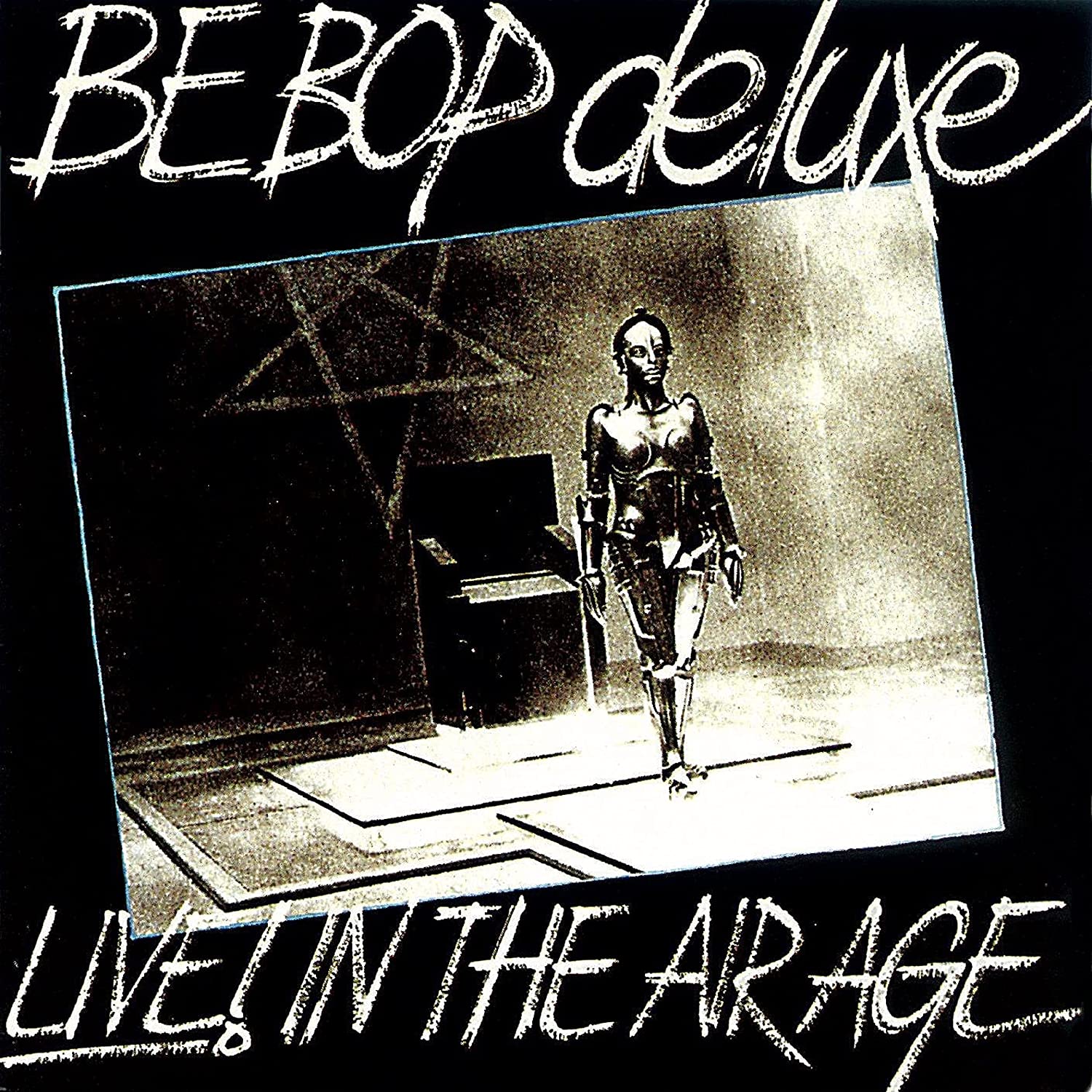 Estoteric Recordings will issue an enormous 15CD+DVD box set edition of Be Bop Deluxe's 1977 live album Live! In The Air Age.
This was the band's only live album and it was recorded on a series of dates in the UK in February and March 1977, on the Rolling Stones mobile unit with John Leckie supervising the location recordings.
Remarkably, all of the 24-track tapes multi-track tapes of all the shows recorded on this UK tour have survived. Esoteric are making the most of it, and for this new box set, each concert that was recorded is included in its entirety. These were newly mixed by Stephen W. Tayler, and all seven shows are presented here for the very first time.
This box set also adds a DVD (NTSC, region-free) of Star Rider In Concert which was first shown on TV in 1977 and is commercially issued her for the first time.
An illustrated 68-page book is also included, with plenty of previously unseen photographs and an essay of recollections by Bill Nelson. There are also postcards and a replica poster.
Live! In The Air Age is released on 27 August 2021 (a week later in the USA).
Compare prices and pre-order
Be Bop Deluxe
Live! In The Air Age 1970- 1973: 15cd/1dvd Limited Edition Boxed Set
Track listing
DISC ONE:
"LIVE! IN THE AIR AGE"
RE-MASTERED
1. LIFE IN THE AIR AGE
2. SHIPS IN THE NIGHT
3. PIECE OF MINE
4. FAIR EXCHANGE
5. SHINE
6. SISTER SEAGULL
7. MAID IN HEAVEN
8. MILL STREET JUNCTION
9. ADVENTURES IN A YORKSHIRE LANDSCAPE
10. BLAZING APOSTLES
BONUS TRACKS
11. STILL SHINING (BBC JOHN PEEL SESSION – JANUARY 1977)
12. MILL STREET JUNCTION (BBC JOHN PEEL SESSION – JANUARY 1977)
13. ADVENTURES IN A YORKSHIRE LANDSCAPE (BBC JOHN PEEL SESSION – JANUARY 1977)
DISC TWO:
LEICESTER – DE MONTFORT HALL
12TH FEBRUARY 1977
PREVIOUSLY UNRELEASED
1. INTRODUCTION – BLIMPS (LEICESTER 12.2.77)
2. LIFE IN THE AIR AGE (LEICESTER 12.2.77)
3. FAIR EXCHANGE (LEICESTER 12.2.77)
4. PIECE OF MINE (LEICESTER 12.2.77)
5. SISTER SEAGULL (LEICESTER 12.2.77)
6. MILL STREET JUNCTION (LEICESTER 12.2.77)
7. SHIPS IN THE NIGHT (LEICESTER 12.2.77)
8. SWANSONG (LEICESTER 12.2.77)
9. MAID IN HEAVEN (LEICESTER 12.2.77)
10. SHINE (LEICESTER 12.2.77)
11. ADVENTURES IN A YORKSHIRE LANDSCAPE (LEICESTER 12.2.77)
DISC THREE:
LEICESTER – DE MONTFORT HALL
12th FEBRUARY 1977
PREVIOUSLY UNRELEASED
1. BILL NELSON'S INTRODUCTION (LEICESTER 12.2.77)
2. TWILIGHT CAPERS (LEICESTER 12.2.77)
3. MODERN MUSIC SUITE (LEICESTER 12.2.77)
4. FORBIDDEN LOVERS (LEICESTER 12.2.77)
5. TERMINAL STREET (LEICESTER 12.2.77)
6. BLAZING APOSTLES (LEICESTER 12.2.77)
DISC FOUR:
LEEDS – GRAND THEATRE
13th FEBRUARY 1977
PREVIOUSLY UNRELEASED
1. INTRODUCTION – BLIMPS (LEEDS 13.2.77)
2. LIFE IN THE AIR AGE (LEEDS 13.2.77)
3. FAIR EXCHANGE (LEEDS 13.2.77)
4. PIECE OF MINE (LEEDS 13.2.77)
5. SISTER SEAGULL (LEEDS 13.2.77)
6. MILL STREET JUNCTION (LEEDS 13.2.77)
7. SHIPS IN THE NIGHT (LEEDS 13.2.77)
8. SWANSONG (LEEDS 13.2.77)
9. MAID IN HEAVEN (LEEDS 13.2.77)
10. SHINE (LEEDS 13.2.77)
11. ADVENTURES IN A YORKSHIRE LANDSCAPE (LEEDS 13.2.77)
DISC FIVE:
LEEDS – GRAND THEATRE
13th FEBRUARY 1977
PREVIOUSLY UNRELEASED
1. BILL NELSON'S INTRODUCTION (LEEDS 13.2.77)
2. TWILIGHT CAPERS (LEEDS 13.2.77)
3. MODERN MUSIC SUITE (LEEDS 13.2.77)
4. FORBIDDEN LOVERS (LEEDS 13.2.77)
5. TERMINAL STREET (LEEDS 13.2.77)
DISC SIX:
LEEDS – GRAND THEATRE
14th FEBRUARY 1977
PREVIOUSLY UNRELEASED
1. INTRODUCTION – BLIMPS (LEEDS 14.2.77)
2. LIFE IN THE AIR AGE (LEEDS 14.2.77)
3. FAIR EXCHANGE (LEEDS 14.2.77)
4. PIECE OF MINE (LEEDS 14.2.77)
5. SISTER SEAGULL (LEEDS 14.2.77)
6. MILL STREET JUNCTION (LEEDS 14.2.77)
7. SHIPS IN THE NIGHT (LEEDS 14.2.77)
8. SWANSONG (LEEDS 14.2.77)
9. MAID IN HEAVEN (LEEDS 14.2.77)
10. SHINE (LEEDS 14.2.77)
11. ADVENTURES IN A YORKSHIRE LANDSCAPE (LEEDS 14.2.77)
DISC SEVEN:
LEEDS – GRAND THEATRE
14th FEBRUARY 1977
PREVIOUSLY UNRELEASED
1. BILL NELSON'S INTRODUCTION (LEEDS 14.2.77)
2. TWILIGHT CAPERS (LEEDS 14.2.77)
3. MODERN MUSIC SUITE (LEEDS 14.2.77)
4. FORBIDDEN LOVERS (LEEDS 14.2.77)
5. TERMINAL STREET (LEEDS 14.2.77)
6. BLAZING APOSTLES (LEEDS 14.2.77)
DISC EIGHT:
LONDON – HAMMERSMITH ODEON
25th MARCH 1977
PREVIOUSLY UNRELEASED
1. INTRODUCTION – BLIMPS (LONDON 25.3.77)
2. LIFE IN THE AIR AGE (LONDON 25.3.77)
3. FAIR EXCHANGE (LONDON 25.3.77)
4. PIECE OF MINE (LONDON 25.3.77)
5. SISTER SEAGULL (LONDON 25.3.77)
6. MILL STREET JUNCTION (LONDON 25.3.77)
7. SHIPS IN THE NIGHT (LONDON 25.3.77)
8. SWANSONG (LONDON 25.3.77)
9. MAID IN HEAVEN (LONDON 25.3.77)
10. SHINE (LONDON 25.3.77)
11. ADVENTURES IN A YORKSHIRE LANDSCAPE (LONDON 25.3.77)
DISC NINE:
LONDON – HAMMERSMITH ODEON
25th MARCH 1977
PREVIOUSLY UNRELEASED
1. BILL NELSON'S INTRODUCTION (LONDON 25.3.77)
2. TWILIGHT CAPERS (LONDON 25.3.77)
3. MODERN MUSIC SUITE (LONDON 25.3.77)
4. FORBIDDEN LOVERS (LONDON 25.3.77)
5. TERMINAL STREET (LONDON 25.3.77)
6. BLAZING APOSTLES (LONDON 25.3.77)
DISC TEN:
LONDON – HAMMERSMITH ODEON
26th MARCH 1977
PREVIOUSLY UNRELEASED
1. INTRODUCTION – BLIMPS (LONDON 26.3.77)
2. LIFE IN THE AIR AGE (LONDON 26.3.77)
3. FAIR EXCHANGE (LONDON 26.3.77)
4. PIECE OF MINE (LONDON 26.3.77)
5. SISTER SEAGULL (LONDON 26.3.77)
6. MILL STREET JUNCTION (LONDON 26.3.77)
7. SHIPS IN THE NIGHT (LONDON 26.3.77)
8. SWANSONG (LONDON 26.3.77)
9. MAID IN HEAVEN (LONDON 26.3.77)
10. SHINE (LONDON 26.3.77)
11. ADVENTURES IN A YORKSHIRE LANDSCAPE (LONDON 26.3.77)
DISC ELEVEN:
LONDON – HAMMERSMITH ODEON
26th MARCH 1977
PREVIOUSLY UNRELEASED
1. BILL NELSON'S INTRODUCTION (LONDON 26.3.77)
2. TWILIGHT CAPERS (LONDON 26.3.77)
3. MODERN MUSIC SUITE (LONDON 26.3.77)
4. FORBIDDEN LOVERS (LONDON 26.3.77)
5. TERMINAL STREET (LONDON 26.3.77)
6. BLAZING APOSTLES (LONDON 26.3.77)
DISC TWELVE:
BRISTOL – COLSTON HALL
27th MARCH 1977
PREVIOUSLY UNRELEASED
1. INTRODUCTION – BLIMPS (BRISTOL 27.3.77)
2. LIFE IN THE AIR AGE (BRISTOL 27.3.77)
3. FAIR EXCHANGE (BRISTOL 27.3.77)
4. PIECE OF MINE (BRISTOL 27.3.77)
5. SISTER SEAGULL (BRISTOL 27.3.77)
6. MILL STREET JUNCTION (BRISTOL 27.3.77)
7. SHIPS IN THE NIGHT (BRISTOL 27.3.77)
8. SWANSONG (BRISTOL 27.3.77)
9. MAID IN HEAVEN (BRISTOL 27.3.77)
10. SHINE (BRISTOL 27.3.77)
11. ADVENTURES IN A YORKSHIRE LANDSCAPE (BRISTOL 27.3.77)
DISC THIRTEEN:
BRISTOL – COLSTON HALL
27th MARCH 1977
PREVIOUSLY UNRELEASED
1. BILL NELSON'S INTRODUCTION (BRISTOL 27.3.77)
2. TWILIGHT CAPERS (BRISTOL 27.3.77)
3. MODERN MUSIC SUITE (BRISTOL 27.3.77)
4. FORBIDDEN LOVERS (BRISTOL 27.3.77)
5. TERMINAL STREET (BRISTOL 27.3.77)
6. BLAZING APOSTLES (BRISTOL 27.3.77)
DISC FOURTEEN:
BOURNEMOUTH – WINTER GARDENS
28th MARCH 1977
PREVIOUSLY UNRELEASED
1. INTRODUCTION – BLIMPS (BOURNEMOUTH 28.3.77)
2. LIFE IN THE AIR AGE (BOURNEMOUTH 28.3.77)
3. FAIR EXCHANGE (BOURNEMOUTH 28.3.77)
4. PIECE OF MINE (BOURNEMOUTH 28.3.77)
5. SISTER SEAGULL (BOURNEMOUTH 28.3.77)
6. MILL STREET JUNCTION (BOURNEMOUTH 28.3.77)
7. SHIPS IN THE NIGHT (BOURNEMOUTH 28.3.77)
8. SWANSONG (BOURNEMOUTH 28.3.77)
9. MAID IN HEAVEN (BOURNEMOUTH 28.3.77)
10. SHINE (BOURNEMOUTH 28.3.77)
11. ADVENTURES IN A YORKSHIRE LANDSCAPE (BOURNEMOUTH 28.3.77)
DISC FIFTEEN:
BOURNEMOUTH – WINTER GARDENS
28th MARCH 1977
PREVIOUSLY UNRELEASED
1. BILL NELSON'S INTRODUCTION (BOURNEMOUTH 28.3.77)
2. TWILIGHT CAPERS (BOURNEMOUTH 28.3.77)
3. MODERN MUSIC SUITE (BOURNEMOUTH 28.3.77)
4. FORBIDDEN LOVERS (BOURNEMOUTH 28.3.77)
5. TERMINAL STREET (BOURNEMOUTH 28.3.77)
6. BLAZING APOSTLES (BOURNEMOUTH 28.3.77)
DISC SIXTEEN:
BE BOP DELUXE –
STAR RIDER IN CONCERT
PREVIOUSLY UNRELEASED
1. FAIR EXCHANGE (STAR RIDER IN CONCERT FILM)
2. SHIPS IN THE NIGHT (STAR RIDER IN CONCERT FILM)
3. MAID IN HEAVEN (STAR RIDER IN CONCERT FILM)
4. BRING BACK THE SPARK (STAR RIDER IN CONCERT FILM)
5. BLAZING APOSTLES (STAR RIDER IN CONCERT FILM)