 News
Belinda Carlisle / Gold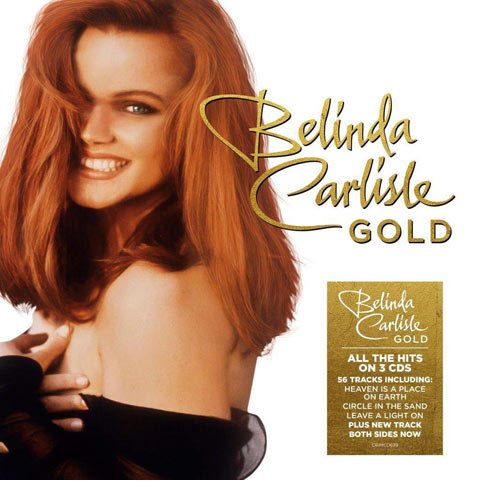 The signed Belinda Carlisle Runaway Horses box sets have now sold out, but if you didn't want one or perhaps didn't manage to secure one, the consolation prize is Gold, a new two-LP or 3CD Belinda best of also being issued by Demon.

The double vinyl offers 20 tracks and is pressed… wait for it… on gold coloured vinyl. The CD option is both cheaper (only £5.99) and more generous, offering three discs of hits and a massive 56 tracks, including one of the new tracks from the Runaway Horses box set – 'Both Sides Now'. What, as they say, is not to like.
Gold will be issued on 6 September 2019.
Compare prices and pre-order
Belinda Carlisle
Gold - 2LP coloured vinyl
Compare prices and pre-order
Belinda Carlisle
Gold 3CD set
Belinda Carlisle Gold 2LP vinyl
LP 1
1. Heaven is a Place on Earth
2. I Get Weak
3. Leave A Light On
4. Mad About You
5. Circle In The Sand
6. Runaway Horses
7. Summer Rain
8. I Feel Free
9. World Without You
10. Vision Of You
LP 2
1. We want the same thing
2. Do You Feel Like I Feel
3. Big Scary Animal
4. Lay Down Your Arms
5. Half The World
6. Live Your Life Be Free
7. Little Black Book
8. Love Never Dies
9. In Too Deep
10. La Luna
Belinda Carlisle Gold 3CD edition
Disc: 1
1. Heaven Is A Place On Earth
2. Leave A Light On
3. Mad About You
4. World Without You
5. Shades of Michelangelo
6. I Feel Free
7. Summer Rain
8. Shot In The Dark
9. Band Of Gold [featuring Freda Payne]
10. Deep Deep Ocean
11. Love Never Dies
12. Since You've Gone
13. La Luna
14. You're Nothing Without Me
15. Fool For Love
16. I Get Weak
17. Valentine
18. I Feel The Magic
19. Circle In the Sand
Disc: 2
1. (We Want) The Same Thing
2. Runaway Horses
3. Little Black Book
4. Vision of You
5. Love In The Key of C
6. Whatever It Takes
7. Light Of My Soul
8. A Prayer For Everyone
9. We Can Change
10. Should I Let You In?
11. World Of Love
12. Lay Down Your Arms
13. Love Revolution
14. I Still Love Him
15. Always Breaking My Heart
16. Adi Shakti
17. Nobody Owns Me
18. Do You Feel Like I Feel?
Disc: 3
1. Live Your Life Be Free
2. Half The World
3. In Too Deep
4. Where Love Hides
5. Goodbye Day
6. You Came Out Of Nowhere
7. Bonnie Et Clyde
8. Remember September
9. Too Much Water
10. Humee Hum Brahm Hum
11. Have You Ever Seen The Rain
12. Goodbye, Just Go
13. California
14. I Plead Insanity
15. Big Scary Animal
16. La Vie En Rose
17. All God's Children
18. Sun
19. Both Sides Now