 News
Black Sabbath / Paranoid box sets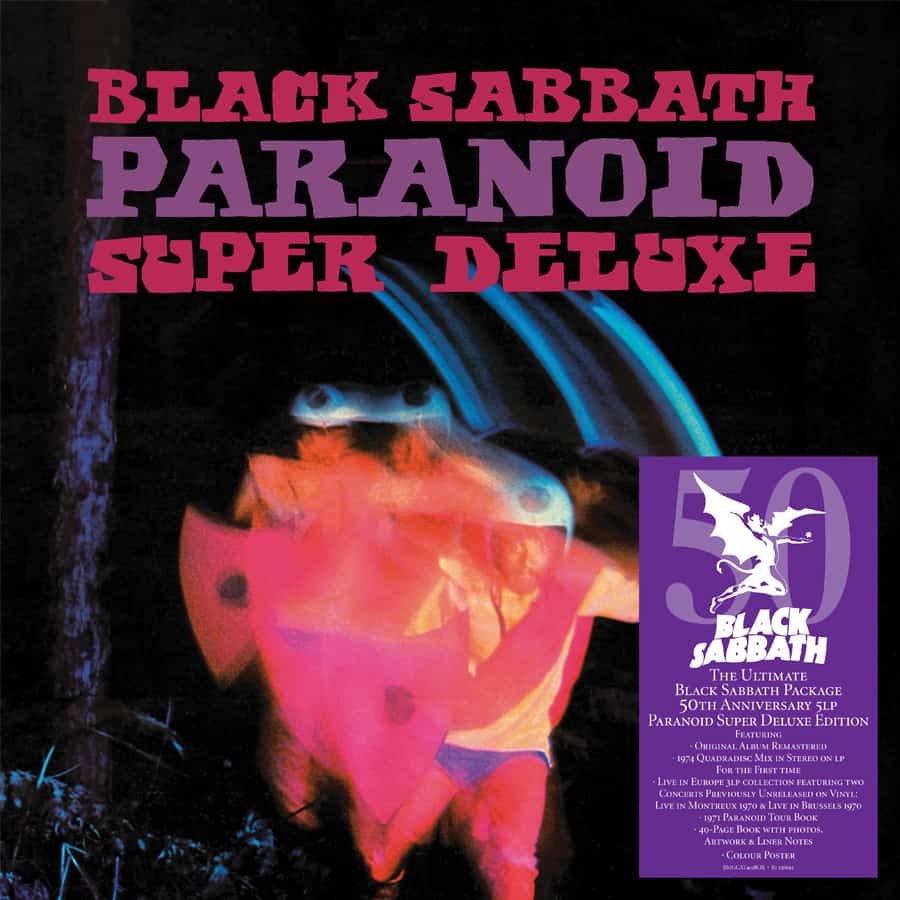 40th anniversary • 5LP vinyl box • 4CD set re-available
Black Sabbath's influential second album Paranoid will be reissued as vinyl and CD super deluxe box sets in October in celebration of the 40th anniversary.

Before you get too excited, the first thing to say is that the 4CD super deluxe is identical to the 2016 box set from Rhino. It includes the 1970 album, the 1974 Quad Mix folded down to stereo, plus two concerts from 1970: Brussels and Montreux. I still don't understand why this doesn't include the actual multi-channel Quad Mix on DVD from the 2009 CD+DVD deluxe edition. Weird. This comes with a 60-page hardcover book, a replica tour book and a poster.
What is new, is this box set on vinyl; it's the same content as on the CD set, but across five vinyl records. So LPs one and two are the album and the folded down Quad Mix, while the two live concerts are on vinyl for the first time across the remaining three records (one and a half sides each). The vinyl set also comes with a hardcover book (with extensive liner notes featuring interviews with all four band members, rare photos, and memorabilia), a poster, and a replica of the tour book sold during the Paranoid tour.
Paranoid is reissued on 9 October 2020, via Sanctuary Records. Both sets are available via the official store which also has a bundle, for those interested.
Compare prices and pre-order
Black Sabbath
Paranoid 5LP vinyl super deluxe
Compare prices and pre-order
Black Sabbath
Paranoid 4CD super deluxe
You might also like…
Compare prices and pre-order
Black Sabbath
Black Sabbath - Supersonic Years: The Seventies Singles Box Set [7" VINYL]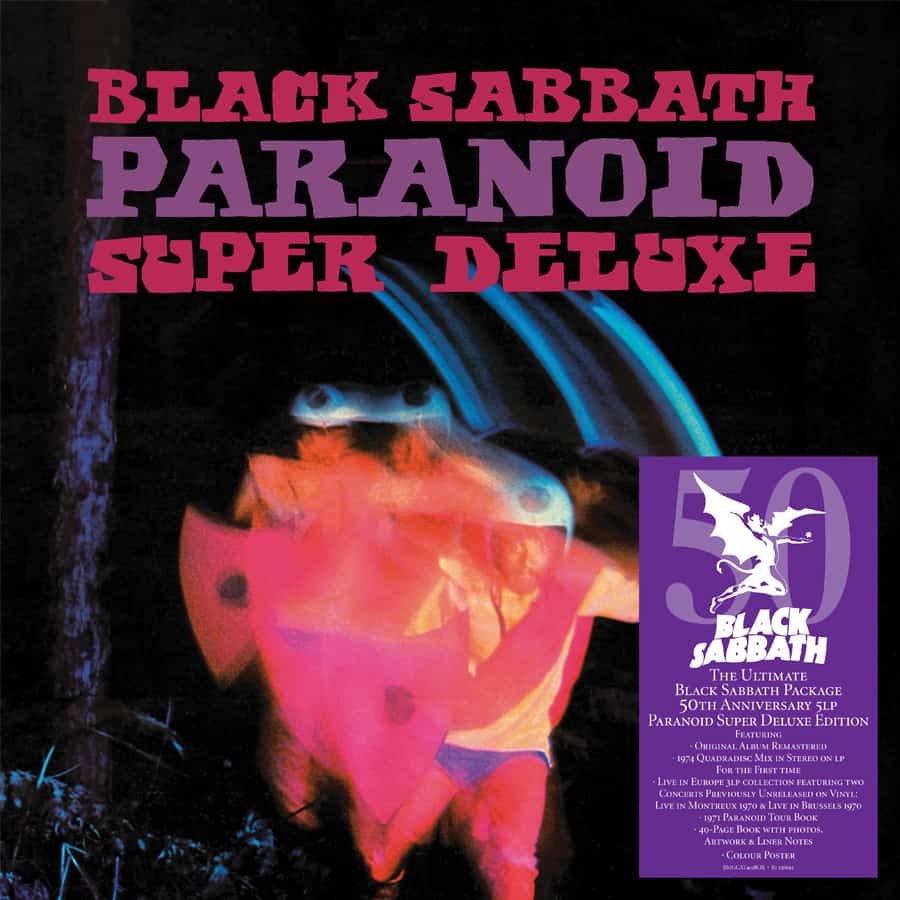 Paranoid 5LP vinyl super deluxe
LP 1: Original Album
Side A
"War Pigs / Luke's Wall"
"Paranoid"
"Planet Caravan"
"Iron Man"
Side B
"Electric Funeral"
"Hand Of Doom"
"Rat Salad"
"Jack The Stripper / Fairies Wear Boots"
LP 2: Quadradisc Mix in Stereo (WS4 1887) 1974
Side C
"War Pigs / Luke's Wall"
"Paranoid"
"Planet Caravan"
"Iron Man"
Side D
"Electric Funeral"
"Hand Of Doom"
"Rat Salad"
"Jack The Stripper / Fairies Wear Boots"
LP 3: Live in Montreux 1970 (Part One)
Side E
"Intro"
"Paranoid"
"N.I.B."
"Behind The Wall Of Sleep"
Side F
"Iron Man"
"War Pigs"
LP 4: Live in Montreux 1970 (Part Two)/Live in Brussels 1970 (Part One)
Side G
"Fairies Wear Boots"
"Hand Of Doom" 
Side H
"Paranoid"
"Hand Of Doom"
"Rat Salad"
"Iron Man"
LP 5: Live in Brussels 1970 (Part Two)
Side J
"Black Sabbath"
"N.I.B."
Side K
"Behind The Wall Of Sleep"
"War Pigs"
"Fairies Wear Boots"
Paranoid 4CD super deluxe
CD1:
War Pigs / Luke's Wall (2012 – Remaster)
Paranoid (2012 – Remaster)
Planet Caravan (2012 – Remaster)
Iron Man (2012 – Remaster)
Electric Funeral (2012 – Remaster)
Hand of Doom (2012 – Remaster)
Rat Salad (2012 – Remaster)
Jack the Stripper / Fairies Wear Boots (2012 – Remaster)
CD2:
War Pigs / Luke's Wall (Quadradisc Mix In Stereo 1974)
Paranoid (Quadradisc Mix In Stereo 1974)
Planet Caravan (Quadradisc Mix In Stereo 1974)
Iron Man (Quadradisc Mix In Stereo 1974)
Electric Funeral (Quadradisc Mix In Stereo 1974)
Hand of Doom (Quadradisc Mix In Stereo 1974)
Rat Salad (Quadradisc Mix In Stereo 1974)
Jack the Stripper / Fairies Wear Boots (Quadradisc Mix In Stereo 1974)
CD3:
Intro (Live in Montreux 1970)
Paranoid (Live in Montreux 1970)
N.I.B. (Live in Montreux 1970)
Behind the Wall of Sleep (Live in Montreux 1970)
Iron Man (Live in Montreux 1970)
War Pigs (Live in Montreux 1970)
Fairies Wear Boots (Live in Montreux 1970)
Hand of Doom (Live in Montreux 1970)
CD4:
Paranoid (Live in Brussels 1970)
Hand of Doom (Live in Brussels 1970)
Rat Salad (Live in Brussels 1970)
Iron Man (Live in Brussels 1970)
Black Sabbath (Live in Brussels 1970)
N.I.B. (Live in Brussels 1970)
Behind the Wall of Sleep (Live in Brussels 1970)
War Pigs (Live in Brussels 1970)
Fairies Wear Boots (Live in Brussels 1970)