 News
Brian Eno's new album is #5 in the SDE Surround Series
Dolby Atmos Mix delivered exclusively on blu-ray audio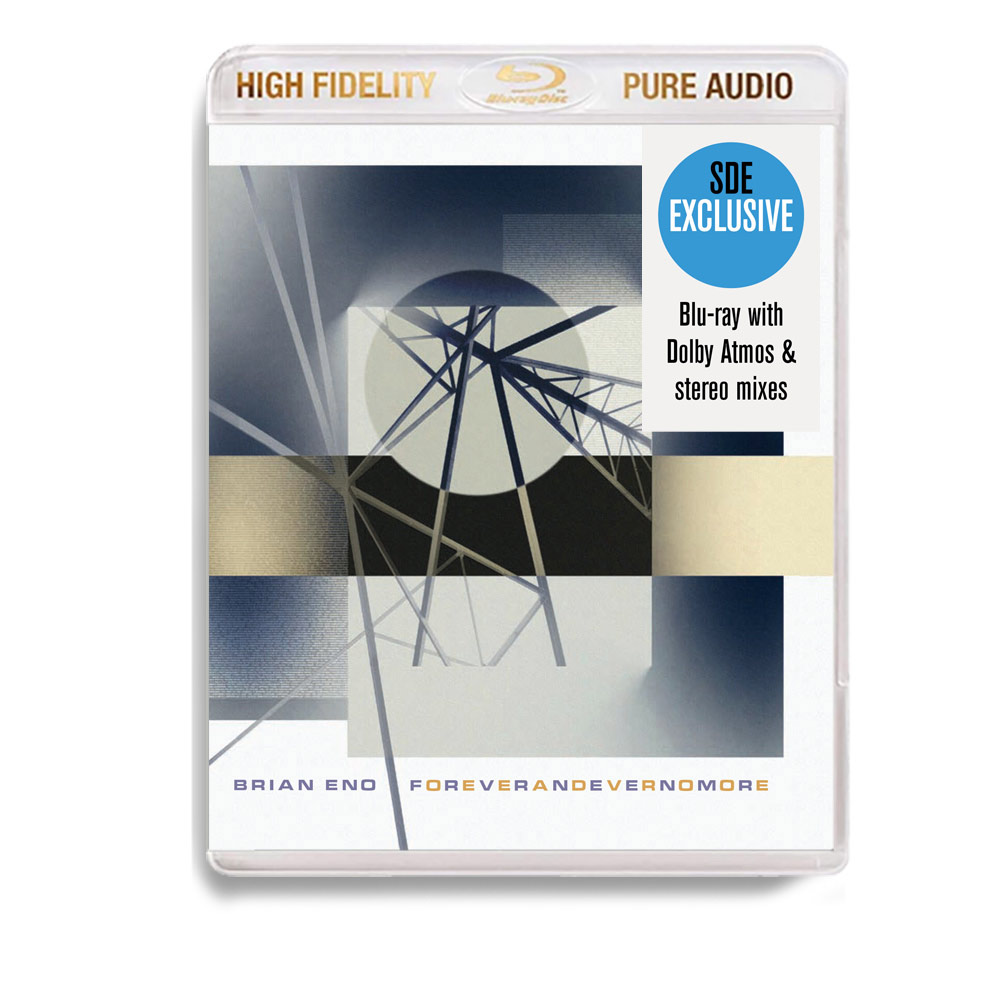 A Dolby Atmos Mix of FOREVERANDEVERNOMORE, the forthcoming album from Brian Eno, will be released exclusively via SDE as a limited edition blu-ray audio.
Eno needs no introduction. Musician, producer, visual artist and activist, he first came to international prominence in the early Seventies as a founding member of Roxy Music, followed by a series of solo albums and collaborations. His work as producer includes albums with Talking Heads (such as Fear of Music and Remain in Light), Devo, U2 (The Joshua Tree, Achtung Baby et al), Laurie Anderson and Coldplay, while his long list of collaborations include recordings with David Bowie (Low, Heroes, Lodger & Outside), Jon Hassell, Harold Budd, John Cale, David Byrne, Grace Jones and most recently with his brother, Roger, on Mixing Colours. In August 2021, they performed together for the very first time at the Acropolis in Athens.
Brian Eno's visual experiments with light and video continue to parallel his musical career, with exhibitions and installations all over the globe. To date, he has released over forty solo albums including Here Come The Warm Jets, Another Green World, Ambient 1: Music for Airports, Apollo: Atmosphere and Soundtracks, Small Craft On A Milk Sea and Lux to name just a few. In April 2021, he launched EarthPercent, which raises money from the music industry for some of the most impactful environmental charities working on the climate emergency.
About the new album
FOREVERANDEVERNOMORE is Eno's 22nd studio album and was recorded in his West London and Norfolk studios. The long-player sees Brian sing on the majority of tracks for the first time on an album since 2005's Another Day On Earth.
It includes the song 'There Were Bells' which concerns the current climate emergency, a theme that is explored throughout the album and 'We Let It In', a haunting hymnal in which Eno's daughter Darla sings an angelic counterpoint to Brian's vocal.
The album is made up of 10 distinct songs and Brian has experimented on the record using tonal over major chord changes. Of it, he says, "My voice has changed, it's lowered, it's become a different personality I can sing from. I don't want to sing like a teenager, it can be melancholic, a bit regretful. As for writing songs again – it's more landscapes, but this time with humans in them.
I like creating worlds, that's what I do as an artist. Now after quite a long absence of humans in those worlds I have tried putting one in and seeing how they feel in the world I've made."
What is the SDE Surround Series?
For the uninitiated, The SDE Surround Series is an ongoing collaboration between SuperDeluxeEdition.com and likeminded artists and record labels, where we deliver spatial audio via physical product. The products are available exclusively via theSDEshop.com and the programme started in January this year, with a blu-ray audio of Tears For Fears' acclaimed album The Tipping Point. That was quickly followed by xPropaganda's The Heart Is Strange, Gilbert O'Sullivan's Driven and most recently Shakespears Sister's Hormonally Yours (due later this month). SDE is proud to announce FOREVERANDEVERNOMORE as the fifth release in this series – thank you for your continued enthusiasm and support for these products.
The SDE-exclusive blu-ray audio of FOREVERANDEVERNOMORE will be available to pre-order for two weeks only and will feature the following audio streams:
Dolby Atmos Mix
Stereo Mix (48 kHz / 24 bit)
Naturally, the Atmos Mix was created by Brian Eno himself. He pushed the boundaries with this spatial audio version (would you have expected anything less?). This is what the mix engineer, Emre Ramazanoglu, had to say about Brian's work on the Atmos Mix of FOREVERANDEVERNOMORE:
It was fascinating approaching this Atmos mix with Brian in the room. He approached the mix in an extremely unorthodox fashion, removing the concept of a 'front' in the mix stage. It's a fully immersive experience unlike others I have mixed. The song was still kept at the heart of the Atmos transformation though and he paid enormous attention to the position of each element and how that supported the piece as a whole. There will be also be differences from the stereo mix other than the spatial reimagining, due to the creative process that involved certain elements being subtly different from the original stereo masters.

Emre Ramazanoglu, Mix Engineer for the album
I have heard the Atmos Mix and concur with Emre. It's spectacular spatial audio mix of a wonderfully atmospheric album. This is one you do not want to miss!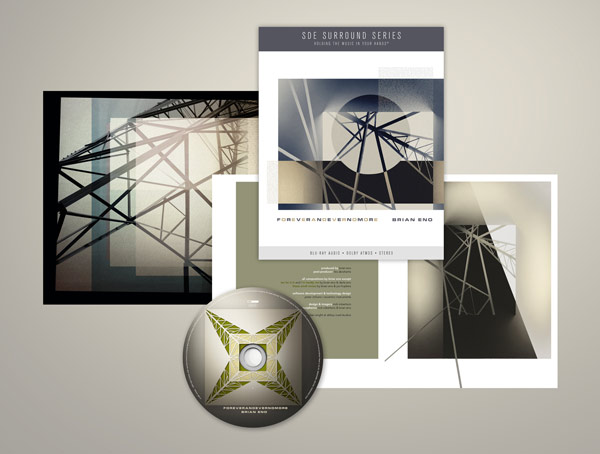 The benefits of spatial audio via physical product
Reasons you should own this blu-ray:
It's the only way to enjoy the Dolby Atmos mix of the album via a physical product
You don't need to sign-up to a streaming service such as Tidal or Apple Music to hear the spatial audio mix
The Atmos Mix on the blu-ray is not compressed, whereas it is on streaming due to bandwidth restrictions
You own the product, you are not renting it from a digital service provider
The blu-ray audio is an excellent format for music and you don't want to see it die off
Supporting SDE with these initiatives leads to similar collaborations with labels/artists and we are keen to bring your more in the near future
The pre-order window for this limited edition blu-ray audio opens today and will close in 14 days' time on 29 September. Numbers manufactured will be published at a later date, so you will know just how limited this physical product is. Additionally, this blu-ray will ship with a numbered SDE collectors' slipcase.
FOREVERANDEVERNOMORE on SDE-exclusive blu-ray will be released on 14 October 2022 in collaboration with UMC. Pre-order the blu-ray by using this link to the SDE shop or the button below. For more spatial audio on the SDE shop, go here.
TECHNICAL NOTES: This blu-ray audio requires a blu-ray player. Decoding the Dolby Atmos mix requires a Dolby Atmos-certified soundbar or a Dolby Atmos-compatible AV Receiver/Amp. The Dolby Atmos mix will 'fold down' to 5.1 or stereo if a Dolby Atmos decoder is not detected.
EU SHIPPING NOTES: If you are ordering from the EU please be aware that that goods may be subject to import VAT when they arrive from the UK. The prices the SDE shop charge you do not include VAT