 News
CSNY / Deja Vu 50th anniversary deluxe
4CD+LP deluxe offers masses of unreleased demos & outtakes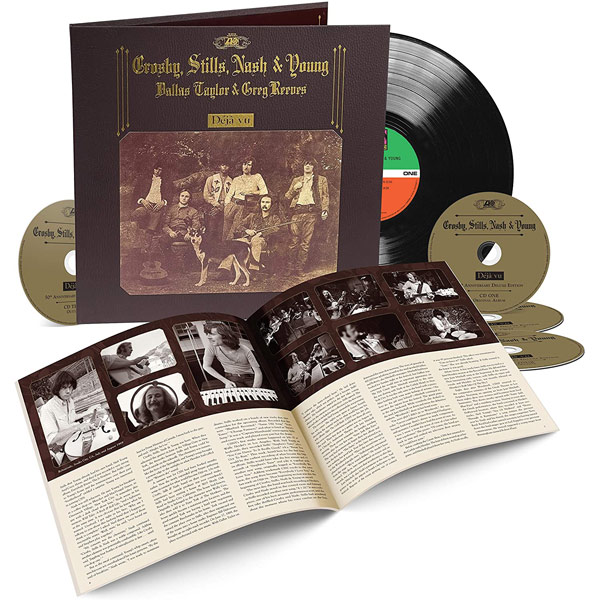 Crosby, Stills, Nash & Young's 1970 album Déjà Vu will be reissued as a five-disc deluxe set in May.

The album features legendary songs 'Carry On', 'Teach Your Children', 'Helpless' and 'Our House' that still resonate today.
Rhino's deluxe set is a 4CD+LP package that offers a "pristine version" of the original album on 180g vinyl and CD along with three further CDs packed with hours of rare and unreleased studio recordings that provide incredible insight into the making of the record.
This set includes 38 bonus tracks, delivering nearly two-and-a-half hours of music that includes demos, outtakes, and alternate takes – most of which (29 to be specific) are previously unreleased.
This includes 'Know You Got To Run', the first song the quartet recorded during its first session on 15 July at the house Stills was renting from Peter Tork in Studio City. Other unreleased highlights include the demo for Crosby's 'Almost Cut My Hair'; Stills' outtake for 'Bluebird Revisited'; and Young's alternate version of 'Helpless' featuring harmonica. Also included is a version of 'Our House' that features Nash singing with the song's inspiration, Joni Mitchell.
Like many of Rhino's deluxe sets, this comes as a 12″ x 12″ hardcover book (with textured surface with gold foil stamp) with rare photos and sleeve notes by Cameron Crowe (through stories told by the people who were there, including David Crosby, Stephen Stills, Graham Nash, and Neil Young).
This 50th anniversary deluxe of Déjà Vu is released on 18 May 2021. A D2C (direct to consumer) vinyl version which adds five vinyl LPs and costs $250 will also be available.
Compare prices and pre-order
Crosby, Stills, Nash & Young
Deja Vu - 4CD+LP deluxe
You might also like…
Compare prices and pre-order
Crosby, Stills, Nash & Young
CSNY 1974 blu-ray+DVD deluxe
Tracklisting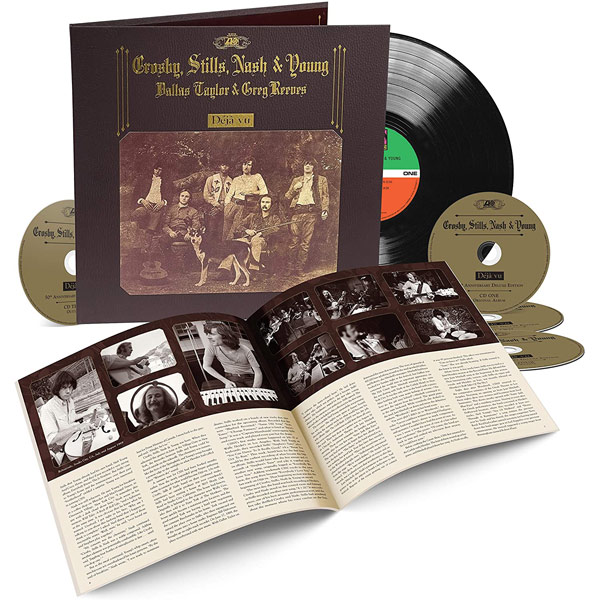 Deja Vu CSNY
/
50th anniversary super deluxe edition
Carry On"
"Teach Your Children"
"Almost Cut My Hair"
"Helpless"
"Woodstock"
"Déjà Vu"
"Our House"
"4 + 20"
"Country Girl"

"Whiskey Boot Hill"
"Down, Down, Down"
"Country Girl" (I Think You're Pretty)

"Everybody I

"Our House" – Graham Nash *
"4 + 20" – Stephen Stills *
"Song With No Words (Tree With No Leaves)" – David Crosby & Graham Nash
"Birds" – Neil Young & Graham Nash *
"So Begins The Task/Hold On Tight" – Stephen Stills *
"Right Between The Eyes" – Graham Nash
"Almost Cut My Hair" – David Crosby *
"Teach Your Children" – Graham Nash & David Crosby
"How Have You Been" – Crosby, Stills & Nash
"Triad" – David Crosby
"Horses Through A Rainstorm" – Graham Nash
"Know You Got To Run" – Stephen Stills *
"Question Why" – Graham Nash *
"Laughing" – David Crosby *
"She Can't Handle It" – Stephen Stills *
"Sleep Song" – Graham Nash
"Déjà Vu" – David Crosby & Graham Nash *
"Our House" – Graham Nash & Joni Mitchell *

"Everyday We Live" *
"The Lee Shore" – 1969 Vocal *
"I'll Be There" *
"Bluebird Revisited" *
"Horses Through A Rainstorm"
"30 Dollar Fine" *
"Ivory Tower" *
"Same Old Song" *
"Hold On Tight/Change Partners" *
"Laughing" *
"Right On Rock 'n' Roll" *

"Carry On" – Early Alternate Mix *
"Teach Your Children" – Early Version *
"Almost Cut My Hair" – Early Version *
"Helpless" – Harmonica Version
"Woodstock" – Alternate Vocals *
"Déjà Vu" – Early Alternate Mix *
"Our House" – Early Version *
"4 + 20" – Alternate Take 2 *
"Know You Got To Run" *

Side One

"Carry On"
"Teach Your Children"
"Almost Cut My Hair"
"Helpless"
"Woodstock"

Side Two

"Déjà Vu"
"Our House"
"4 + 20"
"Country Girl"

"Whiskey Boot Hill"
"Down, Down, Down"
"Country Girl" (I Think You're Pretty)

"Everybody I Love You"