 News
David Bowie / Zeroes 2018 limited edition seven-inch picture disc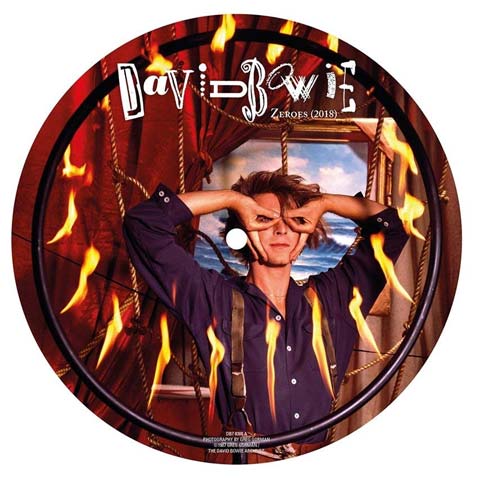 In anticipation of the David Bowie Loving The Alien box set, Parlophone will issue a special seven-inch vinyl picture disc of Zeroes (2018), from the newly 're-produced' version of 1987's Never Let Me Down which is included in the box set.

There has been much praise for both the idea of a new version of Never Let Me Down and the execution of this fresh Mario McNulty re-production, as far as Zeroes is concerned. In fact, producer Stephen Street was singing its praises on his twitter feed only last week.
Actually, the 2018 version of Zeroes #Bowie is more than 'pretty good. It is a major overhaul that completely puts the original version in the shade. Great work by all involved. Boy, what would I give to have been able to work on this!

— Stephen Street (@StreetStephen) July 24, 2018
This seven-inch singles features a special radio edit version of Zeroes 2018 (not featured in the box!) and the B-side likewise includes a radio edit of Beat of Your Drum 2018. The images used on the picture disc are by Greg Gorman and are outtakes from the Never Let Me Down album photo session (alternate versions of these are used on the cover of Never Let Me Down (2018).
I will inevitably get this, but my only criticism with it is that given these edits are exclusive to this picture disc, it would be nice if Parlophone supplied it with a download (16/44.1 WAV, perhaps). The same it true with the B-sides of some of the previous 40th anniversary picture discs. There are all sorts of rarities dotted around now, that can only be accessed via picture disc vinyl, which everyone knows is a horrible medium for actually listening to audio. You could argue that the box sets and the general long-running reissue campaign is supposed to put things in order, not create more anomalies!
Zeroes 2018 will be released on 7 September 2018. The Loving The Alien box will follow in October. You can read all about that, here.
Compare prices and pre-order
David Bowie
Zeroes (2018) (Radio Edit) (Picture Disc) [VINYL]
You might also like…
Compare prices and pre-order
David Bowie
Loving The Alien - 15LP vinyl box
Compare prices and pre-order
David Bowie
Loving The Alien - 11CD box set
A-Side ZEROES (2018) (RADIO EDIT) (David Bowie)
Produced by David Bowie, David Richards and Mario J McNulty
Mixed and Recorded by Mario J McNulty
AA-Side BEAT OF YOUR DRUM  (2018) (RADIO EDIT) (David Bowie)
Produced by David Bowie, David Richards and Mario J McNulty
Mixed and Recorded by Mario J McNulty