 News
DECADE: The best of Super Deluxe Edition / pre-order new 128-page book
Physical memento of SDE's first ten years • 128-page softcover book • Interviews & features • 1000 copies feature special embossed front cover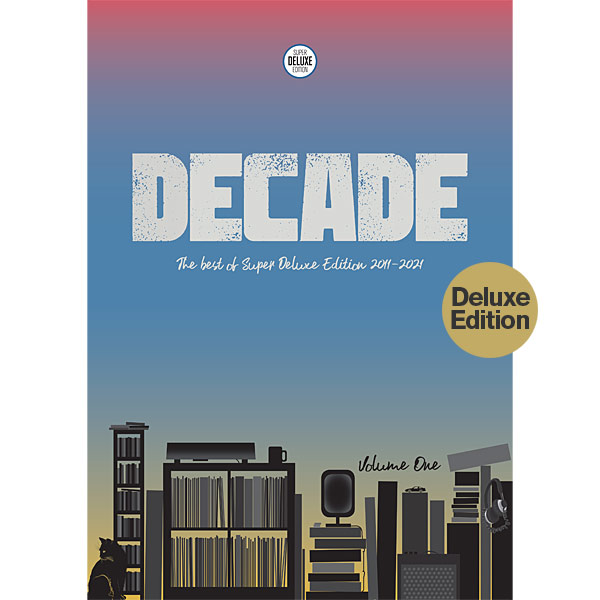 I'm pleased to announce DECADE: The best of Super Deluxe Edition 2011-2021, a forthcoming SDE book that features highlights from the site's first ten years.

The 128-page softcover book offers content highlights from between 2011-2021, including:
Peter Gabriel (Feature on 'So' box set 'controversy' / open letter)
Crowded House (interview with reissue producer Jeremy Ansell)
World Party (interview with Karl Wallinger)
Eurythmics (interview with Dave Stewart)
Swing Out Sister (interview)
INXS (interview with Andrew Farriss)
Depeche Mode (interview with Music For The Masses producer Dave Bascombe)
SDE in New York City (diary feature)
Duran Duran (feature)
Eric Stewart (interview)
Art of Noise ('in search of' feature)
David Bowie (interview with Serious Moonlight photographer Denis O'Regan)
Nik Kershaw (interview)
a-ha (interview with reissue producer Bill Inglot)
George Michael (feature)
Mike McCartney (interview)
Morrissey (interview with Viva Hate producer Stephen Street)
The book also includes new annotations from SDE editor Paul Sinclair, giving the behind-the-scenes commentary on all the interviews conducted, plus newly commissioned illustrations, unseen photos and more.
This very special publication is the first of three planned volumes for 2021 that together will provide a comprehensive physical memento of the best of SDE in the last 10 years (we hope to produce a slipcase to house all three volumes!).
The first 1000 copies of DECADE are the limited deluxe edition of the book and feature a special embossed cover with matt and spot varnished highlights. All come numbered and signed by me (SDE editor, Paul Sinclair).
A further 1000 copies will also be signed and numbered and will feature a matt-laminated front cover with spot varnish highlights (the same treatment as on the now sold out McCartney: 10 Years of Archive Reissues).
In the spirit of the 10 year celebrations, SDE will also be giving away a sealed copy of the David Bowie Five Years 13LP vinyl box set. This has a market value in the region of £1000. All purchasers of the numbered copies of DECADE will be automatically entered into the giveaway and details are to follow on how the prize-winner will be selected.
DECADE: The best of Super Deluxe Edition 2011-2021 will ship on or around the date of publication: 30 April 2021.
These books are exclusive to the SDE shop. There will be a maximum order quantity of TWO per customer. Pre-order by using the buttons below or by clicking on this link.
---