 News
Doctor Who / The Daleks' Master Plan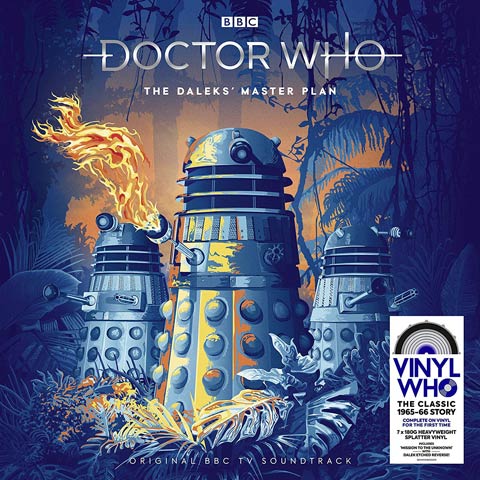 After successful League of Gentlemen and Hitchhiker's Guide to the Galaxy packages, Demon Records continue to plough the field of radio and TV productions for deluxe vinyl releases. The latest is The Daleks' Master Plan a "narrated full-cast TV soundtrack" Doctor Who adventure starring William Hartnell as The Doctor.

The Dalek's Master Plan is a 12-part adventure that was first shown on BBC TV between October 1965 and January 1966, where The Doctor's arch-enemy, The Daleks, threaten to destroy the fabric of time itself (naturally).
This drama was written by Terry Nation and Dennis Spooner and is the longest single Doctor Who adventure ever made for television. Pity the filmed recordings of nine out of the 12 episodes are lost from the BBC archives (!). Thankfully, the audio endures and this is what this physical release is celebrating.
A linking narration is provided by Peter Purves who plays Steven in the adventure, and the cast includes Kevin Stoney as Mavic Chen, Nicholas Courtney as Bret Vyon, Jean Marsh as Sara Kingdom and Peter Butterworth as the Meddling Monk. Of course there are all manner of sound effects including Ron Grainer & Delia Derbyshire's theme tune, and the familiar 'wheezing, groaning' of the TARDIS, and so on.
A special orange 'splatter' vinyl is an Amazon UK exclusive.
The standard vinyl is translucent blue, but Amazon UK have a special exclusive edition with the seven 180g vinyl records pressed on orange 'splatter' vinyl.
Top marks to the bright spark who came up with the sticker design on the front that reads "WHO VINYL" and uses elements of the Dalek design to ape The Who's visual identity and you have to say the art direction on this package, including a stunning front cover, looks wonderful.
The Daleks' Master Plan is released on 15 February 2019. The Amazon Exclusive orange splatter vinyl is limited to 1000 units.
Compare prices and pre-order
Doctor Who
The Daleks' Master Plan - Amazon exclusive orange splatter 7LP vinyl
Compare prices and pre-order
Doctor Who
The Daleks' Master Plan - standard translucent blue 7LP vinyl
LP 1
1. Prequel Mission to the Unknown
LP 2
1. Episode 1 – The Nightmare Begins 2. Episode 2 – Day of Armageddo
LP 3
1. Episode 3 – Devil's Planet 2. Episode 4 – The Traitors
LP 4
1. Episode 5 – Counter Plot 2. Episode 6 – Coronas of the Sun
LP 5
1. Episode 7 – The Feast of Steven 2. Episode 8 – Volcano
LP  6
1. Episode 9 – Golden Death 2. Episode 10 – Escape Switch
LP  7
1. Episode 11 – The Abandoned Planet 2. Episode 12 – Destruction of Time