 News
Donna Summer / A Hot Summer Night CD+DVD deluxe & coloured vinyl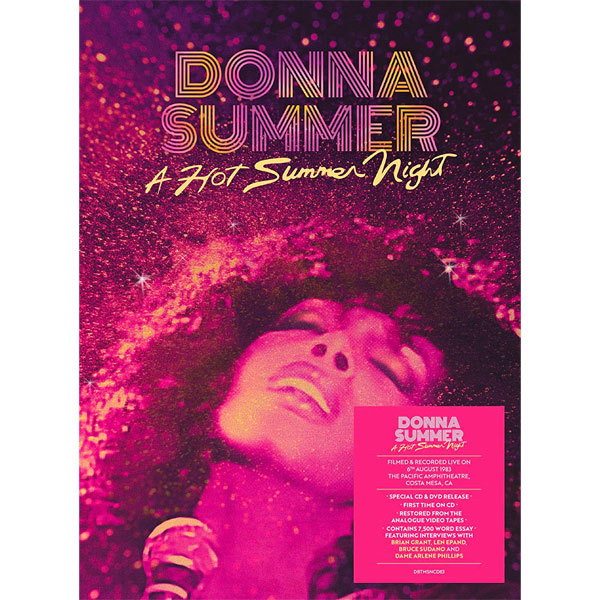 First time on CD or vinyl • Newly restored 
This July, Donna Summer's 1983 live concert A Hot Summer Night will be issued on CD for the first time as part of a special CD+DVD deluxe edition, and also gets its vinyl debut on a 2LP coloured vinyl pressing.

The concert was filmed and recorded live on 6 August 1983, at the Pacific Amphitheater in Costa Mesa, California in front of 18,000 fans. It was the second leg of Donna's 'Hard For The Money Tour' in support of the album of (nearly) the same name, which had been released a couple of months earlier.
Guests on the night included Musical Youth, sisters Dara and Mary Ellen and her eldest daughter Mimi joined her on a show-closing 'State Of Independence'.

CD+DVD deluxe comes as a special 'bookset'
As noted above, the concert has never been released on CD before and this deluxe edition pairs it with a DVD (NTSC, region-free). Content has been restored from the analogue video tapes and the bookset features 7,500 word essay with newly conducted interviews with interviews singer/songwriter, Bruce Sudano, film director Brian Grant, choreographer, dame Arlene Phillips and executive producer Len R. Epand.
A special 2LP coloured vinyl edition features the same audio as per the CD and also includes the notes.
Both formats are issued on 10 July 2020, via Demon's 'Driven By The Music' imprint. We are making these available via the SDE shop, which ships internationally.
Compare prices and pre-order
Donna Summer
A Hot Summer Night - CD+DVD deluxe
Compare prices and pre-order
Donna Summer
A Hot Summer Night - 2LP coloured vinyl
A Hot Summer's Night 2LP coloured vinyl
Side 1
1. Intro
2. MacArthur Park
3. Love Is In Control (Finger On The Trigger)
4. Unconditional Love (featuring Musical Youth)
Side 2
1. Romeo
2. Don't Cry For Me Argentina
3. On The Radio
4. Forgive Me
Side 3
1. Sisters Dialogue
2. Woman (with Band introductions)
3. 'Bad Girls' Medley: Dim All The Lights/Sunset People/Bad Girls/Hot Stuff
Side 4
1. Last Dance
2. She Works Hard For The Money
3. State Of Independence (with Mimi)
A Hot Summer's Night CD+DVD deluxe
CD
1. Intro
2. MacArthur Park
3. Love Is In Control (Finger On The Trigger)
4. Unconditional Love (featuring Musical Youth)
5. Romeo
6. Don't Cry For Me Argentina
7. On The Radio
8. Forgive Me
9. Sisters Dialogue
10. Woman (with Band introductions)
11. 'Bad Girls' Medley: Dim All The Lights/Sunset People/Bad Girls/Hot Stuff
12. Last Dance
13. She Works Hard For The Money
14. State Of Independence (with Mimi)
DVD
1. Intro
2. MacArthur Park
3. Love Is In Control (Finger On The Trigger)
4. Unconditional Love (featuring Musical Youth)
5. Romeo
6. Don't Cry For Me Argentina
7. On The Radio
8. Forgive Me
9. Sisters Dialogue
10. Woman (with Band introductions)
11. 'Bad Girls' Medley: Dim All The Lights/Sunset People/Bad Girls/Hot Stuff
12. Last Dance
13. She Works Hard For The Money
14. State Of Independence (with Mimi)"