 News
Donna Summer / Another Place and Time reissue
Zoetrope picture disc • 2CD • Half-speed vinyl LP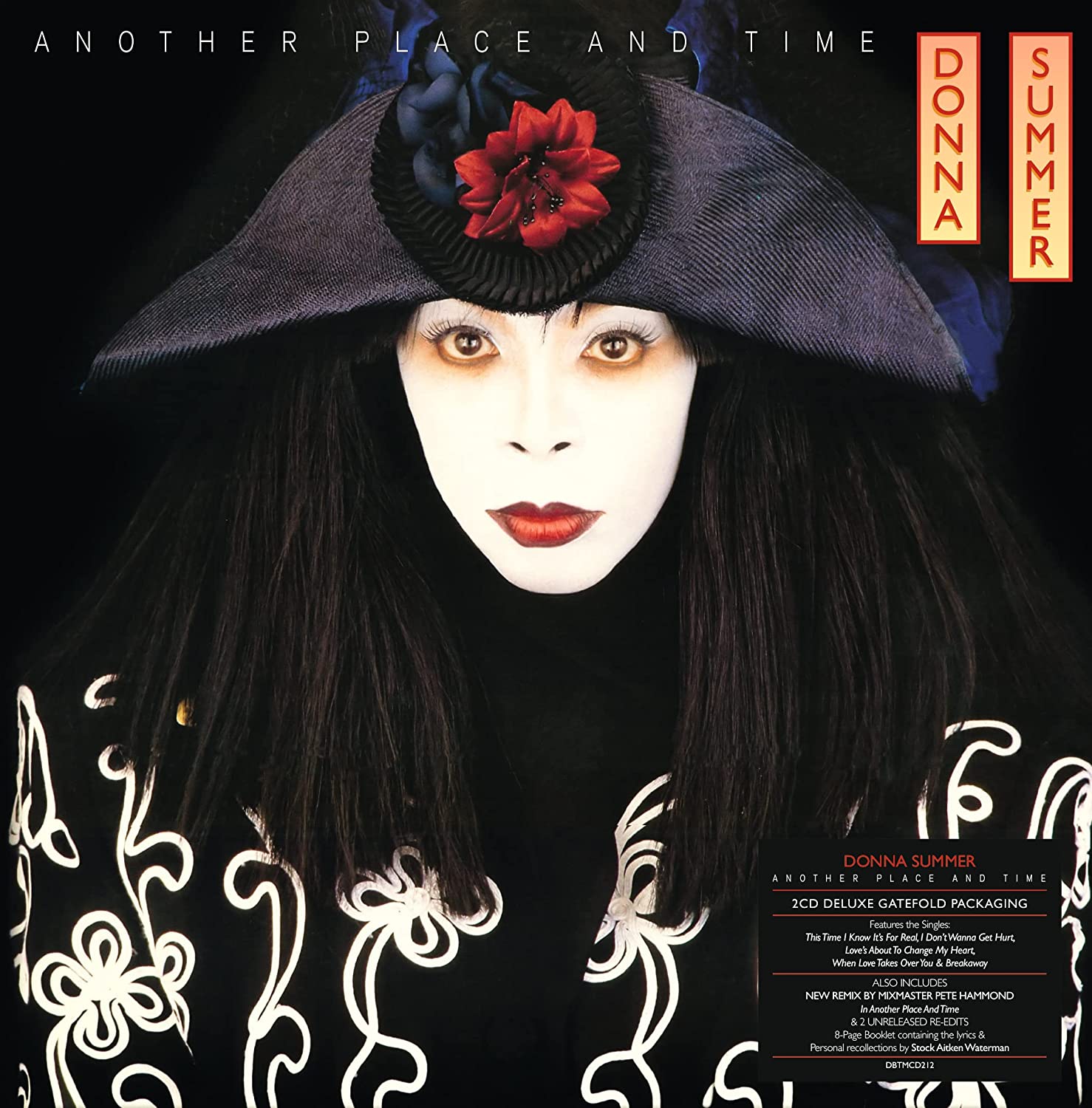 Donna Summer's acclaimed 1989 studio album Another Place and Time will be reissued in June.
The album was produced by Stock Aitken Waterman and features the transatlantic top 10 single 'This Time I Know It's For Real' and 'I Don't Wanna Get Hurt' (which also reached the top 10 in the UK). Three further singles were issued.
There are three physical formats for this new reissue campaign:
A 2CD edition in deluxe seven-inch packaging (much like the newly announced Suede reissue)
A half-speed mastered black vinyl LP with OBI-strip and four-page insert
A Zoetrope vinyl picture disc that incorporates elements from the 'This Time I Know It's For Real' promo video and which gives a continuous dancing effect (viewed via your smartphone with a third party stroboscope app).
This 2CD set offers two previously unreleased re-edits, as well as a brand new remix of 'In Another Place
And Time', produced by legendary PWL Mixmaster, Pete Hammond, alongside a selection of seven-inch versions,
extended mixes and two further new re-edits. It includes an eight-page booklet with lyrics and personal recollections of Mike Stock, Matt Aitken and Pete Waterman.
Another Place and Time will be reissued on 7 July 2023 via Driven By The Music.
Compare prices and pre-order
Donna Summer
Another Place and time - Zoetrope 12 inch picture disc
Compare prices and pre-order
Donna Summer
Another Place and Time - 2CD deluxe packaging
Compare prices and pre-order
Donna Summer
Another Place and Time - half-speed mastered vinyl LP
Tracklisting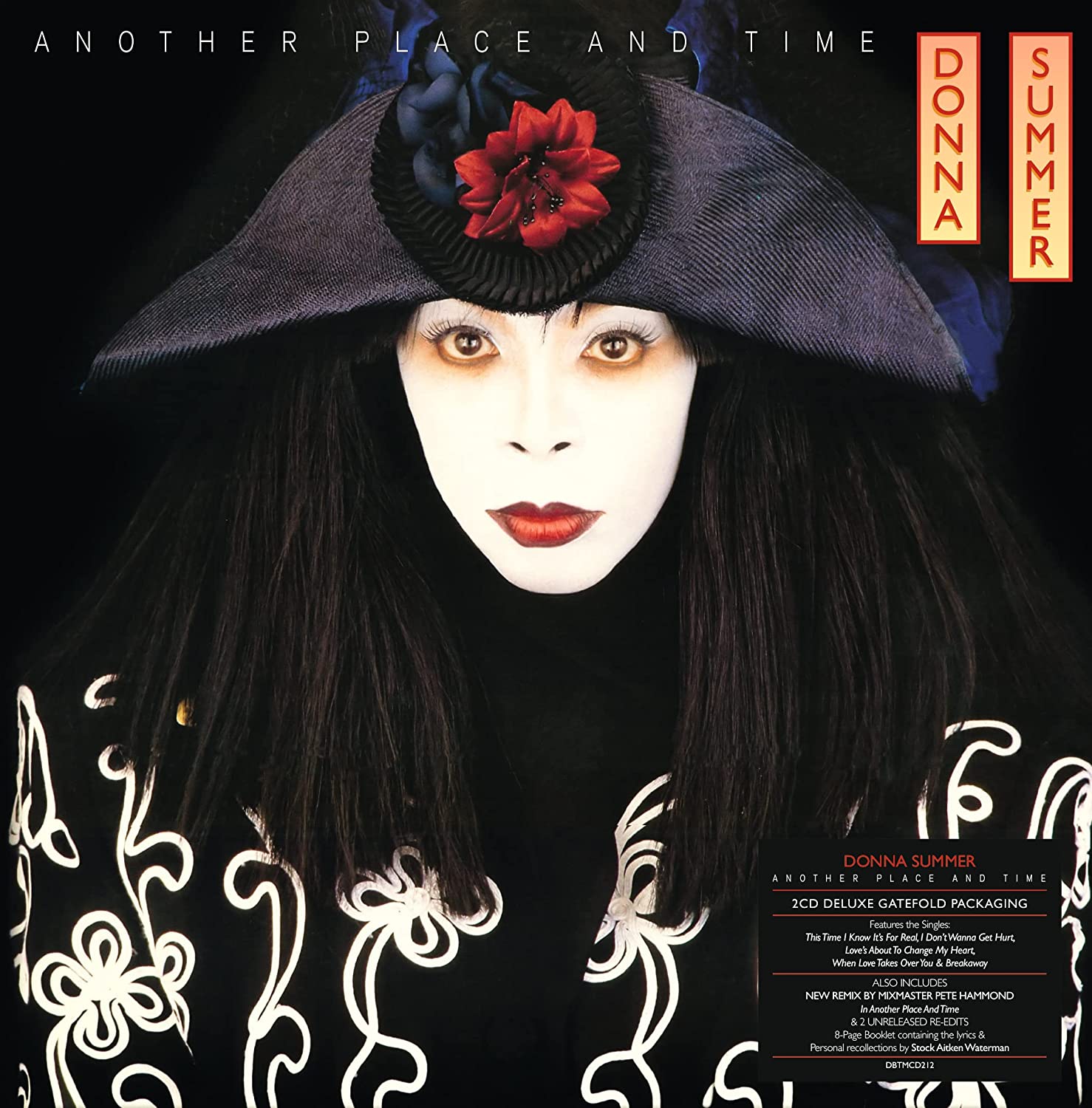 Another Place and Time Donna Summer
/
CD 1

I Don't Wanna Get Hurt
When Love Takes Over You
This Time I Know It's for Real
The Only One
In Another Place and Time
Sentimental
Whatever Your Heart Desires
Breakaway
If It Makes You Feel Good
Love's About to Change My Heart

CD 2

In Another Place and Time [Pete Hammond Remix]
This Time I Know It's for Real [7″ Mix]
I Don't Wanna Get Hurt [7″ Remix]
Love's About to Change My Heart [PWL 7″ Mix]
Breakaway [Power Radio Mix]
When Love Takes Over You [Dave Ford 7″]
This Time I Know It's for Real [Extended Remix]
Love's About to Change My Heart [Extended Remix]
I Don't Wanna Get Hurt [Phil Harding 12″ Version]
Breakaway [Remix – Full Version]
Love's About to Change My Heart [Clivillés & Cole 12″ Mix]
This Time I Know It's for Real [Euphoric Club Mix]
When Love Takes Over You [Club Takeover Mix]

Side A

I Don't Wanna Get Hurt
When Love Takes Over You
This Time I Know It's For Real
The Only One
In Another Place And Time

Side B

Sentimental
Whatever Your Heart Desires
Breakaway
If It Makes You Feel Good
Love's About To Change My Heart