 News
Elvis Costello / Brutal Youth limited edition 2LP gatefold red vinyl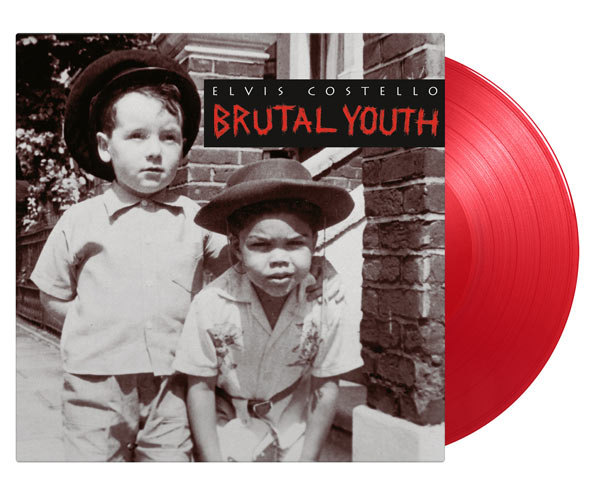 2LP red vinyl • 1000 only • Gatefold • Numbered
Elvis Costello's wonderful Brutal Youth album from 1994, which featured the full Attractions line up on a number of songs, will be reissued as a limited edition 2LP red vinyl set in July.

The album was produced by Mitchell Froom and was well received, reaching number two in the UK album charts, thanks in part to excellent word-of-mouth and a top thirty hit in Sulky Girl.
The record mostly features Costello with Steve Nieve, Pete Thomas and Nick Lowe (on bass), but original Attractions member Bruce Thomas does play the bass on five tracks.
Although a relatively long album at 15 songs, it's a real cracker with some wonderful material, including moving ballads like 'All The Rage', 'Favourite Hour' and 'Still Too Soon To Know' and fiercer, spiky numbers like 'Just About Glad', '20% Amnesia' and 'My Science Fiction Twin'.
I saw Costello on this tour at the Royal Albert Hall and it was superb.
Anyway, Brutal Youth is issued as this double coloured vinyl pressing via Music On Vinyl on 31 July 2020. It's limited to just 1000 units with only 300 earmarked for the UK. Get your order in via the SDE shop using this link or the button below.
SIDE A
1. Pony St.
2. Kinder Murder
3. 13 Steps Lead Down
4. This Is Hell
SIDE B
1. Clown Strike
2. You Tripped At Every Step
3. Still Too Soon To Know
4. 20% Amnesia
SIDE C
1. Sulky Girl
2. London's Brilliant Parade
3. My Science Fiction Twin
SIDE D
1. Rocking Horse Road
2. Just About Glad
3. All The Rage
4. Favourite Hour