 News
Elvis Presley / Live 1969 / 11CD box set
Eleven complete Elvis sets. Four issued for the first time ever.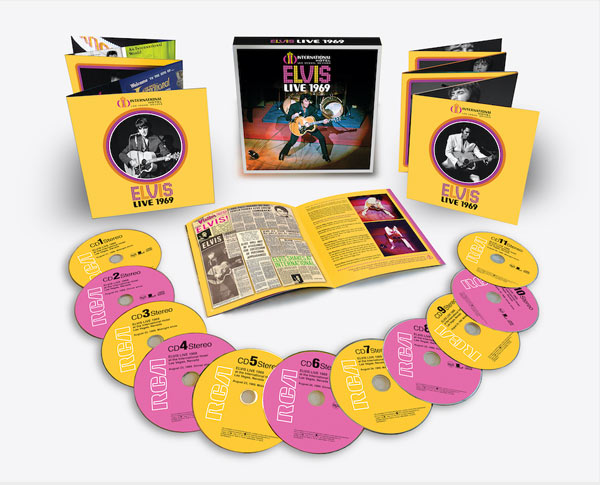 Live 1969 is a brand new Elvis Presley 11CD box set that marks the 50th anniversary of his performances at the International Hotel in Las Vegas.

Returning to the stage for the first time in eight years, the 1969 Vegas run saw Presley perform 57 sold-out shows and the live debut of 'Suspicious Minds'. During this residency he was backed by two vocal groups (The Imperials and The Sweet Inspirations), a full orchestra and a band later known as the TCB band.

Live 1969 features the release of eleven complete sets from Elvis' August 1969 engagement at Las Vegas' International Hotel. Of these performances, four are being released in full for the first time ever – including two Elvis shows that have remained almost completely unheard for fifty years (August 22 and 25).



This package comes with a 52-page booklet with photos, images of memorabilia and more.

Released at the same time (in early August) is a 2LP vinyl set called Live at the International Hotel, Las Vegas, NV August 26, 1969 (not quite as snappy as Live 1969). The vinyl release features Elvis' complete set from 26 August's midnight show. The material includes a repertoire of blues-tinged rock 'n' roll, ballads and his new singles 'In The Ghetto' and 'Suspicious Minds'.

These new physical releases are issued on 9 August 2019, via Sony's Legacy Recordings.


Compare prices and pre-order
Presley, Elvis
Live 1969 - 11CD box set
Compare prices and pre-order
Presley, Elvis
Live At The International Hotel, Las Vegas, Nv August 26, 1969 [VINYL]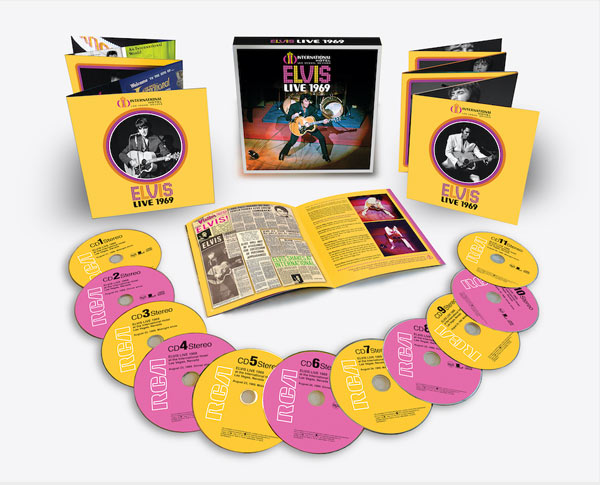 Disc 1
Show 1 – August 21, 1969. Midnight show
01) Blue Suede Shoes* (Carl Perkins)
02) I Got A Woman (Ray Charles)
03) All Shook Up (Otis Blackwell/Elvis Presley)
04) Love Me Tender (Vera Matson/Elvis Presley)
05) Jailhouse Rock/Don't Be Cruel (Jerry Leiber/Mike Stoller)/(Otis Blackwell/Elvis Presley)
06) Heartbreak Hotel (Tommy Durden/Mae Boren Axton/Elvis Presley)
07) Hound Dog (Jerry Leiber/Mike Stoller)
08) Memories (Billy Strange/Scott "Mac" Davis)
09) Mystery Train/Tiger Man (Junior Parker/Sam Phillips)/ (Joe Hill Louis/Sam Burns)
10) Monologue*
11) Baby, What You Want Me To Do (Jimmy Reed)
12) Runaway (Max Crook/Del Shannon)
13) Are You Lonesome Tonight? (Roy Turk/Lou Handman)
14) Yesterday/Hey Jude (John Lennon/Paul McCartney)/(John Lennon/Paul McCartney)
15) Introductions including 
Happy Birthday
sung to James Burton)
First release: RCA COLLECTORS GOLD 3-CD set 08-13-1991
16) In The Ghetto (Scott "Mac" Davis)
17) Suspicious Minds (Mark James)
18) What'd I Say (Ray Charles)
19) Can't Help Falling In Love (Hugo Peretti/Luigi Creatore/George Weiss)
Tracks 2-9, 11-19 first issued on the album Viva Las Vegas-7-31-2007
*Previously unreleased
Disc 2
Show 2 – August 22, 1969. Dinner show
1) Blue Suede Shoes (Carl Perkins)
First release: RCA Walmart Special (US) & International BMG ELVIS VIVA LAS VEGAS 2-CD set- 07-31-2007
2) I Got A Woman (Ray Charles)
3) All Shook Up (Otis Blackwell/Elvis Presley)
4) Love Me Tender (Vera Matson/Elvis Presley)
5) Jailhouse Rock/Don't Be Cruel (Jerry Leiber/Mike Stoller)/ (Otis Blackwell/Elvis Presley)
6) Heartbreak Hotel (Tommy Durden/Mae Boren Axton/Elvis Presley)
7) Hound Dog (Jerry Leiber/Mike Stoller)
8) Memories (Billy Strange/Scott "Mac" Davis)
9) Mystery Train/Tiger Man (Junior Parker/Sam Phillips)/ (Joe Hill Louis/Sam Burns)
10) Monologue
First release: RCA Walmart Special (US) & International BMG ELVIS VIVA LAS VEGAS 2-CD- 07-31-2007
11) Baby, What You Want Me To Do (Jimmy Reed)
12) Runaway (Max Crook/Del Shannon)
13) Are You Lonesome Tonight?  (Roy Turk/Lou Handman)
14) Yesterday/Hey Jude (John Lennon/Paul McCartney)/(John Lennon/Paul McCartney)
15) Introductions
16) In The Ghetto (Scott "Mac" Davis)
17) Suspicious Minds (Mark James)
18) What'd I Say (Ray Charles)
19) Can't Help Falling In Love (Hugo Peretti/Luigi Creatore/George Weiss)
Complete show release: FTD ELVIS IN PERSON AT THE INTERNATIONAL HOTEL, Las Vegas, Nevada 2-CD-12-2008
Disc 3
Show 3 – August 22, 1969. Midnight show
1) Blue Suede Shoes* (Carl Perkins)
2) I Got A Woman * (Ray Charles)
3) All Shook Up* (Otis Blackwell/Elvis Presley)
4) Love Me Tender (Vera Matson/Elvis Presley)
First release: RCA COLLECTORS GOLD 3-CD set-08-13-1991
5) Jailhouse Rock/Don't Be Cruel (Jerry Leiber/Mike Stoller)/ (Otis Blackwell/Elvis Presley)
First release: RCA COLLECTORS GOLD 3-CD -08-13-1991
6) Heartbreak Hotel* (Tommy Durden/Mae Boren Axton/Elvis Presley)
7) Hound Dog* (Jerry Leiber/Mike Stoller)
8) Memories* (Billy Strange/Scott "Mac" Davis)
9) My Babe (Willie Dixon)
First release: RCA ELVIS: TODAY, TOMORROW & FOREVER 4-CD SET 06-25-2002
10) Mystery Train/Tiger Man (Junior Parker/Sam Phillips)/ (Joe Hill Louis/Sam Burns)
First release: RCA COLLECTORS GOLD 3-CD set -08-13-1991
11) Monologue*
12) Baby, What You Want Me To Do (Jimmy Reed)
First release: RCA ELVIS: TODAY, TOMORROW & FOREVER 4-CD SET-06-25-2002
13) Funny How Time Slips Away (Willie Nelson)
First release: RCA ELVIS: TODAY, TOMORROW & FOREVER 4-CD SET-06-25-2002
14) Runaway (Max Crook/Del Shannon)
First release: RCA ELVIS: TODAY, TOMORROW & FOREVER 4-CD SET-06-25-2002
15) Are You Lonesome Tonight?* (Roy Turk/Lou Handman)
16) Yesterday/Hey Jude* (John Lennon/Paul McCartney)/ (John Lennon/Paul McCartney)
17) Introductions*
18) In The Ghetto* (Scott "Mac" Davis)
19) Suspicious Minds* (Mark James)
20) What'd I Say (Ray Charles)
First release: RCA ELVIS: TODAY, TOMORROW & FOREVER 4-CD SET 06-25-2002
21) Can't Help Falling In Love* (Hugo Peretti/Luigi Creatore/George Weiss)
*Previously unreleased
Previously Unreleased as a Complete Show
Disc 4
Show 4 – August 23, 1969. Dinner show
01) Blue Suede Shoes (Carl Perkins)
02) I Got A Woman (Ray Charles)
03) All Shook Up (Otis Blackwell/Elvis Presley)
04) Love Me Tender (Vera Matson/Elvis Presley)
05) Jailhouse Rock/Don't Be Cruel (Jerry Leiber/Mike Stoller)/ (Otis Blackwell/Elvis Presley)
06) Heartbreak Hotel (Tommy Durden/Mae Boren Axton/Elvis Presley)
07) Hound Dog (Jerry Leiber/Mike Stoller)
08) Memories (Billy Strange/Scott "Mac" Davis)
09) Mystery Train/Tiger Man (Junior Parker/Sam Phillips)/ (Joe Hill Louis/Sam Burns)
10) Monologue
11) Baby, What You Want Me To Do (Jimmy Reed)
12) Runaway (Max Crook/Del Shannon)
13) Are You Lonesome Tonight?  (Roy Turk/Lou Handman)
14) Yesterday/Hey Jude (John Lennon/Paul McCartney)/ (John Lennon/Paul McCartney)
15) Introductions
16) In The Ghetto (Scott "Mac" Davis)
17) Suspicious Minds (Mark James)
18) What'd I Say (Ray Charles)
19) Can't Help Falling In Love (Hugo Peretti/Luigi Creatore/George Weiss)
First release: RCA 2-LP set THE INTERNATIONAL HOTEL, LAS VEGAS, NEVADA, AUGUST 23, 1969- 04-13-2019
Disc 5
Show 5 – August 23, 1969. Midnight show
01) Blue Suede Shoes (Carl Perkins)
02) I Got A Woman (Ray Charles)
03) All Shook Up (Otis Blackwell/Elvis Presley)
04) Love Me Tender (Vera Matson/Elvis Presley)
05) Jailhouse Rock/Don't Be Cruel (Jerry Leiber/Mike Stoller)/ (Otis Blackwell/Elvis Presley)
06) Heartbreak Hotel (Tommy Durden/Mae Boren Axton/Elvis Presley)
07) Hound Dog (Jerry Leiber/Mike Stoller)
08) Memories (Billy Strange/Scott "Mac" Davis)
09) Mystery Train/Tiger Man (Junior Parker/Sam Phillips)/ (Joe Hill Louis/Sam Burns)
10) Monologue
11) Baby, What You Want Me To Do (Jimmy Reed)
12) Runaway (Max Crook/Del Shannon)
13) Reconsider Baby (Lowell Fulsom)
First release: RCA COLLECTORS GOLD 3-CD set -08-13-1991
14) Are You Lonesome Tonight?  (Roy Turk/Lou Handman)
15) Yesterday/Hey Jude (John Lennon/Paul McCartney) (John Lennon/Paul McCartney)
16) Introductions
17) In The Ghetto (Scott "Mac" Davis)
18) Suspicious Minds (Mark Davis)
19) What'd I Say (Ray Charles)
First release: RCA COLLECTORS GOLD 3-CD set 08-13-1991
An edited version was first released on RCA ELVIS-GREATEST HITS VOLUME ONE 11-1981
20) Can't Help Falling In Love (Hugo Peretti/Luigi Creatore/George Weiss)
Complete show release: FTD ELVIS AT THE INTERNATIONAL- 01-2003
Disc 6
Show 6 – August 24, 1969. Dinner show
01) Blue Suede Shoes (Carl Perkins)
02) I Got A Woman (Ray Charles)
03) All Shook Up (Otis Blackwell/Elvis Presley)
04) Love Me Tender (Vera Matson/Elvis Presley)
05) Jailhouse Rock/Don't Be Cruel (Jerry Leiber/Mike Stoller)/ (Otis Blackwell/Elvis Presley)
06) Heartbreak Hotel (Tommy Durden/Mae Boren Axton/Elvis Presley)
First release: RCA COLLECTORS GOLD 3-CD set 08-13-1991
07) Hound Dog (Jerry Leiber/Mike Stoller)
08) I Can't Stop Loving You (Don Gibson)
09) Johnny B. Goode (Chuck Berry)
10) Monologue
11) Baby, What You Want Me To Do (Jimmy Reed)
12) Runaway (Max Crook/Del Shannon)
13) Are You Lonesome Tonight?  (Roy Turk/Lou Handman)
14 Yesterday/Hey Jude (John Lennon/Paul McCartney)/ (John Lennon/Paul McCartney)
First release:  ("Yesterday" only) RCA ELVIS ARON PRESLEY 8-LP set 08-1980
15) Introductions
16) In The Ghetto (Scott "Mac" Davis)
17) Suspicious Minds (Mark James)
18) What'd I Say (Ray Charles)
19) Can't Help Falling In Love (Hugo Peretti/Luigi Creatore/George Weiss)
Complete show release: RCA LIVE IN LAS VEGAS 4-CD set -7-10-2001
Disc 7
Show 7- August 24, 1969. Midnight show
01) Blue Suede Shoes (Carl Perkins)
First release: FTD WRITING FOR THE KING (book & 2-CD set)- 11-2006
02) I Got A Woman (Ray Charles)
First release: FTD WRITING FOR THE KING (book & 2-CD set)- 11-2006
03) All Shook Up (Otis Blackwell/Elvis Presley)
First release: FTD WRITING FOR THE KING (book & 2-CD set)- 11-2006
04) Love Me Tender (Vera Matson/Elvis Presley)
First release: FTD WRITING FOR THE KING (book & 2-CD set)- 11-2006
05) Jailhouse Rock/Don't Be Cruel (Jerry Leiber/Mike Stoller)/ (Otis Blackwell/Elvis Presley)
First release: FTD WRITING FOR THE KING (book & 2-CD set)- 11-2006
06) Heartbreak Hotel (Tommy Durden/Mae Boren Axton/Elvis Presley)
First release: FTD WRITING FOR THE KING (book & 2-CD set)-11-2006
07) Hound Dog (Jerry Leiber/Mike Stoller)
First release: FTD WRITING FOR THE KING (book & 2-CD set)-11-2006
08) I Can't Stop Loving You* (Don Gibson)
09) Johnny B. Goode (Chuck Berry)
First release: RCA FROM MEMPHIS TO VEGAS/FROM VEGAS TO MEMPHIS 2 LP set-10-14-1969
10) Monologue*
11) Baby, What You Want Me To Do (Jimmy Reed)
First release: RCA PLATINUM – A LIFE IN MUSIC 4 CD set-7-15-1997
12) Runaway* (Max Crook/Del Shannon)
13) Are You Lonesome Tonight?  (Roy Turk/Lou Handman)
First release: RCA FROM MEMPHIS TO VEGAS/FROM VEGAS TO MEMPHIS 2 LP set-10-14-1969
14) Words (Robin, Barry & Maurice Gibb)
First release: RCA PLATINUM – A LIFE IN MUSIC 4 CD set-7-15-1997
15) Yesterday/Hey Jude (John Lennon/Paul McCartney)/ (John Lennon/Paul McCartney)
First release: FTD WRITING FOR THE KING (book & 2-CD set)- 11-2006
16) Introductions*
17) In The Ghetto (Scott "Mac" Davis)
First release: RCA ELVIS ARON PRESLEY 8-LP set 08-1980
18) Suspicious Minds (Mark James)
First release: FTD WRITING FOR THE KING (book & 2-CD set)-11-2006
19) Can't Help Falling In Love (Hugo Peretti/Luigi Creatore/George Weiss)
First release: FTD WRITING FOR THE KING (book & 2-CD set)-11-2006
*Previously unreleased
Previously Unreleased as a Complete Show
Disc 8
Show 8 – August 25, 1969. Dinner show
01) Blue Suede Shoes (Carl Perkins)
First release: RCA COLLECTORS GOLD 3-CD set -08-13-1991
02) I Got A Woman (Ray Charles)
First release: RCA COLLECTORS GOLD 3-CD set-08-13-1991
03) All Shook Up* (Otis Blackwell/Elvis Presley)
04) Love Me Tender* (Vera Matson/Elvis Presley)
05) Jailhouse Rock/Don't Be Cruel* (Jerry Leiber/Mike Stoller)/ (Otis Blackwell/Elvis Presley)
06) Heartbreak Hotel* (Tommy Durden/Mae Boren Axton/Elvis Presley)
07) Hound Dog* (Jerry Leiber/Mike Stoller)
08) Memories (Billy Strange/Scott "Mac" Davis)
First release: RCA COLLECTORS GOLD 3-CD set-08-13-1991
09) Mystery Train/Tiger Man* (Junior Parker/Sam Phillips)/ (Joe Hill Louis/Sam Burns)
10) Monologue*
11) Baby, What You Want Me To Do* (Jimmy Reed)
12) Funny How Time Slips Away (Willie Nelson)
First release: RCA COLLECTORS GOLD 3-CD set-08-13-1991
13) Runaway (Max Crook/Del Shannon)
First release: RCA ON STAGE – FEBRUARY, 1970-06-01-1970
14) Words (Robin, Barry & Maurice Gibb)
First release: FTD WRITING FOR THE KING (book & 2-CD set)-11-2006
15) Yesterday/Hey Jude (John Lennon/Paul McCartney)/ (John Lennon/Paul McCartney)
First release:  ("Yesterday"): RCA ON STAGE – FEBRUARY, 1970-06-01-1970
First release:  ("Hey Jude"): RCA ON STAGE (1999 re-release)-05-18-1999
16) Introductions*
17) In The Ghetto (Scott "Mac" Davis)
First release: RCA FROM MEMPHIS TO VEGAS/FROM VEGAS TO MEMPHIS 2-LP set-10-14-1969
18) Suspicious Minds* (Mark James)
19) What'd I Say* (Ray Charles)
20) Can't Help Falling In Love* (Hugo Peretti/Luigi Creatore/George Weiss)
*Previously unreleased
Previously Unreleased as a Complete Show
Disc 9
Show 9 – August 25, Midnight show
01) Blue Suede Shoes (Carl Perkins)
First release: RCA FROM MEMPHIS TO VEGAS/FROM VEGAS TO MEMPHIS 2-LP set-10-14-1969
02) I Got A Woman (Ray Charles)
03) All Shook Up (Otis Blackwell/Elvis Presley)
First release: RCA FROM MEMPHIS TO VEGAS/FROM VEGAS TO MEMPHIS 2-LP set 10-14-1969
04) Love Me Tender (Vera Matson/Elvis Presley)
05) Jailhouse Rock/Don't Be Cruel (Jerry Leiber/Mike Stoller)/ (Otis Blackwell/Elvis Presley)
06) Heartbreak Hotel (Tommy Durden/Mae Boren Axton/Elvis Presley)
07) Hound Dog (Jerry Leiber/Mike Stoller)
First release: RCA FROM MEMPHIS TO VEGAS/FROM VEGAS TO MEMPHIS 2-LP set-10-14-1969
08) I Can't Stop Loving You (Don Gibson)
First release: RCA FROM MEMPHIS TO VEGAS/FROM VEGAS TO MEMPHIS 2-LP set-10-14-1969
09) My Babe (Willie Dixon)
First release: RCA FROM MEMPHIS TO VEGAS/FROM VEGAS TO MEMPHIS 2-LP set-10-14-1969
10) Mystery Train/Tiger Man (Junior Parker/Sam Phillips)/ (Joe Hill Louis/Sam Burns)
First release: RCA FROM MEMPHIS TO VEGAS/FROM VEGAS TO MEMPHIS 2-LP set-10-14-1969
11) Monologue
12) Baby, What You Want Me To Do (Jimmy Reed)
13) Runaway (Max Crook/Del Shannon)
14) Are You Lonesome Tonight?  (Roy Turk/Lou Handman)
15) Words (Robin, Barry & Maurice Gibb)
First release: RCA FROM MEMPHIS TO VEGAS/FROM VEGAS TO MEMPHIS 2-LP set-10-14-1969
16) Yesterday/Hey Jude (John Lennon/Paul McCartney)/ (John Lennon/Paul McCartney)
17) Introductions
18) In The Ghetto (Scott "Mac" Davis)
First release: FTD WRITING FOR THE KING (book & 2-CD set)-11-2006
19) Suspicious Minds (Mark James)
20) What'd I Say (Ray Charles)
21) Can't Help Falling In Love (Hugo Peretti/Luigi Creatore/George Weiss)
Complete show release: FTD HOT AUGUST NIGHT-06-2013
Disc 10
Show 10 – August 26, 1969. Dinner show
01) Blue Suede Shoes (Carl Perkins)
02) I Got A Woman (Ray Charles)
03) All Shook Up (Otis Blackwell/Elvis Presley)
04) Love Me Tender (Vera Matson/Elvis Presley)
05) Jailhouse Rock/Don't Be Cruel (Jerry Leiber/Mike Stoller)/ (Otis Blackwell/Elvis Presley)
06) Heartbreak Hotel (Tommy Durden/Mae Boren Axton/Elvis Presley)
07) Hound Dog (Jerry Leiber/Mike Stoller)
08) Memories (Billy Strange/Scott "Mac" Davis)
09) My Babe (Willie Dixon)
First release: RCA ELVIS ARON PRESLEY 8-LP set -08-1980
10) Mystery Train/Tiger Man (Junior Parker/Sam Phillips)/ (Joe Hill Louis/Sam Burns)
11) Monologue
12) Baby, What You Want Me To Do (Jimmy Reed)
13) Runaway (Max Crook/Del Shannon)
14) Inherit The Wind (Eddie Rabbitt)
First release: RCA COLLECTORS GOLD 3-CD set-08-13-1991
15) Yesterday/Hey Jude (John Lennon/Paul McCartney)/ (John Lennon/Paul McCartney)
16) Introductions
17) In The Ghetto (Scott "Mac" Davis)
18) Suspicious Minds (Mark James)
First release: RCA FROM MEMPHIS TO VEGAS/FROM VEGAS TO MEMPHIS 2-LP set-10-14-1969
19) Can't Help Falling In Love (Hugo Peretti/Luigi Creatore/George Weiss)
First release: RCA FROM MEMPHIS TO VEGAS/FROM VEGAS TO MEMPHIS 2-LP set-10-14-1969
Complete show release: FTD LIVE IN VEGAS-02-2011
Disc 11
Show 11 – August 26, 1969. Midnight show
01) Blue Suede Shoes (Carl Perkins)
02) I Got A Woman (Ray Charles)
03) All Shook Up (Otis Blackwell/Elvis Presley)
04) Love Me Tender (Vera Matson/Elvis Presley)
05) Jailhouse Rock/Don't Be Cruel (Jerry Leiber/Mike Stoller)/ (Otis Blackwell/Elvis Presley)
06) Heartbreak Hotel (Tommy Durden/Mae Boren Axton/Elvis Presley)
07) Hound Dog (Jerry Leiber/Mike Stoller)
08) I Can't Stop Loving You (Don Gibson)
09) Mystery Train/Tiger Man (Junior Parker/Sam Phillips)/ (Joe Hill Louis/Sam Burns)
10) Monologue
11) Baby, What You Want Me To Do (Jimmy Reed)
First release: RCA COLLECTORS GOLD 3-CD set-08-13-1991
12) Runaway Max Crook/Del Shannon)
First release: RCA COLLECTORS GOLD 3-CD set-08-13-1991
13) Are You Lonesome Tonight?  (Laughing version) (Roy Turk/Lou Handman)
First release: RCA ELVIS ARON PRESLEY 8-LP set-08-1980
14) Rubberneckin' (Dory Jones/Bunny Warren)
First release: RCA COLLECTORS GOLD 3-CD set-08-13-1991 (complete version only)
15) Yesterday/Hey Jude (John Lennon/Paul McCartney)/ (John Lennon/Paul McCartney)
16) Introductions
17) In The Ghetto (Scott "Mac" Davis)
18) This Is The Story (Chris Arnold/Geoff Morrow/David Martin)
First release: RCA COLLECTORS GOLD 3-CD set-08-13-1991
19) Suspicious Minds (Mark James)
20) Can't Help Falling In Love (Hugo Peretti/Luigi Creatore/George Weiss)
Complete show release: FTD ALL SHOOK UP-07-2005
Live at the International Hotel, Las Vegas, NV August 26, 1969
2LP set
LP 1 – SIDE A
1. Blue Suede Shoes (Carl Perkins)
2. I Got A Woman (Ray Charles)
3. All Shook Up (Otis Blackwell/Elvis Presley)
4. Love Me Tender (Vera Matson/Elvis Presley)
5. Jailhouse Rock/Don't Be Cruel (Jerry Leiber/Mike Stoller)/(Otis Blackwell/Elvis Presley)
6. Heartbreak Hotel (Tommy Durden/Mae Boren Axton/Elvis Presley)
7. Hound Dog (Jerry Leiber/Mike Stoller)
LP 1 – SIDE B
1. I Can't Stop Loving You (Don Gibson)
2. Mystery Train/Tiger Man (Junior Parker/Sam Phillips)/(Joe Hill Louis/Sam Burns)
3. Monologue
LP 2 – SIDE C
1. Baby, What You Want Me To Do (Jimmy Reed)
2. Runaway (Max Crook/Del Shannon)
3. Are You Lonesome Tonight? (Laughing version) (Roy Turk/Lou Handman)
4. Rubberneckin' (Dory Jones/Bunny Warren)
5. Yesterday/Hey Jude (John Lennon/Paul McCartney)/(John Lennon/Paul McCartney)
LP 2 – SIDE D
1. In The Ghetto (Scott "Mac" Davis)
2. This Is The Story (Chris Arnold/Geoff Morrow/David Martin)
3. Suspicious Minds (Mark James)
4. Can't Help Falling In Love (Hugo Peretti/Luigi Creatore/George Weiss)