 News
Elvis Presley / The Best of The '68 Comeback Special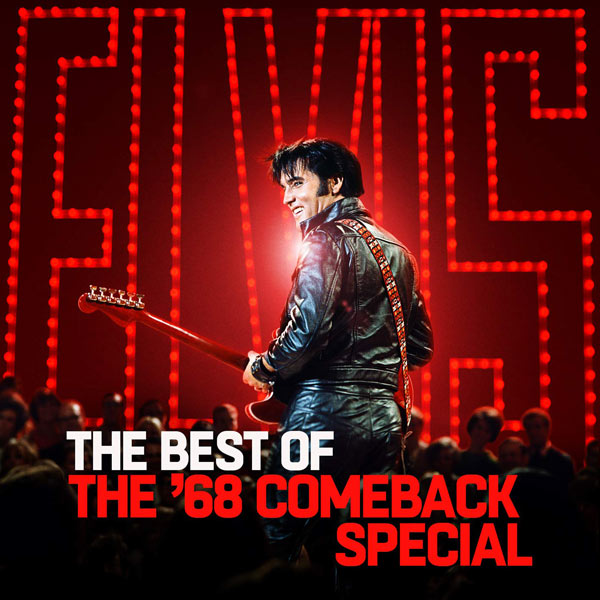 Next month, Sony will issue a single CD 'Best Of' Elvis Presley's '68 Comeback Special.

Perhaps confusingly, this release ties in with a new 'special' to celebrate the old 'special'! The upcoming NBC TV special will run for two hours and is going to be called 'Elvis All-Star Tribute'. It will recreate the iconic night with musical performances, a showcase of rare footage and interviews with Pricilla Presley and Steve Binder, the director of the original special, plus a special appearance from Lisa Marie Presley.
The Best of the '68 Comeback Special CD features 'the best' of the Elvis recordings from the original broadcast – in total 15 performances from the 'stand-up' and 'sit-down' shows filmed in '68 – but sneakily it also includes a new version of If I Can Dream, which features featuring Elvis' original vocals alongside new performances by Carrie Underwood, Shawn Mendes, Post Malone, Darius Rucker and Blake Shelton. Three original studio recordings (not part of the '68 Comeback Special, of course) are also included to represent songs that appear in the new 2019 NBC special.
The '68 Comeback Special was reissued last year as a 5CD/2 Blu-ray box set. This new single CD best of is released on 15 February 2019.
Compare prices and pre-order
Presley, Elvis
The Best of The '68 Comeback Special - CD
You might also like…
Compare prices and pre-order
Presley, Elvis
The '68 Comeback Special 7-disc box set
1. Trouble / Guitar Man – Elvis Presley
2. Heartbreak Hotel (First 'Stand – Up' Show)
3. Hound Dog (Second 'Stand – Up' Show)
4. All Shook Up (Second 'Stand – Up' Show)
5. Can't Help Falling in Love (First 'Stand – Up' Show)
6. Jailhouse Rock (First 'Stand – Up' Show)
7. Don't Be Cruel (First 'Stand – Up' Show)
8. Blue Suede Shoes (Second 'Sit – Down' Show)
9. Baby, What You Want Me To Do (First 'Stand – Up' Show)
10. Are You Lonesome Tonight? (First 'Sit – Down' Show)
11. One Night (Second 'Sit – Down' Show)
12. Love Me Tender (First 'Stand – Up' Show)
13. Trying To Get To You (Second 'Sit – Down' Show)
14. Love Me (Second 'Sit Down' Show) – Elvis Presley
15. Memories – Elvis Presley
16. A Little Less Conversation – Elvis Presley
17. Suspicious Minds – Elvis Presley
18. Burning Love – Elvis Presley
19. If I Can Dream – Elvis Presley, Carrie Underwood, Shawn Mendes, Post Malone, Darius Rucker, and Blake Shelton