 News
Erasure / Chorus 3CD deluxe edition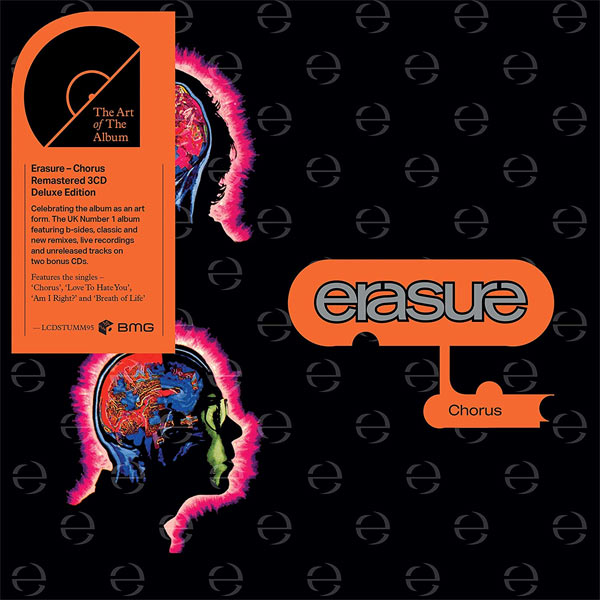 Erasure's fifth studio album Chorus will be reissued as a three-CD deluxe edition next month.

The 1991 long-player reached number one in the UK album charts and features the hit singles 'Chorus', 'Love to Hate You', 'Am I Right?' and 'Breath of Life'.
The audio has been remastered and this triple-disc set features two additional CDs; the first contains B-sides, remixes and rarities while the second bonus disc is a live CD from the Phantasmagorical Entertainment tour.
This is packaged as a hardcover 'casebound' book edition and is branded as BMG's occasional 'Art of the Album' series.
This Chorus deluxe edition is released on 14 February 2020.
Compare prices and pre-order
Erasure
Chorus - 3CD deluxe edition
You might also like…
Compare prices and pre-order
Erasure
Chorus - 2016 vinyl reissue
Compare prices and pre-order
CD1 – Original Album (Remastered)
Chorus
Waiting For The Day
Joan
Breath Of Life
Am I Right
Love To Hate You
Turns The Love To Anger
Siren Song
Perfect Stranger
Home
CD2 – B-Sides, Remixes & Rarities
Over The Rainbow – Originally appears on the single 'Chorus'
Turns The Love To Anger (Vince Clarke Remix) – New Remix
Perfect Stranger (KROQ Mellow Version) – Taken from the 'KROQ Sessions'
Waiting For Sex (Full Length) – Taken from the single 'Am I Right?'
Love To Hate You (Robbie Rivera's Juicy Mix) – New Remix
Twilight – Originally appears on the 2006 EIS release 'Buried Treasure II'
Let It Flow – Originally appears on the single 'Am I Right?'
Chorus (Fishes In The Sea) (Ben Grosse Remix) – U.S Promo
Siren Song (Alternative Lyrics) – Originally appears on the 2006 EIS release 'Buried Treasure II'
Breath Of Life (Divine Inspiration Mix) – Remixed by Phil Kelsey. Originally appears on the single 'Breathe Of Life'
Love to Hate You (KROQ Blunder Version) – Taken from the 'KROQ Sessions'
La La La – Originally appears on the single 'Love To Hate You'
Mirror To Your Soul – Originally appears on the 2006 EIS release 'Buried Treasure II'
Waiting For The Day (Demo Version) – Originally appears on the box set 'From Moscow To Mars'
Perfect Stranger (Acoustic) – Originally appears on the single 'Am I Right?'
Am I Right? (Glen Nicholls Extended 12″ Mix) – New Remix
Home (Minute Taker Remix) – New Remix
CD3 – Chorus Live at Manchester Apollo, 1992
Chorus
Waiting For The Day
Joan
Breath Of Life
Am I Right
Love To Hate You
Turns The Love To Anger
Siren Song
Perfect Stranger
Home