 News
Essential 10cc / 3CD set
Generous 3CD set at a great price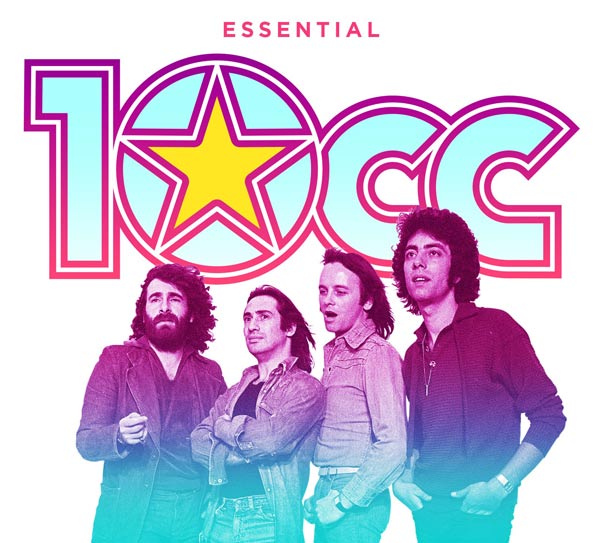 UMC will issue Essential 10cc on their budget Spectrum Music imprint next month. The three-CD set brings together an impression 54 tracks.

10cc scored 11 top ten UK hits in the 1970s and the creative force of the band was famously driven by two internal writing teams: the 'arty' and experimental Kevin Godley & Lol Creme and the more poppy and commercial Graham Gouldman and Eric Stewart.
Godley and Creme left in 1976 and enjoyed further success as a duo and notably went on to forge a very successful career as promo video directors. Stewart and Gouldman continued, until 1983's Windows in the Jungle album after which there was something of a hiatus.
There was a brief, but unsuccessful, reunion with Godley and Creme in 1992 (the ...Meanwhile album). That pair didn't return for the final album, 1995's Mirror Mirror, which in truth was more like an uneasy fusion of Gouldman and Stewart solo albums.
Essential 10cc will be released on 5 February 2021. The UK price is likely to drop to the usual £5 mark, before release. See the full track listing, below.
Compare prices and pre-order
10cc
Essential 10cc - 3CD set
CD1
I'm Not In Love
Life Is A Minestrone
I'm Mandy Fly Me
The Second Sitting For The Last Supper
Brand New Day
Channel Swimmer
Good News
Une Nuit A Paris (part 1) / The Same Night in Paris (part 2) / Later the Same Night in Paris (part 3)
Get It While You Can
I Wanna Rule The World
Head Room
Lazy Ways
Iceberg
People In Love
Marriage Bureau Rendezvous
Modern Man Blues (live)
I'm So Laid Back I'm Laid Out
Don't Squeeze Me Like Toothpaste
CD2
Dreadlock Holiday
The Things We Do For Love
Wall Street Shuffle (live 1977)
Waterfall (Live 1977)
Ships Don't Disappear In The Night (Do They?) (live 1977)
You've Got A Cold (live 1977)
Life Line
Take These Chains
From Rochdale to Ocho Rios
Last Night
Nothing Can Move Me
It Doesn't Matter At All
Strange Lover
Welcome To The World
Dressed To Kill
Only Child
I'm Not In Love (Live in London 1982)
Dreadlock Holiday (Live in London 1982)
CD3
Good Morning Judge
Art For Art's Sake
The Power Of Love
You're Coming Home Again
Run Away
Les Nouveaux Riches
Don't Ask
Memories
Action Man In Motown Suit
We've Heard It All Before
Oomachasaooma (Feel The Love)
Food For Thought
Yes I Am
She Gives Me Pain
Something Special
Welcome To Paradise
Don't
Lost In Love