 News
Eric Stewart / 10cc: Anthology – 2CD set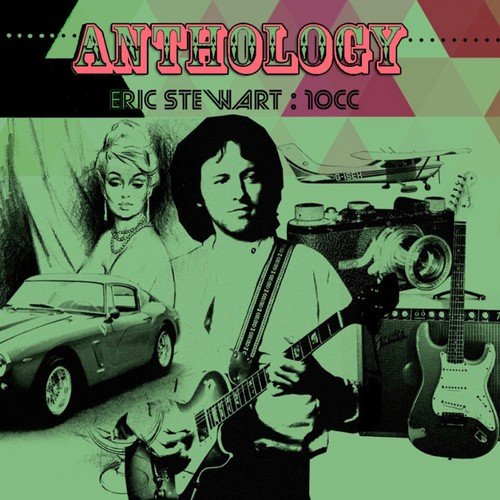 Cherry Red will issue a new Eric Stewart/10cc Anthology next month.

This is a two-CD set and it brings together tracks from all four of his solo albums and some tracks from his period in 10cc, including Yvonne's The One from the last 10cc album, Mirror Mirror. That track was written with Paul McCartney during the sessions for Macca's Press To Play album, although the song was never released by Paul, so Eric put out his own version (Macca's Pretty Little Head is included on the forthcoming 10cc box set for the same reason).
The tracks on this Anthology are spread around both discs in curious fashion, although eight tracks from Stewart's last studio album (2009's Viva La Difference) are grouped together on the second CD, albeit in a different order than presented on the album.
This set has been compiled and co-mastered by Eric, and the label claim that some of these tracks are available on CD for the first time. Anthology also benefits from a new essay on the albums by Daryl Easlea, who has spoken at length to Eric about these records.
Anthology is released on 21 July 2017. Cherry Red are selling 50 signed copies and appear to still have some left (at the time of writing).
Compare prices and pre-order
Eric Stewart (10CC)
Eric Stewart/10cc - Anthology 2CD set
TRACK LIST:
DISC ONE
MIRROR MIRROR (10cc)
1. AGE OF CONSENT
2. CODE OF SILENCE
3. EVERYTHING IS NOT ENOUGH
4. MARGO WANTS THE MUSTARD
FROOTY ROOTIES
5. NIGHT AND DAY
DO NOT BEND
6. MORE AND MORE EACH DAY (aka "I WILL LOVE YOU TOMORROW')
TEN OUT OF TEN (10cc)
7. LES NOUVAUX RICHE
DO NOT BEND
8. A HUMAN, BEING
MIRROR MIRROR (10cc)
9. YVONNE'S THE ONE
DO NOT BEND
10. YOU ARE NOT ME
11. A FRIEND IN NEED
12. YOU CAN'T TAKE IT WITH YOU
13. THIS MUST BE HEAVEN. (aka, 'THE GODS ARE SMILING')
14. HEAVEN KNOWS. (aka 'SLEEPING WITH THE GHOSTS')
FROOTY ROOTIES
15. DORIS THE FLORIST
16. STRICTLY BUSINESS
DISC TWO
FROOTY ROOTIES
1. THE RITUAL PARTS 1-2-3
DO NOT BEND
2. DO THE BOOKS
FROOTY ROOTIES
3. NEVER SAY I TOLD YOU SO
4. MAKE THE PIECES FIT
GIRLS
5. GIRLS
VIVA LA DIFFERENCE
6. VIVA LA DIFFERENCE
7. WE'RE NOT ALONE
8. WORD OF THE MOUTH
9. SLEEP AT NIGHT
10. CAN'T GET ENOUGH
11. IT'S IN THE BLOOD
12. FRIENDS LIKE THESE
13. DO NOT BEND
DO NOT BEND
14. NO,NO, NETTIE
FROOTY ROOTIES
15. GUITAAAAAARGHS