 News
Fleetwood Mac / 50 Years: Don't Stop
Career-spanning compilation • 3CD or 5LP vinyl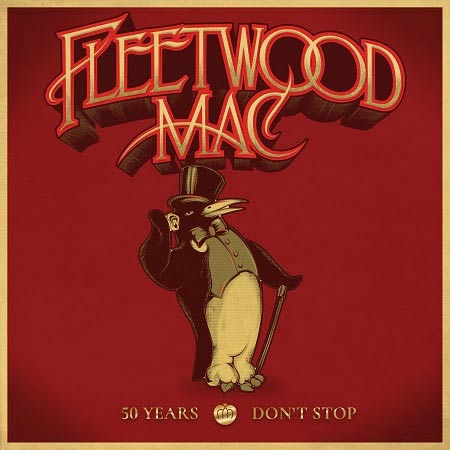 You can't move for 50th anniversaries right now and so Fleetwood Mac will celebrate a half century of music in November with 50 Years: Don't Stop a 50-song collection that explores the group's entire career, from its early days playing the blues, to the superstardom and rock/pop of the late 1970s, 1980s and beyond.

The 50 tracks span from 1968 to 2013 and that means music from every incarnation of the band with musicians such as Peter Green, Mick Fleetwood, Jeremey Spencer, John McVie, Danny Kirwan, Christine McVie, Bob Welch, Bob Weston, Lindsey Buckingham, Stevie Nicks, Billy Burnette, Rick Vito, Dave Mason, and Bekka Bramlett.

The CD edition is a three-CD package, while to fit everything on vinyl means that is a five-record set. There's 20-track single CD version that ends up being more of a traditional 'greatest hits'. David Wild has written sleeve notes for this new release.

50 Years: Don't Stop is released on 16 November 2018.


Compare prices and pre-order
Fleetwood Mac
50 years don't stop - 3CD edition
Compare prices and pre-order
Fleetwood Mac
50 years don't stop - 5LP vinyl box
Compare prices and pre-order
Fleetwood Mac
50 years don't stop - single CD edition
3CD Edition
(same track listing for 5LP vinyl)
Disc One
"Shake Your Moneymaker"

"Black Magic Woman"

"Need Your Love So Bad"

"Albatross"

"Man Of The World"

"Oh Well – Pt. I"

"Rattlesnake Shake"

"The Green Manalishi (With The Two
Prong Crown)"

"Tell Me All The Things You Do"

"Station Man – Single Version

"Sands Of Time" – Single Version

"Spare Me A Little Of Your Love"

"Sentimental Lady" – Single Version

"Did You Ever Love Me"

"Emerald Eyes"

"Hypnotized"

"Heroes Are Hard To Find" – Single
Version
Disc Two
"Monday Morning"

"Over My Head" – Single Version

"Rhiannon (Will You Ever Win)" – Single Version

"Say You Love Me" – Single Version

"Landslide"

"Go Your Own Way"

"Dreams"

"Second Hand News"

"Don't Stop"

"The Chain"

"You Make Loving Fun"

"Tusk"

"Sara" – Single Version

"Think About Me" – Single Version

"Fireflies" – Single Version

"Never Going Back Again" – Live
Disc Three
"Hold Me"

"Gypsy"

"Love In Store"

"Oh Diane"

"Big Love"

"Seven Wonders"

"Little Lies"

"Everywhere"

"As Long As You Follow"

"Save Me" – Single Version

"Love Shines"

"Paper Doll"

"I Do" – Edit

"Silver Springs" – Live-Edit

"Peacekeeper"

"Say You Will"

"Sad Angel"
Single-CD edition

1.    "Don't Stop"
2.    "Go Your Own Way"
3.    "Dreams"
4.    "The Chain"
5.    "Landslide"
6.    "Rhiannon (Will You Ever Win)" – Single Version
7.    "Everywhere"
8.    "Little Lies"
9.    "Never Going Back Again" – Live
10.  "Tusk"
11.  "Sara" – Single Version
12.  "Gypsy"
13.  "Hold Me"
14.  "Big Love"
15.  "Seven Wonders"
16.  "Save Me"
17.  "Peacekeeper"
18.  "Albatross"
19.  "Man Of The World"
20.  "Oh Well – Pt. I"