 News
Frank Zappa / Hot Rats Sessions box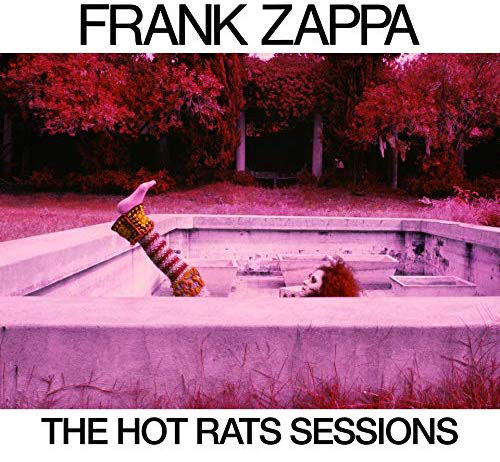 Frank Zappa's second album Hot Rats is being reissued for its 50th anniversary and formats include a 6CD box set full of previously unreleased sessions.

The 1969 album was the first record to be recorded on a prototype 16-track tape machine and the recording sessions produced a wealth of material that ended up being sprinkled among multiple releases during Frank Zappa's lifetime.
This box set documents and compiles "every composition recorded during those days in July 1969", along with an abundance of rare mixes, 'vault nuggets' and complete basic tracks. That's 65 tracks in total, with just the six original album tracks previously released (the 1987 CD mixes). Everything here was mixed from the original multi-track masters by Craig Parker Adams in 2019.
Sleeve notes come courtesy of a certain Matt Groening and there are essays by Ian Underwood, Andee Nathanson and Vaultmeister Joe Travers. It's not exactly clear what size this box is but it does apparently include a Zappa Land board game "with custom game pieces, dice and playing cards."
As well as the box set, the standard album is available as a new vinyl pressing. This is coloured vinyl ('hot pink) and pressed at Pallas.
Hot Rats is reissued on 20 December 2019.
Compare prices and pre-order
Frank Zappa
Hot Rats - 6CD box set
Compare prices and pre-order
Frank Zappa
Hot Rats - hot pink vinyl LP
Hot Rats Sessions 6CD box
CD1
1.  Piano Music (Section 1)
2.  Piano Music (Section 3)
3.  Peaches En Regalia (Prototype)
4.  Peaches En Regalia (Section 1, In Session)
5.  Peaches En Regalia (Section 1, Master Take)
6.  Peaches Jam – Part 1
7.  Peaches Jam – Part 2
8.  Peaches En Regalia (Section 3, In Session)
9.  Peaches En Regalia (Section 3, Master Take)
10. Arabesque (In Session)
11. Arabesque (Master Take)
12. Dame Margret's Son To Be A Bride (In Session)
CD2
1.  It Must Be A Camel (Part 1, In Session)
2.  It Must Be a Camel (Part 1, Master Take)
3.  It Must Be a Camel (Intercut, In Session)
4.  It Must Be a Camel (Intercut, Master Take)
5.  Natasha (In Session)
6.  Natasha (Master Take)
7.  Bognor Regis (Unedited Master)
8.  Willie The Pimp (In Session)
9.  Willie The Pimp (Unedited Master Take)
10. Willie The Pimp (Guitar OD 1)
11. Willie The Pimp (Guitar OD 2)
CD3
1.  Transition (Section 1, In Session)
2.  Transition (Section 1, Master Take)
3.  Transition (Section 2, Intercut, In Session)
4.  Transition (Section 2, Intercut, Master Take)
5.  Transition (Section 3, Intercut, In Session)
6.  Transition (Section 3, Intercut, Master Take)
7.  Lil' Clanton Shuffle (Unedited Master)
8.  Directly From My Heart To You (Unedited Master)
9.  Another Waltz (Unedited Master)
CD4
1.  Dame Margret's Son To Be A Bride (Remake)
2.  Son Of Mr. Green Genes (Take 1)
3.  Son Of Mr. Green Genes (Master Take)
4.  Big Legs (Unedited Master Take)
5.  It Must Be a Camel (Percussion Tracks)
6.  Arabesque (Guitar OD Mix)
7.  Transition (Full Version)
8.  Piano Music (Section 3, OD Version)
CD5
1.  Peaches En Regalia (1987 Digital Re-Mix)
2.  Willie The Pimp (1987 Digital Re-Mix)
3.  Son Of Mr. Green Genes (1987 Digital Re-Mix)
4.  Little Umbrellas (1987 Digital Re-Mix)
5.  The Gumbo Variations (1987 Digital Re-Mix)
6.  It Must Be A Camel (1987 Digital Re-Mix)
7.  The Origin Of Hot Rats
8.  Hot Rats Vintage Promotion Ad #1
9.  Peaches En Regalia (1969 Mono Single Master)
10. Hot Rats Vintage Promotion Ad #2
11. Little Umbrellas (1969 Mono Single Master)
12. Lil' Clanton Shuffle (1972 Whitney Studios Mix)
CD6
1.  Little Umbrellas (Cucamonga Version)
2.  Little Umbrellas (1969 Mix Outtake)
3.  It Must Be A Camel (1969 Mix Outtake)
4.  Son Of Mr. Green Genes (1969 Mix Outtake)
5.  More Of The Story Of Willie The Pimp
6.  Willie The Pimp (Vocal Tracks)
7.  Willie The Pimp (1969 Quick Mix)
8.  Dame Margret's Son To Be A Bride (1969 Quick Mix)
9.  Hot Rats Vintage Promotion Ad #3
10. Bognor Regis (1970 Record Plant Mix)
11. Peaches En Regalia (1969 Rhythm Track Mix)
12. Son Of Mr. Green Genes (1969 Rhythm Track Mix)
13. Little Umbrellas (1969 Rhythm Track Mix)
14. Arabesque (Guitar Tracks)
15. Hot Rats Vintage Promotion Ad #
Hot Rats pink vinyl LP
Side A
1.  Peaches En Regalia
2.  Willie The Pimp
3.  Son Of Mr. Green Genes
Side B
4.  Little Umbrellas
5.  The Gumbo Variations
6.  It Must Be A Camel