 News
Go West / Dancing on the Couch reissue
Signed prints only with SDE shop orders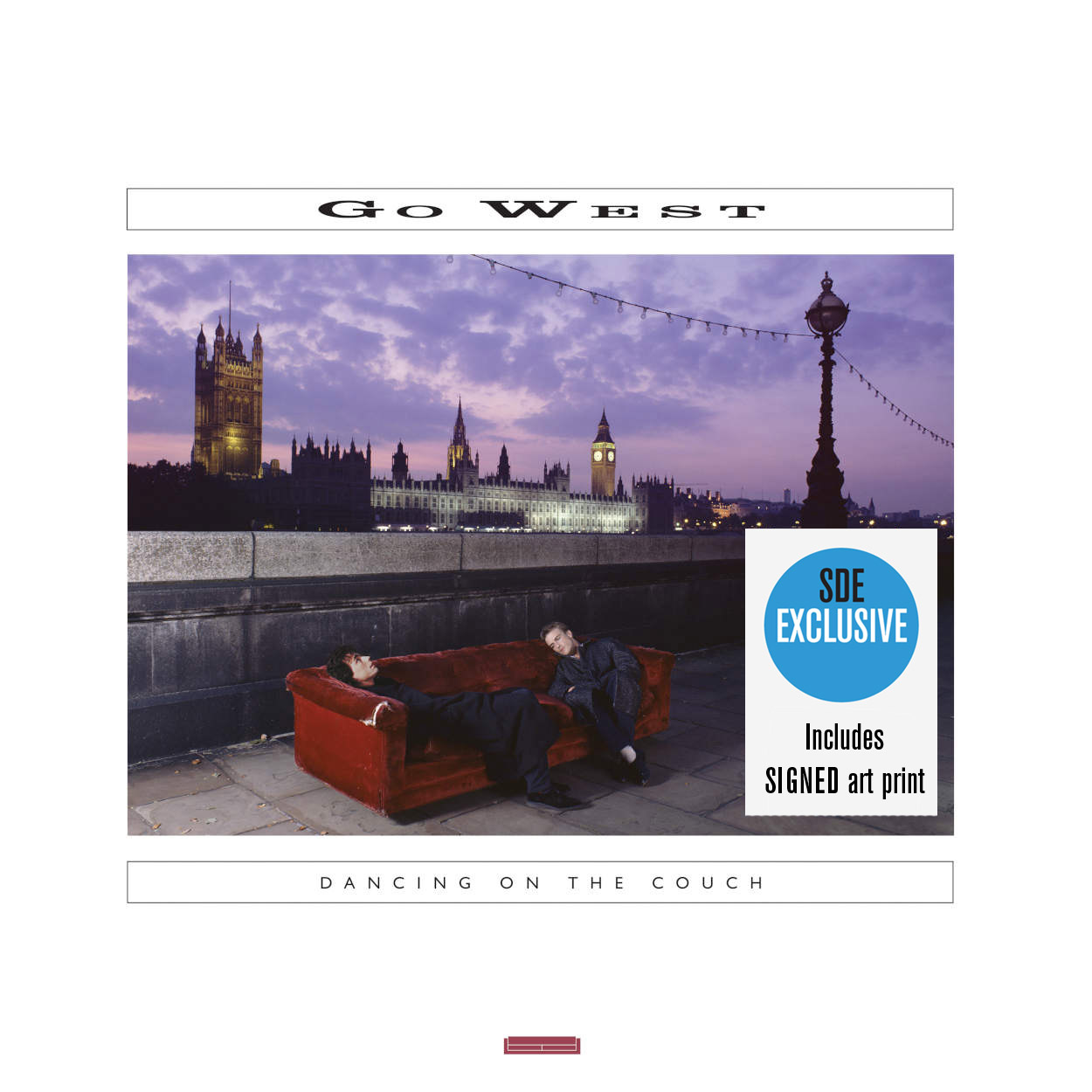 Go West's 1987 album Dancing On The Couch will be reissued in January.
This follow-up to their platinum self-titled debut saw Peter Cox and Richard Drummie continuing to explore their signature pop-soul sound, and includes the singles 'True Colours', 'I Want To Hear It From You', 'From Baltimore To Paris', and 'The King Is Dead' (with guest backing vocals from a certain Kate Bush).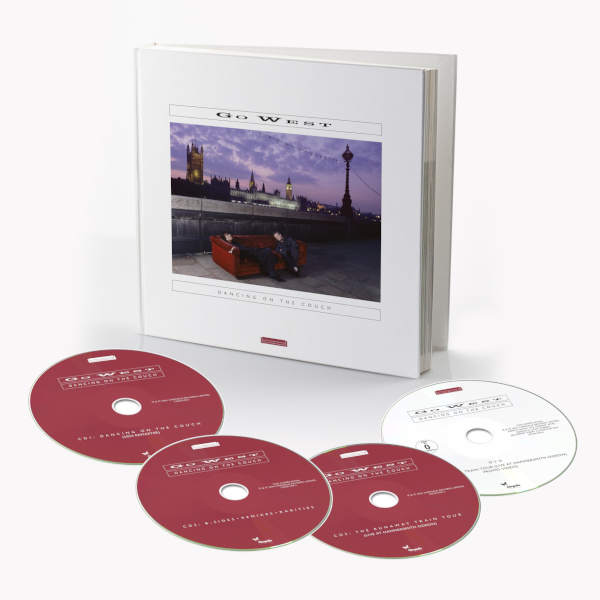 This new deluxe edition is available as a 3CD+DVD set which includes the original album newly remastered by producer Gary Stevenson; a second CD of B-sides, rarities and previously unreleased material; a third CD featuring the Hammersmith Odeon show recorded on the 'Runaway Train' tour in 1987; and a DVD featuring promo videos from the period and the Hammersmith concert (on DVD for the first time). This set is packaged as a seven-inch hardcover book with a 20-page booklet with photos, lyrics and new sleeve notes from the band.
There's also a 2LP edition pressed on clear vinyl offers a bonus LP of remixes and rarities.
The SDE shop has exclusive editions of both releases which ship with a print of the album cover SIGNED by both Peter Cox and Richard Drummie. The print is the size of a seven-inch single (for both editions). Additionally, the SDE shop has an ultra-limited edition of the Go West single 'King of Wishingful Thinking'. This is a special Lathe Cut clear vinyl edition is limited to 50 units. It comes in a white sleeve signed (and numbered) by both band members. Strictly limited to ONE per customer.
Dancing on the Couch will be reissued on 26 January 2024, via Chrysalis. The lathe cut vinyl will ship next week if ordered by itself, or in January if ordered with Dancing on the Couch.
Both editions of Dancing On The Couch with the SIGNED prints will be available for to pre-order for one week only, from today. Order all of these exclusives ONLY via the SDE shop using this link or the buttons below
Tracklisting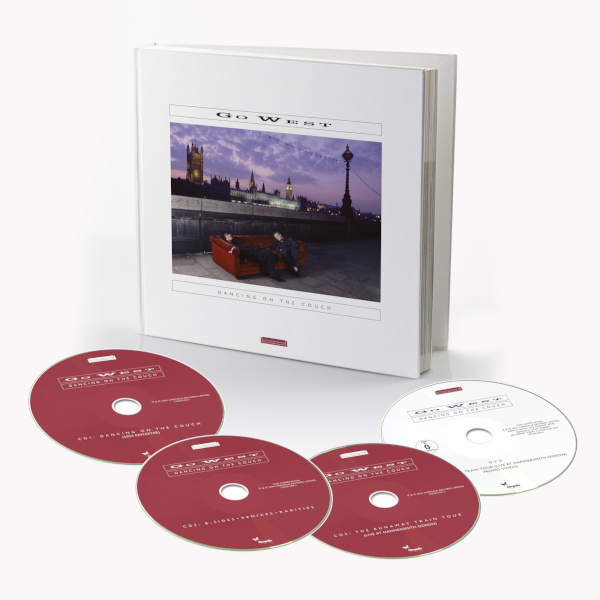 Dancing on the Couch Go West
/
3CD+DVD
CD 1: Dancing on the Couch (2024 remaster)

I Want To Hear It From You
Little Caesar
Masque Of Love
From Baltimore To Paris
True Colours
The King Is Dead
Chinese Whispers
Let's Build A Boat
Crossfire
Dangerous

CD 2: B-sides, Remixes, Rarities

I Want To Hear It From You (A Day In Aarhus)
True Colours (The Snake Charmer Mix)
Masque of Love (Schoolhouse Mix)
The King Is Dead (12″ Long Vibe Piano Mix)*
I'll Be Waiting / Tears Too Late
True Colours (Demo Mix)*
XL 5
The King Is Dead (Live at Hammersmith
12″ Version)
I'll Be Waiting (The Skelefocal Mix)*
Don't Be Afraid Of Your Dreams
Don't Look Down (The Sequel) [U.S. 7″ Mix]

*Previously unreleased

CD 3: The Runaway Train Tour: Live at Hammersmith Odeon

S.O.S.
True Colours
Chinese Whispers
Eye To Eye
Little Caesar
Missing Persons
Man In My Mirror
I Want To Hear It From You
Call Me
Don't Look Down
The King Is Dead
We Close Our Eyes

All tracks previously unreleased

DVD: The Runaway Train Tour: Live at Hammersmith Odeon

Live at Hammersmith Odeon


S.O.S.
True Colours
Chinese Whispers
Eye To Eye
Little Caesar
Missing Persons
I Want To Hear It From You
Call Me
Don't Look Down
The King Is Dead
We Close Our Eyes

Promo Videos

True Colours
I Want To Hear It From You
The King Is Dead
True Colours (Version 2)
Tracklisting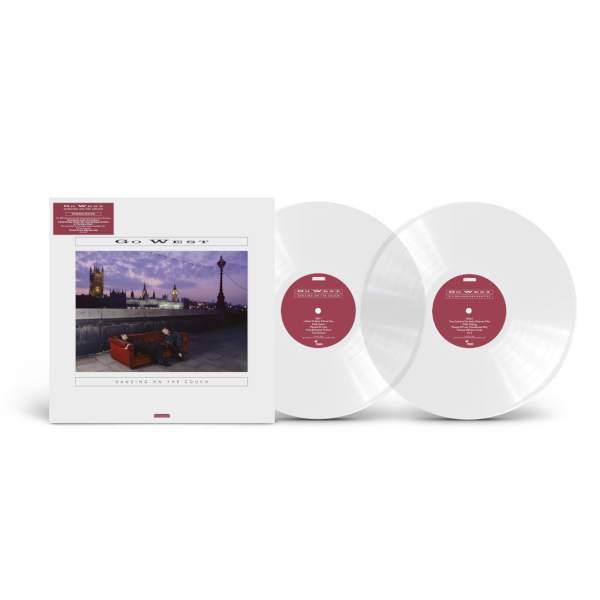 Dancing on the Couch Go West
/
2LP clear vinyl
LP 1: Dancing on the Couch (2024 remaster)

Side One

I Want To Hear It From You
Little Caesar
Masque Of Love
From Baltimore To Paris
True Colours

Side Two

The King Is Dead
Chinese Whispers
Let's Build A Boat
Crossfire
Dangerous

LP 2: Remixes, Rarities

Side Three

True Colours (The Snake Charmer Mix)
I'll Be Waiting
Masque Of Love (Schoolhouse Mix)
Chinese Whispers (Live)
XL 5

Side Four

I Want To Hear It From You (A Day In Aarhus)
Tears Too Late
Don't Be Afraid Of Your Dreams
Little Caesar (Live)
The King Is Dead (12" Long Vibe Piano Mix)