 News
Grateful Dead / Aoxomoxoa 50th anniversary edition
2CD deluxe • Both mixes of the album, remastered • vinyl picture disc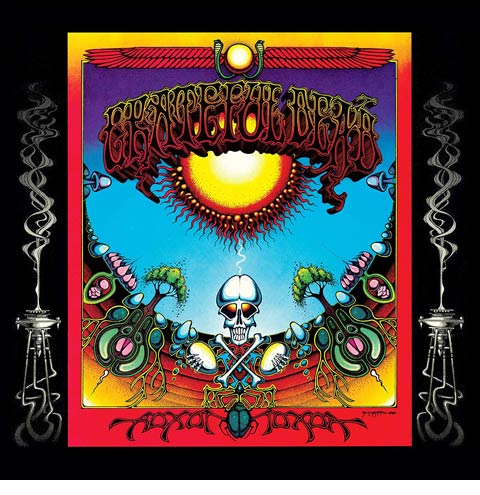 The Grateful Dead's 1969 album Aoxomoxoa is being reissued as an expanded 50th anniversary edition in June.

The two-CD deluxe edition of this anniversary celebration features two mixes of the album – one being a "fully remastered" version from the original 1969 mix and the other remastered from the definitive 1971 band-produced mix. These are both on the first disc. The second CD features unreleased live music dating back to January 24-26, 1969.




The 50th anniversary vinyl edition will actually be a limited edition picture disc (10,000 units) showing off Rick Griffin's wonderful artwork. The audio features the remastered version of the album (presumably the '71 version).

Aoxomoxoa will be reissued on 7 June 2019 via Rhino.


Compare prices and pre-order
Grateful Dead
aoxomoxoa - 2CD edition
Compare prices and pre-order
Grateful Dead
aoxomoxoa - vinyl picture disc
Aoxomoxoa 2CD deluxe
CD 1
1. St. Stephen (1969 Mix) [Remastered]
2. Dupree's Diamond Blues (1969 Mix) [Remastered]
3. Rosemary (1969 Mix) [Remastered]
4. Doin' That Rag (1969 Mix) [Remastered]
5. Mountains Of The Moon (1969 Mix) [Remastered]
6. China Cat Sunflower (1969 Mix) [Remastered]
7. What's Become Of The Baby (1969 Mix) [Remastered]
8. Cosmic Charlie (1969 Mix) [Remastered]
9. St. Stephen (1971 Mix) [Remastered]
10. Dupree's Diamond Blues (1971 Mix) [Remastered]
11. Rosemary (1971 Mix) [Remastered]
12. Doin' That Rag (1971 Mix) [Remastered]
13. Mountains Of The Moon (1971 Mix) [Remastered]
14. China Cat Sunflower (1971 Mix) [Remastered]
15. What's Become Of The Baby (1971 Mix) [Remastered]
16. Cosmic Charlie (1971 Mix) [Remastered]
CD 2
1. New Potato Caboose (Live at Avalon Ballroom, San Francisco, CA, 1/24/69)
2. Dupree's Diamond Blues (Live at Avalon Ballroom, San Francisco, CA, 1/25/69)
3. Doin' That Rag (Live at Avalon Ballroom, San Francisco, CA, 1/25/69)
4. Alligator (Live at Avalon Ballroom, San Francisco, CA, 1/25/69)
5. Caution (Do Not Stop On Tracks) [Live at Avalon Ballroom, San Francisco, CA, 1/25/69]
6. Feedback (Live at Avalon Ballroom, San Francisco, CA, 1/25/69)
7. And We Bid You Goodnight (Live at Avalon Ballroom, San Francisco, CA, 1/25/69)
8. Clementine (Live at Avalon Ballroom, San Francisco, CA, 1/26/69)
9. Death Don't Have No Mercy (Live at Avalon Ballroom, San Francisco, CA, 1/26/69)