 News
Heaven 17 / Play to Win:The Virgin Years / 10CD deluxe & 5LP vinyl box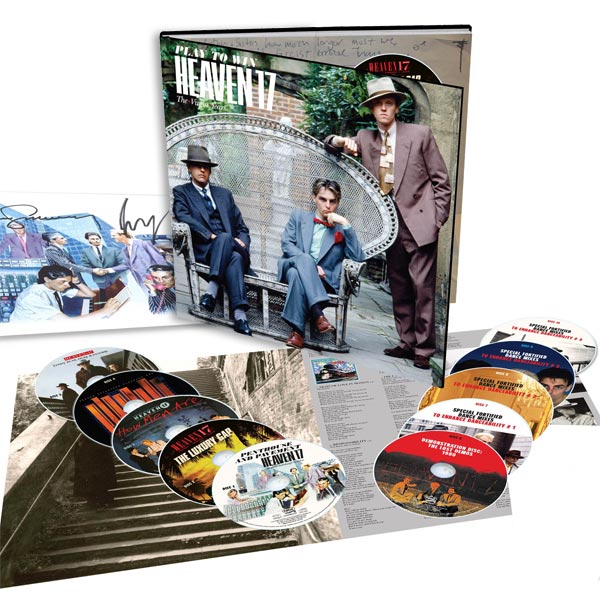 10CD box set of the Virgin Years • Albums • demos • remixes • Also available 5LP vinyl COLOURED vinyl box set
Synthpop legends Heaven 17's Virgin Records recordings are brought together in Play To Win: The Virgin Years, a large format 10CD deluxe set which features all five albums issued in the 1980s, along with over 100 bonus tracks, including demos, B-sides, non-album singles and remixes. It will also be released as a 5LP coloured vinyl box set called Play To Win: The Virgin Albums.

The albums in this new deluxe set are Penthouse and Pavement (1981), The Luxury Gap (1983), How Men Are (1984), Pleasure One (1986) and Teddy Bear, Duke & Psycho (1988). Every album has A-sides and B-sides appended and then there's a whole disc of demos and four further CDs of remixes!
This 10CD box is a large format (12″ x 12″) book style package which includes a 36-page booklet with lyrics, credits, photos and ephemera from the band's collections, and brand new annotation, based on new interviews with the band.
Play To Win will also be available as a special five-LP 180g coloured vinyl box, featuring the original albums.
Both the CD and vinyl variants of Play To Win will be released on 29 March 2019 via Edsel and Demon Records respectively.
Compare prices and pre-order
Heaven 17
Play to Win The Virgins Years - 10CD box set
Compare prices and pre-order
Heaven 17
Play to Win: The Virgin Albums 5LP coloured vinyl box set
Play to Win: The Virgin Years – 10CD box set
CD 1: PENTHOUSE AND PAVEMENT
Pavement Side
(We Don't Need This) Fascist Groove Thang
Penthouse And Pavement
Play To Win
Soul Warfare
Penthouse Side
Geisha Boys And Temple Girls
Let's All Make A Bomb
The Height Of The Fighting
Song With No Name
We're Going To Live For A Very Long Time
Bonus tracks – A-Sides
(We Don't Need This) Fascist Groove Thang [7" version]
I'm Your Money
Play To Win [7" version]
Penthouse And Pavement [7" version]
The Height Of The Fighting (He-La-Hu)
Bonus tracks – B-Sides
The Decline Of The West [by B.E.F]
B.E.F. Ident [by B.E.F]
Are Everything
Play
Honeymoon In New York [by B.E.F]
He-La-Hu*
CD 2: THE LUXURY GAP
Crushed By The Wheels Of Industry
Who'll Stop The Rain
Let Me Go
Key To The World
Temptation
Come Live With Me
Lady Ice And Mr Hex
We Live So Fast
The Best Kept Secret
Bonus tracks – A-Sides
Let Me Go [US 7" version]
Temptation [7" version]
Come Live With Me [7" version]
Crushed By The Wheels Of Industry (Part 1)
Bonus tracks – B-Sides
Let Me Go [instrumental]
Let's All Make A Bomb [new version]
Song With No Name [new version]
Crushed By The Wheels Of Industry (Part 2)
CD 3: HOW MEN ARE
Five Minutes To Midnight
Sunset Now
This Is Mine
The Fuse
Shame Is On The Rocks
The Skin I'm In
Flamedown
Reputation
And That's No Lie
Bonus tracks – A-Sides
This Is Mine [7" version]
…(And That's No Lie) [7" version]
Bonus tracks – B-Sides
Counterforcce
Counterforce II
Skin
Mine [instrumental]
The Heaven 17 Megamix 
CD 4: PLEASURE ONE
Contenders
Trouble
Somebody
If I Were You
Low Society
Red
Look At Me
Move Out
Free
Bonus tracks – A-Sides
The Foolish Thing To Do [featuring Jimmy Ruffin] [Version 1]
Contenders [7" version]
Contenders [US 7" edit]
Trouble [7" version]
Bonus tracks – B-Sides
My Sensitivity (Gets In The Way) [featuring Jimmy Ruffin]
The Foolish Thing To Do [featuring Jimmy Ruffin] [Version 2]
The Foolish Thing To Do [featuring Jimmy Ruffin] [instrumental]
Excerpts from 'Diary Of A Contender'
CD 5: TEDDY BEAR, DUKE & PSYCHO 
Big Square People
Don't Stop For No One
Snake And Two People
Can You Hear Me?
Hot Blood
The Ballad Of Go Go Brown
Dangerous
I Set You Free
Train Of Love In Motion
Responsibility
The Last Seven Days
The Foolish Thing To Do
Bonus tracks – A-Sides
The Ballad Of Go Go Brown [version]
Train Of Love In Motion [7" version]
Bonus tracks – B-Sides
Slow All Over
Work
Giving Up
CD 6 : DEMONSTRATION DISC: THE LOST DEMOS 1980
Penthouse And Pavement [original demo]
(We Don't Need This) Fascist Groove Thang [original demo]
Play To Win [original demo instrumental]
Soul Warfare [original demo]
Are Everything [original demo]
BEF Ident [alternate version]
Decline Of The West [alternate version]
Rise Of The East [alternate version]
Music To Kill Your Parents By [alternate version]
Uptown Apocalypse [alternate version]
A Baby Called Billy [alternate version]
Rhythmic Experiment 1
Rhythmic Experiment 2
Boys Of Buddha Experiment
At The Height Of The Fighting [original rhythm track]
Rhythmic Loop Experiment
Funky Experiment
Song Experiment
Heavy Drum Experiment
Play To Win [original demo with vocals]
Bonus tracks
Groove Thang
Temptation [original demo]
CD 7: SPECIAL FORTIFIED DANCE MIXES TO ENHANCE DANCEABILITY #1
(We Don't Need This) Fascist Groove Thang [12" version]
I'm Your Money [12" version]
Play To Win [12" version]
Penthouse And Pavement [12" version]
Let Me Go [12" version]
Temptation [12" version]
Who'll Stop The Rain [12" version]
Come Live With Me [12" version]
Crushed By The Wheels Of Industry [Parts I & II – uninterrupted single version]
Sunset Now [extended version]
This Is Mine [extended version]
…(And That's No Lie) [remixed to enhance its danceability]
CD 8: SPECIAL FORTIFIED DANCE MIXES TO ENHANCE DANCEABILITY #2
Penthouse And Pavement [Remix]
Let Me Go [Endless Version]
Play To Win [Endless Version]
Contenders [Dance Version]
Contenders [Go Go Version]
(Big) Trouble
The Ballad Of Go-Go Brown [Extended Version]
Train Of Love In Motion [The Mainline Mix]
Temptation [Brothers In Rhythm Remix]
(We Don't Need This) Fascist Groove Thang [Rapino Club Mix]
Penthouse And Pavement [Tommy D's Master Remix]
Let Me Go ["Hon, Its Flawless" Mix]
CD 9: SPECIAL FORTIFIED DANCE MIXES TO ENHANCE DANCEABILITY #3
Play [12" version]
Penthouse And Pavement [instrumental 7" version]
Penthouse And Pavement [instrumental 12" version]
Who'll Stop The Rain [US dub version]
We Live So Fast [12" version]
Crushed By The Wheels Of Industry [dub version]
Crushed By The Wheels Of Industry [The Extended Dance Version]
This Is Mine [Filmix]
This Is Mine [Cinemix]
Contenders [US Club Mix]
Trouble [US Club Mix]
CD10: SPECIAL FORTIFIED DANCE MIXES TO ENHANCE DANCEABILITY#4
Temptation [Brothers In Rhythm Remix Edit]
(We Don't Need This) Fascist Groove Thang [Rapino Edit]
Penthouse And Pavement [Tommy D's Master Edit]
(We Don't Need This) Fascist Groove Thang [Democratic Edit]
Let Me Go [I Trance Alone Mix]
Temptation [Brothers In Rhythm instrumental]
(We Don't Need This) Fascist Groove Thang [Democratic Rapino]
Penthouse And Pavement [Mr Big Buckles And His Amazing Ride]
Temptation [7″ backing track]
(We Don't Need This) Fascist Groove Thang [Democratic Instrumental]
Penthouse And Pavement [Original Vibe Mix]
Let Me Go [Let Me House You]
Penthouse And Pavement [D's Super Disco Dub Mix]
Temptation [Orchestral Theme From Temptation]
Play to Win: The Virgin Albums 5LP coloured vinyl box
Penthouse and Pavement
Pavement Side
(We Don't Need This) Fascist Groove Thang
Penthouse And Pavement
Play To Win
Soul Warfare
Penthouse Side
Geisha Boys And Temple Girls
Let's All Make A Bomb
The Height Of The Fighting
Song With No Name
We're Going To Live For A Very Long Time
The Luxury Gap
Side One
Crushed By The Wheels Of Industry
Who'll Stop The Rain
Let Me Go
Key To The World
Side Two
Temptation
Come Live With Me
Lady Ice And Mr Hex
We Live So Fast
The Best Kept Secret
How Men Are
Side One
Five Minutes To Midnight
Sunset Now
This Is Mine
The Fuse
Shame Is On The Rocks
Side Two
The Skin I'm In
Flamedown
Reputation
And That's No Lie
Pleasure One
Side One
Contenders
Trouble
Somebody
If I Were You
Low Society
Side Two
Red
Look At Me
Move Out
Free
Teddy Bear, Duke & Psycho
Side One
Big Square People
Don't Stop For No One
Snake And Two People
Can You Hear Me?
Hot Blood
Side Two
The Ballad Of Go Go Brown
Dangerous
I Set You Free
Train Of Love In Motion
Responsibility
The Last Seven Days
The Foolish Thing To Do