 News
Imagination featuring Leee John / 40 Years
17CD box set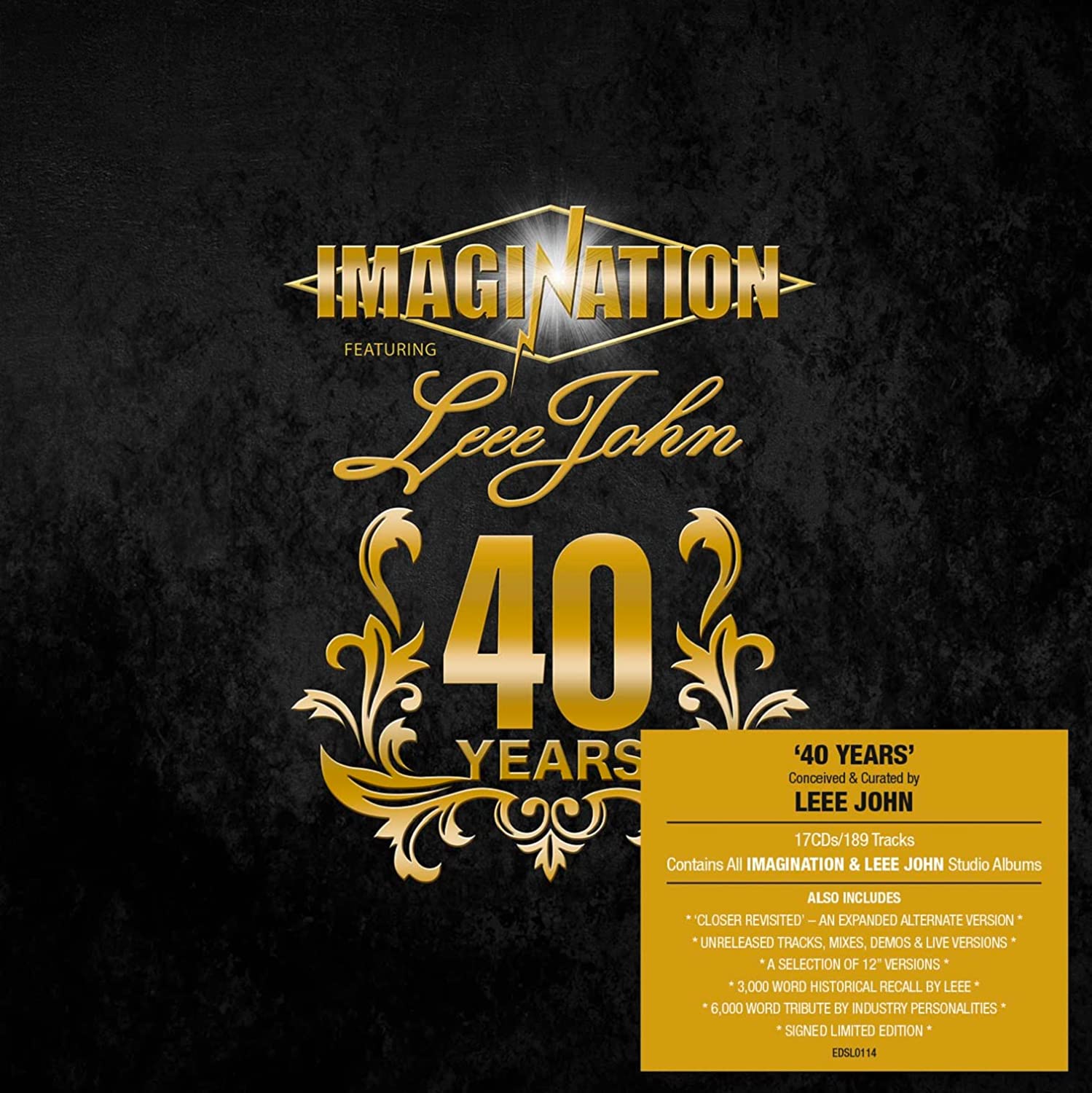 A mammoth 17CD box set, called 40 Years, celebrates the output of British soul/funk trio Imagination and samples some of the solo work of Leee John, the band's singer / keyboard player.
Best known for singles 'Body Talk' and 'Just An Illusion', Imagination emerged in the early 1980s worked with producers such as Tony Swain/Steve Jolley and Arthur Baker and had tracks remixed by the likes of David Morales, Frankie Knuckles, and others. There were seven studio albums and two remix albums and all of them are included in this new box set (including 2016/17's Retropia which was released as 'Imagination featuring Leee John').
The second half of the box takes in some of Leee John's solo work (there's not a lot of it) before moving into 'bonus CD' mode with a plethora of remixes, unreleased tracks and live cuts.
40 Years has been "conceived and personally curated" by Leee John, and he's signed some prints for a limited version. Reflecting on the era, John says: "The '80s were such special times in many ways, especially in the evolution of music technology, with sequencers, synthesisers, computers, samplers, and with music available on multiple formats including vinyl, cassettes to CD. By the time we got to the '90s and noughties with iPods and iPhone, the whole platform and generation of the music industry had vastly changed".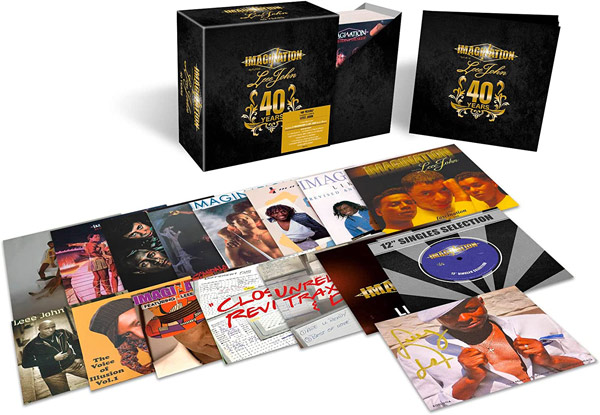 The box set has 189 tracks in total across the 17 CDs which is surely more Imagination than you could ever imagine owning. Nevertheless, it's less than £70 and is signed by the man himself, so that's little more than £4 per CD and there's surely some cracking remixes included.
40 Years is released on 10 February 2023, via Edsel Records.
Compare prices and pre-order
Imagination Feat. Leee John
40 Years - 17CD box set signed edition
Tracklisting
Imagination / Leee John
CD 1: BODY TALK (Imagination)

Body Talk
So Good, So Right
Burnin' Up
Tell Me Do You Want My Love
Flashback
I'll Always Love You (But Don't Look Back)
In And Out Of Love

CD2: IN THE HEAT OF THE NIGHT (Imagination)          

In The Heat Of The Night
Heart 'N' Soul
Music And Lights
All Night Loving
Just An Illusion
All I Want To Know
One More Love
Changes

CD3: NIGHT DUBBING (Imagination)    

Flashback
Just An Illusion
Music And Lights
So Good, So Right
Body Talk
Heart 'n' Soul
Changes
Burnin' Up

CD4: SCANDALOUS (Imagination)        

New Dimension
State Of Love
Point Of No Return
When I See The Fire
Shoo Be Doo Da Dabba Doobee
Wrong In Love
Looking At Midnight
The Need To Be Free

CD5: TRILOGY (Imagination)     

Last Days Of Summer
Body And Soul
One Heart
You've Got The Lovin'
Found My Girl
Blue Day Gone
Sunshine
Breathless
Thank You My Love
Rock Me Slow
I'm Coming To Get You
Trilogy

CD6: CLOSER (Imagination)      

I Know What Love Is
Hold Me In Your Arms
Paranoia
Where Are You Now
The Last Time
For Members Only
Touch (Part One)
Instinctual
Who (Tell Me Who)
Operator
Over
Hot Nights
Skin Time
Closer

CD7: LIKE IT IS (Imagination)     

Changes
Burning Up
Just An Illusion
Body Talk
T.O. (Love's Taking Over)
In And Out Of Love
Instinctual
So Good So Right
Flashback
Music And Lights
Give Into Love
In The Heat Of The Night
Megamix (Edited Version) Just An Illusion/MusicAnd Lights/So Good So Right/Flashback

CD8: THE FASCINATION OF THE PHYSICAL (Imagination featuring Leee John)

Work
I Like It
The Best Of My Life
Ooh Aah
Loving Tight
Fascination Of The Physical [12″ Version]
The Night We Loved
I Can't Wait
Private Hearts
Call On Me

CD9: FEEL MY SOUL (Leee John)          

Sensuality
Now Is The Time
The Thin Line
Embraceable You
Feel My Spirit
Someone To Watch Over Me
Jazzamatazz
Flamingo Blue
U Never Know
Small World
Strange Fruit
Jazzamatazz (Funk Version)
Now Is The Time (C'est Le Moment)

CD10: THE VOICE OF ILLUSION VOL. 1 (Leee John of Imagination)      

Leee John Medley by Symix: Passion/Mighty Power Of Love/Love Me Like You Do/Call On Me/Pearls
Just An Illusion (21st Century Mix)
Just An Illusion (Dero's Mix)
I Can C 4 Miles
Everybody Wakeup (Soul Version)
Slippin' Slowly
Mind, Body And Soul (Funk Version)
Come On Over
Fool In Love
Alone Again
Groove Thing

CD11: RETROPIA (Imagination featuring Leee John)      

Utopia
Secrets
Fantasia
Solitude
Do It Right Now
Hello Goodbye
Tell Her Love Has Felt The Need
Highway To Hell
Brighter Day
Make Your Mind Up
The Best I Could
Visions
Just An Illusion (21st Century Version) – Remastered
Krash (All Night Long) (New Radio Mix)
Police And Thieves
The Truth (Alternative Version)

CD12: 'CLOSER' REVISITED (Imagination)    

Instinctual [Dave Morales Mix Edit]
For Members Only [7″ Mix]
I Know What Love Is [7″ Version]
The Last Time [Special DJ edit of The Cool Sax Remix]
(Wanna Get) Over [LP with Horns]
Instinctual [Dave Morales Mix – Def Vocal Mix]
Who (Tell Me Who) [A-Side With Solo]
The Last Time [The Long Cool Mix]

CD13: 'CLOSER' REVISITED (Imagination)    

For Members Only [12″ Mix]
Hold Me In Your Arms [12″ Master]
I Know What Love Is [The Philadelphia After Dark Mix]
Instinctual [Def Groove Mix]
One Day I Found Me
Paranoia [12″ Mix]
The Last Time [The Cool Sax Remix]
Instinctual [Dave Morales Mix – Stink Mix]

CD14: UNRELEASED TRAX, MIXES AND DEMOS (Various)              

The Key (Only You) (Imagination)
Give Into Love – Dub Version (Leee John & Adam Pendse)
Fly (Imagination)
In The Heat Of The Night – Alt Version (Imagination)
Changing Times (Leee John & Sinitta)
Gyration (Imagination)
Casualty (Leee John)
Daydreamer (Leee John)
Two Of A Kind (Leee John)
Keep A Lite (Leee John)
Make Your Mind Up – Original Version Demo (Leee John)
Are You Ready (Leee John)
Ay Ay [Version 1] (Leee John ft Ezzy)
Best Of My Love (Leee John)
Cherish (Leee John)
Turn It Out (Leee John)
When Love Calls (Leee John)

CD15: UNRELEASED TRAX, MIXES AND DEMOS (Various)              

New Dimension [Alternative Chorus "In A Mans World"] (Imagination)
Looking At Midnight [Alternative Mix] (Imagination)
Heart 'N' Soul [Alternative Vocal Version Mix] (Imagination)
Passion [Original Leee John vocal] (Imagination ft Leee John)
Passion [duet English/French version] (Imagination ft Leee John and Mourad)
Passion [Deevious Mix by Dee Vaz] duet English/French version (Imagination ft Leee John and Mourad)
Passion [Tefa French Rap] duet English/French version] (Imagination ft Leee John and Mourad)
Too Late (Leee John)
Notorious [Original Demo became 'Wrong In Love' from 'Scandalous'] (Imagination)
Happiness [Original Demo which became 'One More Love'] (Imagination)
Going Round In Circles [Demo] (Imagination)
Halfway To Paradise [Demo which became 'So Good, So Right'] (Imagination)
Stop, Look & Listen (Leee John)
Some People (Leee John)

CD16: LIVE TRAX (Imagination/Leee John)

Tell Me Do You Want My Love [Live circa 1984]
Found My Girl [Live Leeds 1985]
Shoo Be Doo Da Dabba Doobee [Live UK circa 1985]
Thank You My Love Live UK circa 1986]
Heart 'N' Soul [Live Leeds circa 1986]
We Turn The World -Pt 1/ Pt 2 [Live, Leningrad Russia circa 1989/90]
In And Out Of Love – Reggae [Live, Russia 1989/90]
Love's Takin Over [Live, Russia]
Body Talk [Live, Russia]
Instinctual [Live, Russia]
Slippin' Slowly [Live UK circa 1999] (Leee John)

CD17: 12″ SINGLES SELECTION          

New Dimension [US Remix Edit] (Imagination)
State Of Love (Imagination)
Body And Soul (Imagination)
Thank You My Love (Imagination)
Last Days Of Summer (Imagination)
Changes (Dimitri From Paris Is Nightdubbin' Remix)
The Best Of My Life [12″ Re-Edit]
No More Lies (Nelson Leeroy ft. Leee John of Imagination)
Do It Right Now [Victor Simonelli Remix] (Imagination featuring Leee John)
Burnin' Up [New Vocal Extended Mix] (Leee John)