 News
INXS / Dekadance vinyl LP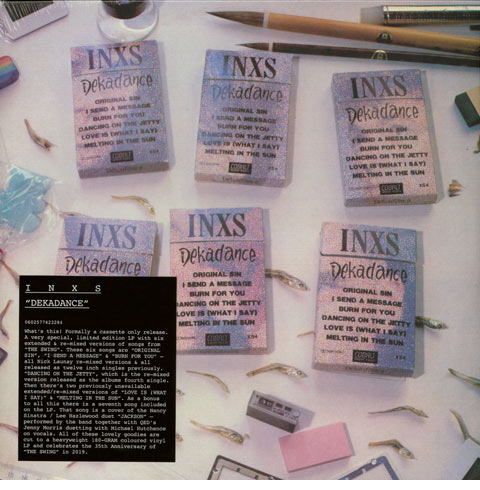 First time on vinyl for the cassette-only 1984 release
INXS' Dekadance remix set, which was an exclusive Australian-only cassette release (with six different covers, one for each band member) back in 1984, is being issued on vinyl for the first time at the end of this month, for its 35th anniversary.

The compendium of extended and remixed tracks from 'The Swing' album is set to see its first ever official vinyl release to celebrate the album's 35th Anniversary.
Dekadance features six extended remixes of songs from 1984's The Swing and a bonus seventh song, a cover of the Nancy Sinatra/Lee Hazlewood duet 'Jackson'. Jenny Morris from Australian new wave trio QED sings with Michael Hutchence on this number.
In terms of the mixes, 'I Send A Message', 'Melting In The Sun' and 'Burn For You' were all remixed by Nick Launay, 'Original Sin' is the Nile Rodgers remix, the seven-inch version of 'Dancing On The Jetty' was mixed by band member Andrew Farriss and a rare mix of 'Love Is (What I Say)' is by long-time INXS producer Mark Optitz.
This music is pressed on 180g black vinyl and features artwork replicated from the ultra-rare vinyl promo (250 copies) gifted to Australia radio stations in 1984.
Dekadance is released on 6 September 2019.
Compare prices and pre-order
Side A
1. Original Sin 6:20
2. I Send A Message 5:01
3. Burn For You 6:05
4. Dancing On A Jetty 4:08
Side B
5. Melting In The Sun 4:44
6. Love Is (What I Say) 3:41
7. Jackson 3:19