 News
INXS manager, Chris Murphy, dies at 66
Chris Murphy (above, right) with UMG CEO Lucian Grainge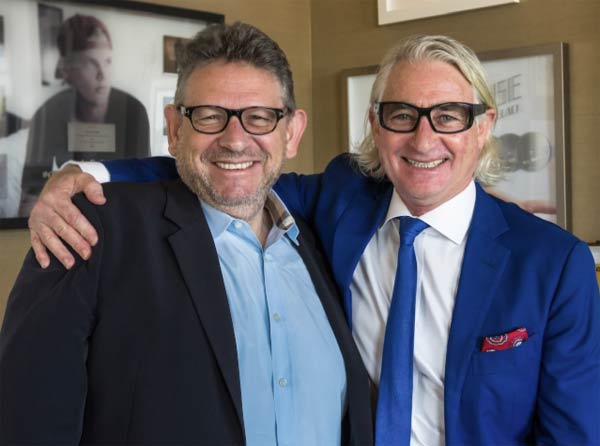 Chris Murphy, manager of INXS has died aged 66.

Murphy managed the band from 1979 to 1995 (initially he was just their booking agent) and his vision and entrepreneurial spirit help to turn them into one of the biggest bands in the world. INXS started the 1980s as a Sydney pub band and by the end were filling stadiums around the world on the back of the global success of the Kick album, which sold many millions of copies.
Murphy was a canny operator and told this site in 2019 how he noticed that "making money out of song writing" was the number one thing that broke bands up. So to ensure that didn't happen with INXS, he implemented a songwriting agreement, "so they all shared in everything". He also made sure that each individual member could contribute a song to the B-side of each single (on a rotating basis) to express "their wacky side", so long as they didn't "try to write a fucking pop song"!
Murphy was a populist and was frustrated when in 1989, rather than riding the wave of success created by Kick, Michael Hutchence chose to take time away from the band for Ollie Olsen's art-rock project Max Q. Nevertheless, the band returned in late 1990 with the successful X album and during their 1991 'Summer XS' tour played in Wembley Stadium to a sold-out audience of 74,000 fans. Again, Chris Murphy's vision came into play and he had the concert shot on 35mm film, with sixteen cameras, including one in a helicopter that circling the venue! He didn't do things by halves and this approach allowed the concert to be restored to full 4K resolution last year, while other bands wonder why their promos and concerts from the same era look so shoddy.
Chris Murphy parted company with INXS in 1995, two years before Michael Hutchence died. Elegantly Wasted would be the only album from the original line-up of the band not issued under his stewardship. Murphy spent time with his family, focussed on his independent label rooArt (eventually sold to BMG) and took an interest in publishing and broadcasting.
In 2008, INXS signed to Murphy's Petrol Records Electric and the band toured with J.D. Fortune as their lead singer. Chris helped drive a number of projects including the Original Sin album of 2010 (which saw guest vocalists sing on re-recordings of old songs).
In the end, Murphy's view was that the band should stop playing small gigs with different singers. He wanted to "reactivate the image of the Michael-era with INXS and get rid of all the other stuff that had come along".
So the band became more about legacy and in another canny deal, Murphy persuaded Universal Music Group CEO Lucian Grainge ("an extraordinary human being") to buy 50 percent of Petrol Records and therefore be committed to INXS legacy and archival projects in the years to come.
Murphy told SDE last year: "I want to do musicals, I want to do exhibitions, I want to do all these fancy-pants things; I want to do movies and documentaries". Chris got Giles Martin on board in 2018 as "as 'Executive Music Director' across a variety of future 'ground-breaking' projects.
While fans are still waiting for non-Kick reissues to emerge ("all that is being worked on as we speak" he told me in 2019) Chris Murphy delivered the excellent 30th anniversary of Kick in 2017, last year's Live Baby Live reissue on CD, vinyl and 4K blu-ray and a soundtrack for Richard Lowenstein's Mystify documentary.
The latter was definitely a personal passion project and Murphy personally put it together (with Mark Edwards). They eschewed the dull 'greatest hits' approach ("soundtracks are just compilation albums put together by lazy people" Murphy said to me) and opted for a dreamlike 'musical journey' taking often unfamiliar version of INXS hits (and hidden gems from both Michael and the band's back catalogues) and fusing them with snippets of dialogue from interviews, discussions in the studio and so on. This became four extended 'tracks' – Side A, Side B, Side C and Side D, of roughly 15 minutes each. Remarkably, Murphy managed to get these onto streaming platforms IN FULL without them being broken down into their smaller component parts (although Universal managed to cock-up the CD and, expressly against Murphy's wishes, delivered a 20-track disc).
The Mystify 'soundtrack' is now possibly Murphy's last creative act for INXS. A poignant final love letter to the boys; to the band Murphy devoted almost half his life to.
---
Chris Murphy died of cancer (specifically Mantle Cell Lymphoma) yesterday. You can read his 2019 interview with SDE here.
INXS issued the following statement: "It is with great sadness that we mourn the passing of our brother, Chris Murphy. Without Chris's vision, passion and hard work, the INXS story would be totally different. Chris's star burned very bright and we celebrate a life well lived and send all our love to his family."