 News
Josef K / Sorry For Laughing remastered clear vinyl with CD demos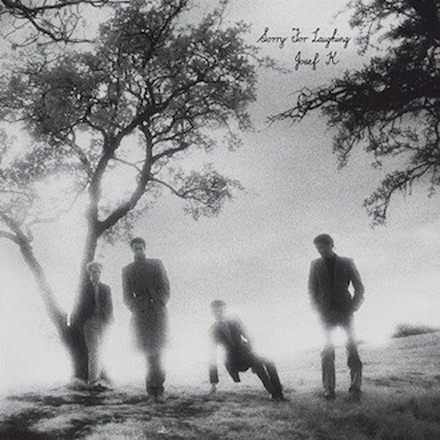 Sorry For Laughing & The Only Fun In Town limited vinyl reissues
Scottish post-punk band Josef K's aborted debut Sorry For Laughing is being reissued as a special 500-only limited edition on clear vinyl with a bonus CD of demos, along with an expanded 2LP of The Only Fun In Town.

The Sorry For Laughing album was originally recorded for Postcard Records in 1981 but was never released (the band apparently unhappy with the production) and it didn't officially surface until 1990. This new remastered vinyl edition restores the original Robert Sharp artwork (a solarised portrait of the band printed in silver Pantone colour) and there's detailed sleeve notes on the inner bag.
The really cool bonus item is a 12-track CD called 'The TV Art Demos' which features all the tracks from the band's very first recording session in 1979.
Propaganda covered the title track from Sorry For Laughing on their debut album A Secret Wish probably because Paul Morley was a fan. He said of the band  'They were The Sound of Young Scotland, together with Orange Juice, whose guitars were also radiant and brittle, whose rhythms were also scrubbed and blunt, whose vocals were also proud and serious, but who sounded like another group entirely'
The band's actual debut (their one and only 'official' album) The Only Fun In Town is also reissued as a 2LP expanded edition on coloured vinyl. The gatefold features one black vinyl record and one gold one and this is also limited to 500 units. The bonus tracks on this remaster include several Postcard single A and B sides including 'Radio Drill Time' and 'Chance Meeting'. Side 4 features all four tracks from the band's John Peel Session in June 1981, including 'Heaven Sent' and 'The Missionary'.
Both vinyl reissues are out on 15 February 2019 via LTM Recordings and can be ordered via the SDE shop using this link or the buttons below. The SDE shop also has a specially-priced bundle where you can pick up both releases.
Sorry For Laughing vinyl LP
1. Fun 'n' Frenzy
2. Heads Watch
3. Drone
4. Sense of Guilt
5. Art of Things
6. Crazy to Exist
7. Citizens
8. Variation of Scene
9. Terry's Show Lies
10. No Glory
11. Endless Soul
12. Sorry For Laughing
Bonus CD (The TV Art Demos)
1. Chance Meeting (take #1)
2. Terry's Show Lies
3. No Glory
4. Final Request
5. Art of Things
6. Romance (take #1)
7. Torn Mentor
8. Night Ritual
9. Heads Watch
10. Chance Meeting (take #2)
11. Sense of Guilt
12. Romance (take #2)
The Only Fun In Town – 2LP expanded gatefold remaster
Side 1
1. Fun 'n' Frenzy
2. Revelation
3. Crazy To Exist
4. It's Kinda Funny
5. The Angle
Side 2
1. Forever Drone
2. Heart of Song
3. 16 Years
4. Citizens
5. Sorry For Laughing
Side 3
1. Radio Drill Time
2. Romance
3. Chance Meeting
4. Pictures
5. Final Request
Side 4
1. The Missionary
2. Heaven Sent
3. Heart of Song
4. Applebush