 News
Kate Bush releases 'The Other Sides' compilation as standalone 4CD set
Rarities, remixes and B-sides on 4CDs • Well priced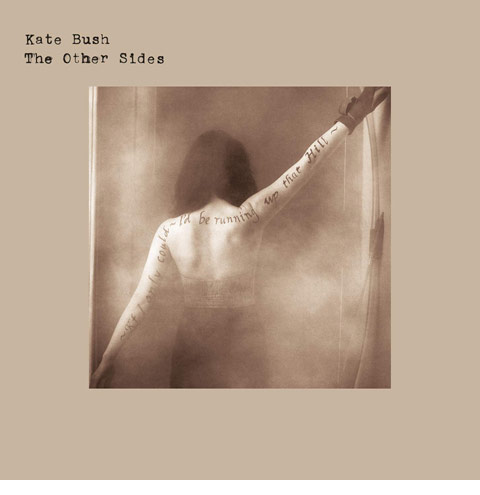 Kate Bush will release her The Other Sides B-side compilation as a standalone 4CD set and has also officially made available the video for her 1991 cover of Elton John's Rocket Man and spoken about the making of the song and the video.

Although this four-disc package was available by itself on vinyl – as Remastered in Vinyl IV –  to acquire this excellent array of B-sides and 12-inch mixes on CD meant buying the second of the two CD boxes which also includes Aerial, Director's Cut, 50 Words For Snow and Before The Dawn. Not any more, as in March a 4CD set of The Other Sides will be available for less than £20. Unlike Bowie's 'Re:Call' compilations there was never any mention of this being exclusive to the box set, so I guess, that's fair enough!




Speaking about 'Rocket Man' (which is track one on 'covers' disc In Others' Words) Kate today issued the following statement:
"I remember buying this when it came out as a single by Elton John. I couldn't stop playing it – I loved it so much. Most artists in the mid seventies played guitar but Elton played piano and I dreamed of being able to play like him.
Years later in 1989, Elton and Bernie Taupin were putting together an album called Two Rooms, which was a collection of cover versions of their songs, each featuring a different singer. To my delight they asked me to be involved and I chose Rocket Man. They gave me complete creative control and although it was a bit daunting to be let loose on one of my favourite tracks ever, it was really exciting. I wanted to make it different from the original and thought it could be fun to turn it into a reggae version. It meant a great deal to me that they chose it to be the first single release from the album.
That meant I also had the chance to direct the video which I loved doing – making it a performance video, shot on black and white film, featuring all the musicians and… the Moon! 
Alan Murphy played guitars on the track. He was a truly special musician and a very dear friend. Tragically, he died just before we made the video so he wasn't able to be there with us but you'll see his guitar was placed on an empty chair to show he was there in spirit. 
 This is the first time this video has officially been released since its original TV broadcast.

The Other Sides will be released as a 4CD set on 8 March 2019.

Working on getting Amazon Australia on the widget, for now, here's the link


Compare prices and pre-order
Kate Bush
The Other Sides - 4CD set
12" MIXES
Running Up That Hill (A Deal With God)

The Big Sky (Meteorological Mix)

Cloudbusting (The Orgonon Mix)

Hounds Of Love (Alternative Mix)

Experiment IV (Extended Mix)

THE OTHER SIDE 1
Walk Straight Down The Middle

You Want Alchemy

Be Kind To My Mistakes

Lyra

Under The Ivy

Experiment IV

Ne T'Enfuis Pas

Un Baiser D'Enfant

Burning Bridge

Running Up That Hill (A Deal With God) 2012 Remix

THE OTHER SIDE 2
Home For Christmas

One Last Look Around The House Before We Go

I'm Still Waiting

Warm And Soothing

Show A Little Devotion

Passing Through Air

Humming

Ran Tan Waltz

December Will Be Magic Again

Wuthering Heights (Remix / New Vocal from 'The Whole Story')

IN OTHERS' WORDS
Rocket Man

Sexual Healing

Mná na hÉireann

My Lagan Love

The Man I Love

Brazil (Sam Lowry's First Dream)

The Handsome Cabin Boy

Lord Of The Reedy River

Candle In The Wind