 News
Keith Emerson / Variations
20CD box set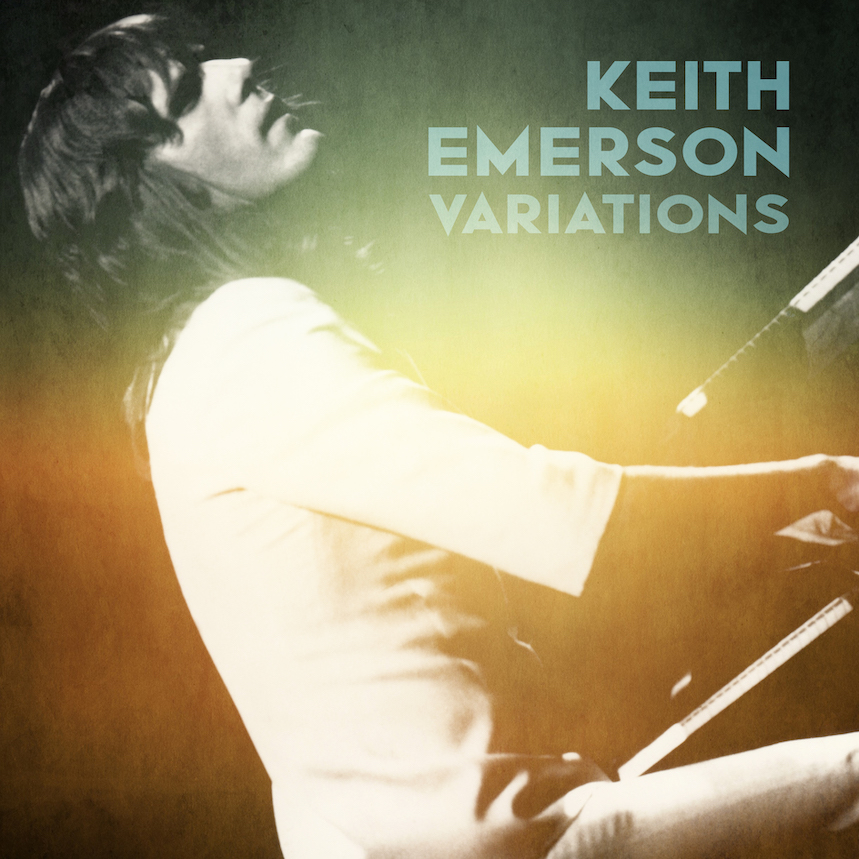 Variations is a new 20CD box set that spans the career of keyboard player, songwriter and producer Keith Emerson.
This mammoth package is divided into five parts beginning with Emerson's early years with The Nice and Emerson Lake & Palmer before moving onto Keith's solo albums, his soundtracks and collaborations before ending with live performances (including a previously unreleased show from BB Kings in 2004).
All 20 CDs in Variations have been mastered by audio engineer Andy Pearce. The collection also contains a previously unreleased show from BB Kings in 2004.The box set is presented as a 10″ box set and the 48-page book contains rare photos and sleeve notes by PROG magazine's Jerry Ewing.
Variations has been curated with the full involvement and blessing of the Emerson family and Aaron Emerson, Keith's son, said "It is with great excitement that we can share all of Dad's great work, expanding throughout his long career. I hope it gives you as much joy as it has done for all of us".
Variations will be released on 13 October 2023 via Spirit Of Unicorn Music.
Compare prices and pre-order
KEITH EMERSON
Variations - 20CD box set
Tracklisting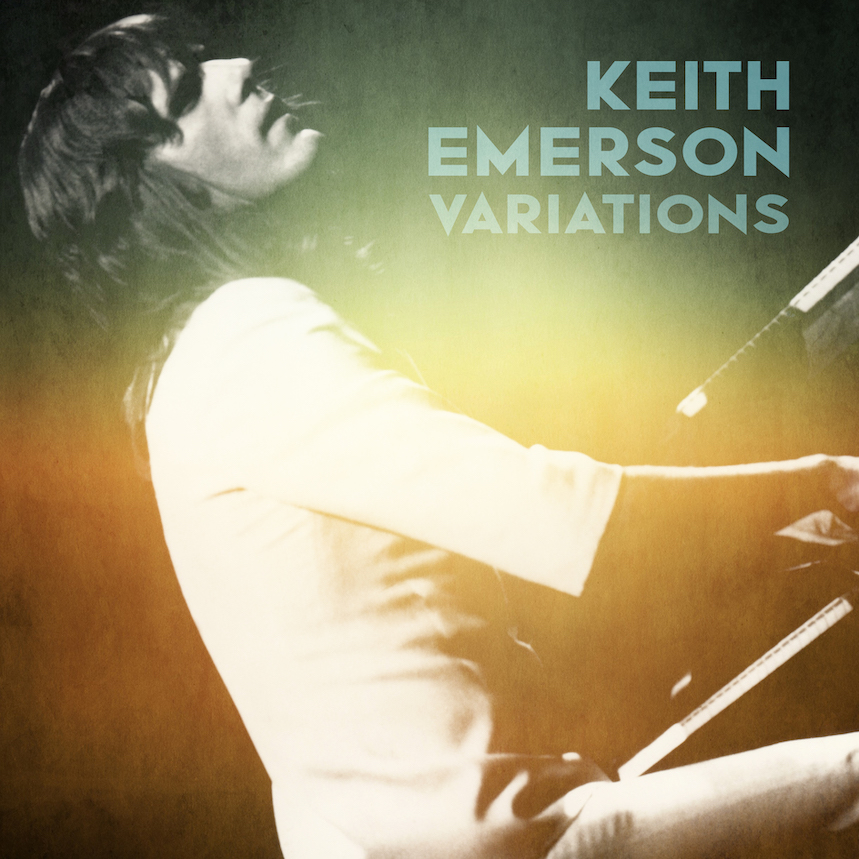 Variations Keith Emerson
/
CD 1: Pt. 1 The Early Years / The Bands

Medley –

Keith Emerson (Age 14)

 

 

Rock Candy –

The T Bones with Chris Barber

 

 

Lament For Tony Stratton Smith –

Keith Emerson

 

 

America / 2nd Amendment –

The Nice

 

 

The Three Fates –

ELP

 

 

The Old Castle / Blues Variations –

ELP

 

 

Fugue –

ELP

 

 

Karn Evil 9 2nd Impression –

ELP

 

 

Piano Improvisations (Live) –

ELP

 

 

Fanfare For the Common Man –

ELP

 

 

Barrelhouse Shakedown –

ELP

 

Honky Tonk Train Blues –

ELP

Introductory Fanfare / Peter Gunn Theme (Live) –

ELP

CD 2: Pt. 2 The Solo Albums – Honky

Hello Sailor – Includes Bach Before the Mast Part 1

 

Hello Sailor – Includes Bach Before the Mast Part 2

 

Hello Sailor – Includes Bach Before the Mast Part 3

 

Salt Cay

 

Green Ice

 

Intro Juicing 

 

Big Horn Breakdown

 

Yancey Special

 

Rum A Ting

 

Chickcharnie

 

Jesus Loves Me

CD 3: Pt. 2 The Solo Albums – Changing States

Shelter From the Rain

 

Another Frontier

 

Ballade

 

The Band Keeps Playing

 

Summertime

 

The Church

 

Interlude

 

Montagues And Capulets

 

Abaddon's Bolero (Orchestral Version)

 

The Band Keeps Playing (Aftershock Mix)

CD 4: Pt. 2 The Solo Albums – Emerson Plays Emerson

Vagrant

 

Creole Dance

 

Solitudinous

 

Broken Bough

 

A Cajun Alley

 

Prelude To Candice

 

A Blade of Grass

 

Outgoing Tide

 

Summertime

 

Interlude

 

Roll'n Jelly

 

B & W Blues

 

For Kevin

 

The Dreamer

 

Hammer It Out

 

Ballad For a Common Man

 

Barrelhouse Shakedown

 

Nilu's Dream

 

Soulscapes

 

Close To Home

 

Honky Tonk Train Blues

 

Medley

 

Nicola

 

Silver Shoes

 

I'll See You in My Dreams

 

CD 5: Pt. 2 The Solo Albums – Keith Emerson Band

Ignition

 

1st Presence

 

Last Horizon

 

Miles Away Pt. 1

 

Miles Away Pt. 2

 

Crusaders Cross

 

Fugue

 

2nd Presence

 

Marche Train

 

Blue Inferno

 

3rd Presence

 

Prelude To a Hope

 

A Place to Hide

 

Miles Away Pt. 3

 

Finale

 

The Art of Falling Down

 

Malambo (From "Estancia Suite")

 

Gametime

 

The Parting

 

CD 6: Pt. 3 The Soundtracks – Inferno

Inferno (Main Title Theme)

 

Rose's Descent into The Cellar

 

Taxi Ride (Rome)

 

The library

 

Sarah In the Library Vaults

 

Bookbinder's Delight

 

Rose Leaves the Apartment

 

Rose Gets It

 

Elisa's Story

 

A Cat Attic Attack

 

Kazanian's Tarantella

 

Mark's Discovery

 

Mater Tenebrarum

 

Inferno Finale

 

Cigarettes, Ices, Etc.

 

Inferno (#1)

 

Inferno (#2)

 

Inferno (#3)

 

Inferno (#4)

 

Inferno (#5)

 

CD 7: Pt. 3 The Soundtracks – Nighthawks

Nighthawks (Main Title Theme)

 

Mean Stalkin'

 

The Bust

 

Nighthawking

 

The Chase

 

I'm A Man

 

The Chopper

 

Tramway

 

I'm Comin' In

 

Face To Face

 

The Flight of A Hawk

CD 8 : Pt. 3 The Soundtracks – Muderock

Murderock

 

Tonight, Is Your Night

 

Streets To Blame

 

Not So Innocent

 

Prelude To Candice

 

Don't Go in The Shower

 

Coffee Time

 

Candice

 

New York Dash

 

Tonight, Is Not Your Night

 

The Spillone

 

Murderock (Part 1)

 

Murderock (Part 2)

 

Murderock (Part 3)

 

Murderock (Part 4)

 

CD 9: Pt. 3 The Soundtracks – Best Revenge / La Chiesa

Best Revenge

 

Orchestral Suite To Best Revenge (Instrumental)

 

Playing For Keeps

 

The Dreamer – Love Theme (Instrumental)

 

Wha'dya Mean (Instrumental)

 

Outgoing Tide

 

For Those About to Win

 

The Runner (Instrumental)

 

La Chiesa

 

The Church (Main Theme)

 

The Possession

 

Prelude 24

 

La Chiesa Revisited

CD 10: Pt. 3 The Soundtracks – Iron Man

Iron Man Main Title Theme

 

And The Sea Shall Give Up It's Dead

 

I Am Ultimo, Thy Deliverer

 

Data In Chaos Out

 

Silence My Companion, Death My Destination

 

Iron Man Theme Alternative

CD 11: Pt. 3 The Soundtracks – Harmagedon / Godzilla

Harmagedon

 

Theme Of the Floi

 

Jo And Michiko

 

Sonny's Skate State

 

Zamedy Stomp

 

Challenge Of the Psionic Fighters

 

Children Of the Light

 

Godzilla 

 

 

Godzilla Vs. Gotengo

 

Godzilla Final Wars Titles

 

EDF Headquarters Fight

 

EDF Museum

 

Infant Island

 

Rodan Attacks NYC

 

Earth Defense Forces Theme

 

Motorcycle Battle

 

Godzilla Awakens

 

Love Theme

 

Monster Zero Theme

 

Cruising The Cirro Stratus

 

Godzilla Theme

 

Godzilla Final Wars End Titles

 

CD 12: Pt. 4: Collaborations – Three Fates Project   

The Endless Enigma Suite (Pt. 1)

 

The Endless Enigma Suite (Pt. 2)

 

American Matador

 

After All of This

 

Walking Distance

 

Tarkus (Concertante)

 

Malambo

 

The Mourning Sun

 

Abaddon's Bolero

 

Fanfare For the Common Man (Pt. 1)

 

Fanfare For the Common Man (Pt. 2)

CD 13: Pt. 4 Collaborations – Beyond The Stars

Toccata Con Fuoco

 

Beyond The Stars

 

Glorietta Pass

 

The Dreamer

 

Endless Enigma Suite Pt 1

 

The Fugue

 

Endless Enigma Suite Pt 2

 

Malambo, Op. 7

 

The Mourning Sun

 

After All of This

 

Walking Distance

 

Fanfare For the Common Man Pt 1

 

Fanfare For the Common Man Pt 2

 

 

CD 14: Pt. 5 Live Collaborations – Boys Club (Live from California)

Afterburner

 

Long Journey Home

 

Hoedown

 

A Whiter Shade of Pale

 

White Noise

 

Cover Me

 

Nutrocker

 

Tarkus

 

Dreams

 

Middle Of a Dream

 

CD 15: Pt. 5 LIve Collaborations – Moscow Pt. 1

Karn Evil (1st Impression Pt. 2)

 

Piano Concerto (3rd Movement)

 

Bitches Crystal

 

Malambo

 

Touch And Go

 

Lucky Man

 

Miles Away Pt.1

 

Miles Away Pt. 2

 

Crusaders Cross

 

Fugue

 

Marche Train

 

Finale

CD 16: Pt. 5 LIve Collaborations – Moscow Pt. 2

The Barbarian

 

Tarkus

 

Nutrocker Suite

 

Moscow Fantasia

 

Malambo (Orchestral Version)

CD 17: Pt. 5 LIve Collaborations – Live From Manticore Hall

From The Beginning

 

Introduction

 

I Talk to The Wind

 

Bitches Crystal

 

The Barbarian

 

Take A Pebble

 

Tarkus

 

C'est La Vie

 

Pirates

 

Moog Solo / Lucky Man

CD 18: Pt. 5 Live Collaborations – Off the Shelf

Abaddon's Bolero Orchestral

 

Pictures At an Exhibition

 

And Then January

 

Rio

 

Straight Between the Eyes

 

Don't Be Cruel

 

Au Privave

 

Walter L

 

Rhythm-A-Ning

 

Asian Pear

 

Motor Bikin'

 

America

 

Lumpy Gravy

 

Up The Elephant & Round the Castle

 

Sex & Drugs & Rock & Roll

CD 19: Pt. 5 LIve Collaborations – Live at BB Kings – 21/05/2004

America / Rondo

 

 

Country Pie

 

Hang Onto a Dream

 

Bitches Crystal

 

Touch And Go

 

Piano Interlude

 

Karelia Suite

 

Blade Of Grass

 

A Cajun Alley

 

Creole Dance

 

Quango Story

 

Just Crazy

 

CD 20: Pt. 5: Live Collaborations – B.B.Kings – NYC – 21/05/2004 / The Keith Emerson Trio Live At BB Kings

Live At BB Kings

 

 

Lucky Man

 

Hoedown

 

Tarkus

 

The Keith Emerson Trio

 

You Say You Care

 

There Will Never Be Another You

 

Teenies Blues

 

Winkle Picker Stamp

 

56 Blues

 

You Came a Long Way from Saint-Louis

 

Soul Station

 

Single 

 

 

We Three Kings

 

Captain Starship Christmas