 News
Kim Wilde deluxe CDs & coloured vinyl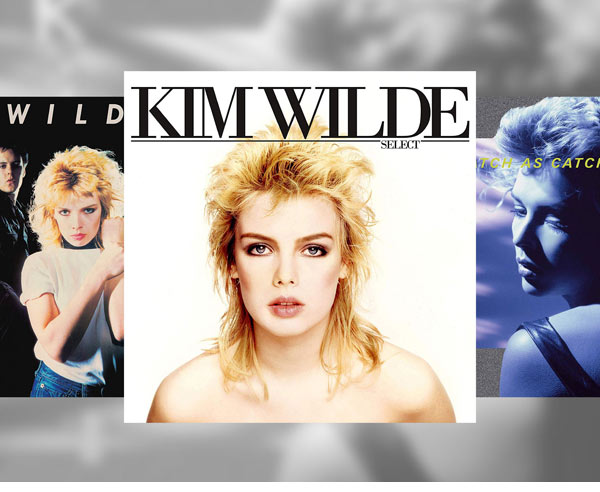 Kim Wilde's three albums for RAK Records will be reissued as significantly expanded three-discs sets and as coloured vinyl pressings, in January.

The start of Kim's career produced five consecutive top 20 hit singles in the UK including 'Kids in America' (#2) , 'Chequered Love' (#4) and 'Cambodia' (#12). Despite some significant success later in the 1980s, with the Another Step and Close albums, she would never match that run again (although Close did deliver three top 10 singles in a row).
The three albums in question from this era – Kim Wilde (1981), Select (1982) and Catch As Catch Can (1983) – are each offered as 2CD+DVD sets, with newly remastered audio (via fresh transfers of the original analogue tapes) courtesy of Tom Parker.
The audio bonus content is a mixture of non-album tracks, rough mixes & demos and – deep breath –  'new mixes'. The DVDs in each set offer promo videos and TV appearances from the time, including Top of the Pops, Harty and Crackerjack!
These three records are being reissued on vinyl too, with each getting a limited edition coloured vinyl pressing (yellow, white and blue, respectively).
These are all approved by Kim herself and each package includes lyrics, rare photos and memorabilia plus new sleeve notes written by Marcel Rijs.
Kim Wilde, Select and Catch As Catch Can will be reissued on 31 January 2020.
Kim Wilde 2CD+DVD
CD 1
1. Water on Glass
2. Our Town
3. Everything We Know
4. Young Heroes
5. Kids in America
6. Chequered Love
7. 2-6-5-8-0
8. You'll Never Be So Wrong
9. Falling Out
10. Tuning in Tuning on
11. Shane
12. Boys
13. Water on Glass [7″ Version]
14. Tuning in Tuning on [7″ Version]
CD 2
1. Kids in America [Luke Mornay Remix]
2. Chequered Love [Matt Pop Extended Version]
3. Water on Glass [Eddie Said & Luke Nutley Extended Version]
4. Kids in America [Popfidelity Allstars Remix]
5. Chequered Love [Matt Pop Alternative Mix]
6. Water on Glass [Project K: Project Kim]
7. Kids in America [Neutrophic Remix]
8. Kids in America [D-Bop's Bright Lights Mix]
9. Kids in America[Popfidelity Allstars Instrumental]
10. Chequered Love [Matt Pop Instrumental]
11. Water on Glass [Eddie Said & Luke Nutley Instrumental]
12. Kids in America [Luke Mornay Instrumental]
DVD
1. Kids in America
2. Chequered Love
3. Kids in America [On Top of the Pops]
4. Chequered Love [On Top of the Pops]
5. Water on Glass [On Top of the Pops]
6. Kids in America [On Top of the Pops: Totp's Christmas Party]
7. Chequered Love
8. [Unedited 'Shower Version']
Kim Wilde coloured vinyl LP
1. Water on Glass
2. Our Town
3. Everything We Know
4. Young Heroes
5. Kids in America
6. Chequered Love
7. 2-6-5-8-0
8. You'll Never Be So Wrong
9. Falling Out
10. Tuning in Tuning on
Select 2CD+DVD
CD 1
1. Ego
2. Words Fell Down
3. Action City
4. View from a Bridge
5. Just a Feeling
6. Chaos at the Airport
7. Take Me Tonight
8. Can You Come Over
9. Wendy Sadd
10. Cambodia -Reprise
11. Child Come Away
12. Bitter Is Better
13. He Will Be There
14. Watching for Shapes
15. Just Another Guy
16. Bitter Is Better [Instrumental]
CD 2
1. Ego [Rough Mix]
2. Words Fell Down [Original Mix]
3. Action City [Instrumental Demo]
4. Just a Feeling[Rough Mix]
5. Chaos at the Airport [Rough Mix]
6. Take Me Tonight [Original Mix]
7. Cambodia [Matt Pop Extended Version]
8. View from a Bridge [Luke Mornay Remix]
9. Child Come Away[Matt Pop Remix]
10. Cambodia [Luke Mornay Urbantronik Mix]
11. View from a Bridge [Raw Remix]
12. Child Come Away [Matt Pop Instrumental]
13. Cambodia [Matt Pop Instrumental]
14. View from a Bridge [Luke Mornay Instrumental]
15. Cambodia [Luke Mornay Urbantronik Instrumental]
DVD
1. Cambodia
2. View from a Bridge
3. Child Come Away
4. Cambodia [On Top of the Pops]
5. View from a Bridge [On Top of the Pops]
6. View from a Bridge [On Nationwide Special: The British Rock & Pop Awards]
Select coloured vinyl LP
1. Ego
2. Words Fell Down
3. Action City
4. View from a Bridge
5. Just a Feeling
6. Chaos at the Airport
7. Take Me Tonight
8. Can You Come Over
9. Wendy Sadd
10. Cambodia -Reprise
Catch As Catch Can 2CD+DVD
CD 1
1. House of Salome
2. Back Street Joe
3. Stay Awhile
4. Love Blonde
5. Dream Sequence
6. Dancing in the Dark
7. Shoot to Disable
8. Can You Hear It
9. Sparks
10. Sing It Out for Love
11. Rain on
12. Back Seat Driver
13. Love Blonde [7″ Version]
14. Dancing in the Dark [Rak Mix]
15. Can You Hear It [7″ Version]
16. Love Blonde [Extended Version]
17. Dancing in the Dark [Nile Rodgers Extended Version]
18. Dancing in the Dark [Instrumental]
19. Dancing in the Dark [Full Instrumental]
CD 2
1. House of Salome [Rough Mix]
2. Back Street Joe [Original Mix]
3. Stay Awhile [Rough Mix]
4. Dream Sequence [Instrumental Demo]
5. Dancing in the Dark [Rough Mix]
6. Shoot to Disable [Rough Mix]
7. Can You Hear It[Rough Mix]
8. Sparks [Rough Mix]
9. Sing It Out for Love [Rough Mix]
10. Sail On[Original Version]
11. Shoot to Disable [Original Mix]
12. House of Salome[Instrumental]
13. Dream Sequence[In Reverse]
14. Love Blonde [Popfidelity Allstars Special Re-Mix]
15. Sparks[Extended Edit]
16. Can You Hear It [Project K: Project Kim]
17. Love Blonde [Popfidelity Allstars Instrumental]
DVD
1. Love Blonde
2. Dancing in the Dark
3. Love Blonde [On Top of the Pops – 1st Performance]
4. Love Blonde (On Top of the Pops – 2nd Performance]
5. Dancing in the Dark [On Harty]
6. Dancing in the Dark [On Crackerjack]
7. TV Ad
8. The Very Best of Kim Wilde [1984 TV Advert]
Catch As Catch Can coloured vinyl LP
1. House of Salome
2. Back Street Joe
3. Stay Awhile
4. Love Blonde
5. Dream Sequence
6. Dancing in the Dark
7. Shoot to Disable
8. Can You Hear It
9. Sparks
10. Sing It Out for Love