 News
Kim Wilde / Pop Don't Stop: Greatest Hits box set
5CD + 2DVD box set gathers singles, B-sides, remixes and videos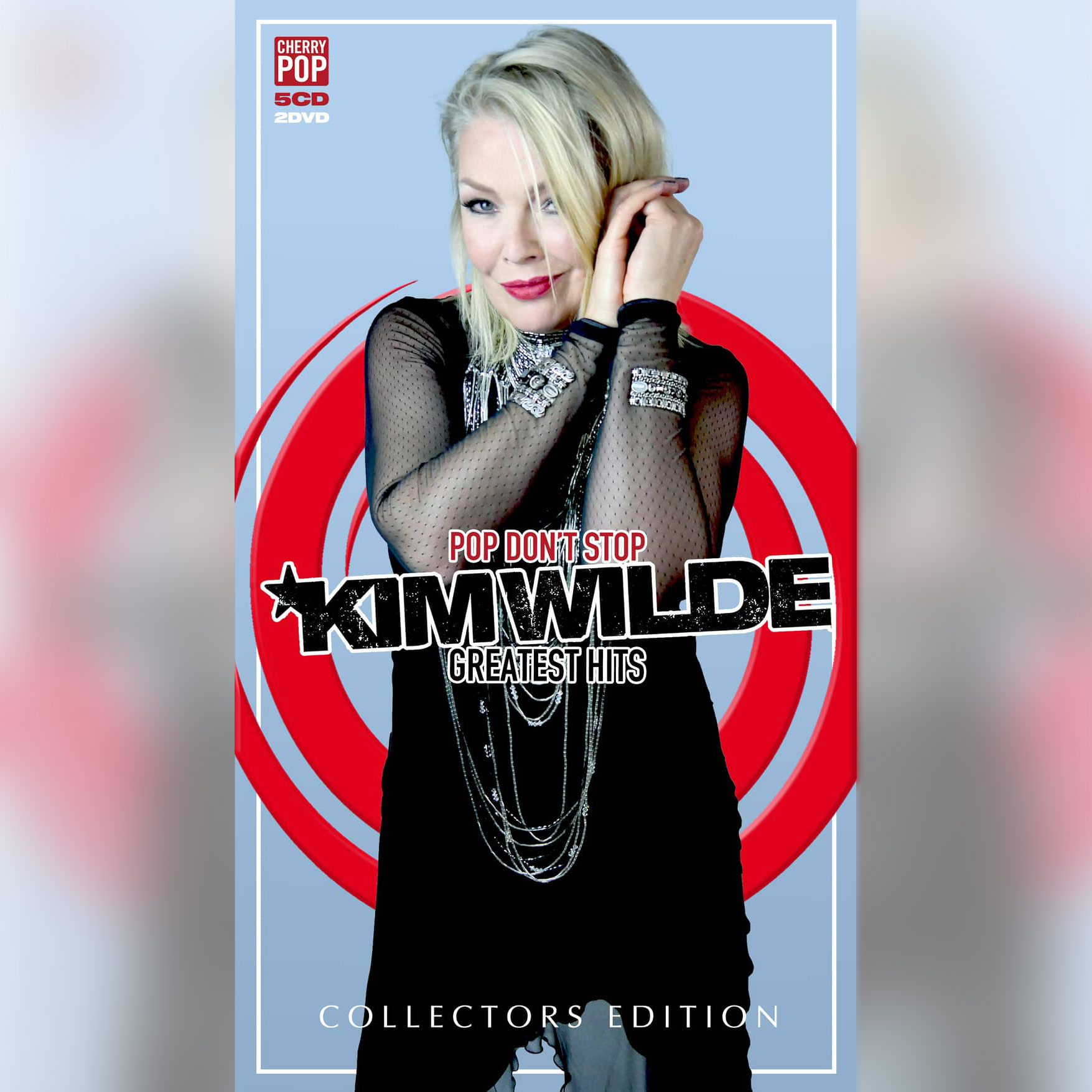 Cherry Red are to release Pop Don't Stop: Greatest Hits, a new Kim Wilde box set that includes five CDs and two DVDs.
The package features radio edits of many of Kim's singles, including 'Kids In America', 'You Came', 'You Keep Me Hangin' On', 'Love Is Holy' and 'Kandy Krush', as well as two brand new tracks – 'Shine On', featuring Boy George and 'You're My Karma' with Tom Aspaul.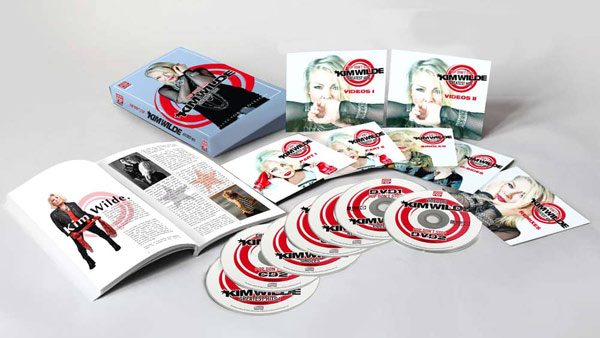 Also included is a disc of B-sides (four tracks are new-to-CD) and a CD of remixes. Two DVDs (NTSC, region-free) offer almost 50 videos (including a bonus 2021 interview and a 'look-back-at-the-videos' feature with Kim.
The box set also includes a booklet with a Kim Wilde Q&A and lyrics and rare photos.
Pop Don't Stop: Greatest Hits will be released on 6 August 2021. A two-CD version will also be available.
Compare prices and pre-order
Kim Wilde
Pop Dont Stop 7-disc box set
Compare prices and pre-order
Kim Wilde
Pop Dont Stop - 2CD edition
Tracklisting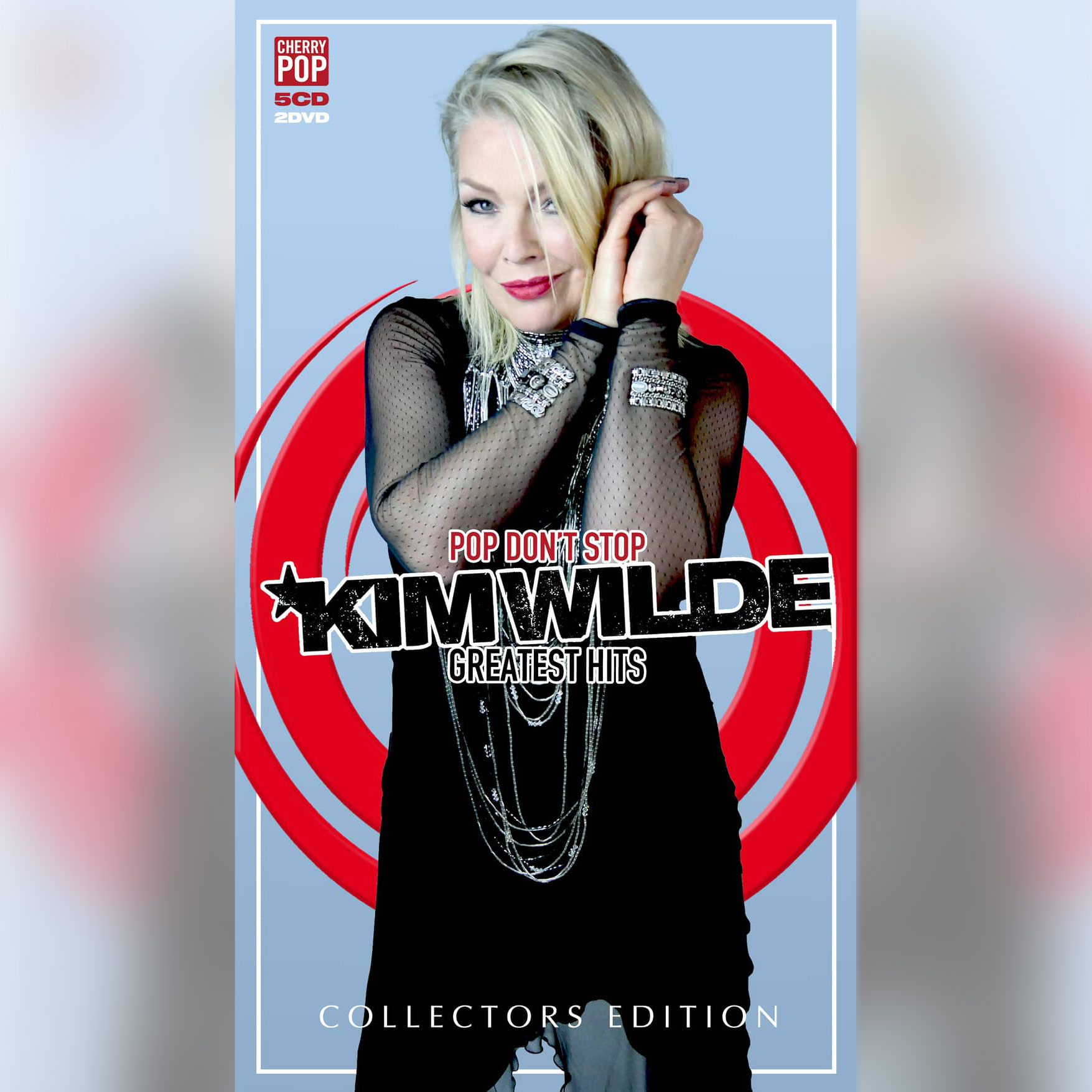 Pop Don't Stop: Greatest Hits Kim Wilde
/
5CD+2DVD box set
CD 1: The Hits I

THE SECOND TIME (7" Version)
NEVER TRUST A STRANGER (7" Version)
MILLION MILES AWAY (7" Version)
ANOTHER STEP (CLOSER TO YOU) (With Junior) (7" Version)
HEART OVER MIND (7" Version)
FOUR LETTER WORD
SAY YOU REALLY WANT ME (7" Remix)
HEY MISTER HEARTACHE (7" Version)
RAGE TO LOVE (7" Remix)
WHO DO YOU THINK YOU ARE?
CAN'T GET ENOUGH (OF YOUR LOVE) (7" Version)
BREAKIN' AWAY
TIME
LOVE IS HOLY
IF I CAN'T HAVE YOU
THIS I SWEAR (Radio Edit)
I CAN'T SAY GOODBYE (7" Version)
LOVE IN THE NATURAL WAY
YOU CAME (7" Version)
YOU KEEP ME HANGIN' ON

CD 2: The Hits II

KIDS IN AMERICA
KANDY KRUSH (Radio Edit)
PERFECT GIRL (Radio Edit)
WATER ON GLASS (7" Version)
A LITTLE RESPECT
VIEW FROM A BRIDGE
LOVE BLONDE (7" Version)
TOGETHER WE BELONG (Radio Edit)
LIGHTS DOWN LOW
CAMBODIA
LOVED
POP DON'T STOP (Radio Edit)
GET OUT
IT'S ALRIGHT (Radio Edit)
BIRTHDAY (Radio Edit)
REAL LIFE
CHEQUERED LOVE
AMOUREUX DES REVES
(With Laurent Voulzy)
SHINE ON (With Boy George)
NUMINOUS
YOU'RE MY KARMA
(With Tom Aspaul)

CD 3: The Hits III

BITTER IS BETTER
CHILD COME AWAY
DANCING IN THE DARK
HOUSE OF SALOME
THE TOUCH (7" Version)
SCHOOLGIRL
IT'S HERE
WORLD IN PERFECT HARMONY
IN MY LIFE (West End 7" Version)
HEAVEN (Matt Darey 7" Version)
SHAME (Jupiter's Radio Mix)
BORN TO BE WILD (Radio Mix)
BABY OBEY ME
SLEEPING SATELLITE (Radio Edit)
SPIRIT IN THE SKY
U. KRISTMAS (Kim Wilde Vs. Lawnmower

CD 4: The B-sides

SHANE
BOYS
WATCHING FOR SHAPES
JUST ANOTHER GUY
BACK SEAT DRIVER
LOVERS ON A BEACH
PUTTY IN YOUR HANDS
LOVING YOU
HOLD BACK
TELL ME WHERE YOU ARE
WOTCHA GONNA DO
VIRTUAL WORLD
BIRTHDAY SONG
I'VE FOUND A REASON
NEVER FELT SO ALIVE
STAYING WITH MY BABY
SNAKES & LADDERS
CARRY ME HOME
PARTY ON THE BRINK
ADDICTED TO YOU (Original Version)

CD 5: The Remixes

POP DON'T STOP (The 12 Inch Remix)
CAN'T GET ENOUGH (OF YOUR LOVE) (Club Mix)
MILLION MILES AWAY (Club Mix)
CAMBODIA (Paul Oakenfold Remix)
IT'S ALRIGHT (Groove Coverage Remix)
YOU KEEP ME HANGIN' ON (W.C.H. Club Mix)
KANDY KRUSH (Ricky W 12 Inch Remix)
BREAKIN' AWAY (T'Empo Vocal)
YOU CAME (Tron Remix)
PERFECT GIRL (Ian Finch Elektrika Mix)
BIRTHDAY (Wilde Party Mix)
KIDS IN AMERICA '94 (X Cut Cut)

DVD 1 – The Videos I

KIDS IN AMERICA
CHEQUERED LOVE
WATER ON GLASS
(Top Of The Pops Appearance)
CAMBODIA
VIEW FROM A BRIDGE
CHILD COME AWAY
LOVE BLONDE
DANCING IN THE DARK
THE SECOND TIME
THE TOUCH
RAGE TO LOVE
SCHOOLGIRL
YOU KEEP ME HANGIN' ON
ANOTHER STEP (CLOSER TO YOU)
(With Junior)
SAY YOU REALLY WANT ME
(Short Version)
HEY MISTER HEARTACHE
YOU CAME
NEVER TRUST A STRANGER
FOUR LETTER WORD
LOVE IN THE NATURAL WAY
IT'S HERE
TIME

DVD 2: The Videos II

CAN'T GET ENOUGH (OF YOUR LOVE)
LOVE IS HOLY
HEART OVER MIND
WHO DO YOU THINK YOU ARE
MILLION MILES AWAY
IF I CAN'T HAVE YOU
IN MY LIFE
KIDS IN AMERICA ('94)
BREAKIN' AWAY
THIS I SWEAR
SHAME
BORN TO BE WILD
YOU CAME (2006)
PERFECT GIRL
LIGHTS DOWN LOW
IT'S ALRIGHT
SLEEPING SATELLITE
POP DON'T STOP
KANDY KRUSH
BIRTHDAY
SAY YOU REALLY WANT ME (The Video Remix)
YOU CAME (2006 In Bed With Kim Wilde Version)
BIRTHDAY (Wilde Party Mix)
NUMINOUS
SHINE ON (With Boy George)
2021 INTERVIEW
KIM LOOKS BACK AT THE VIDEOS
Tracklisting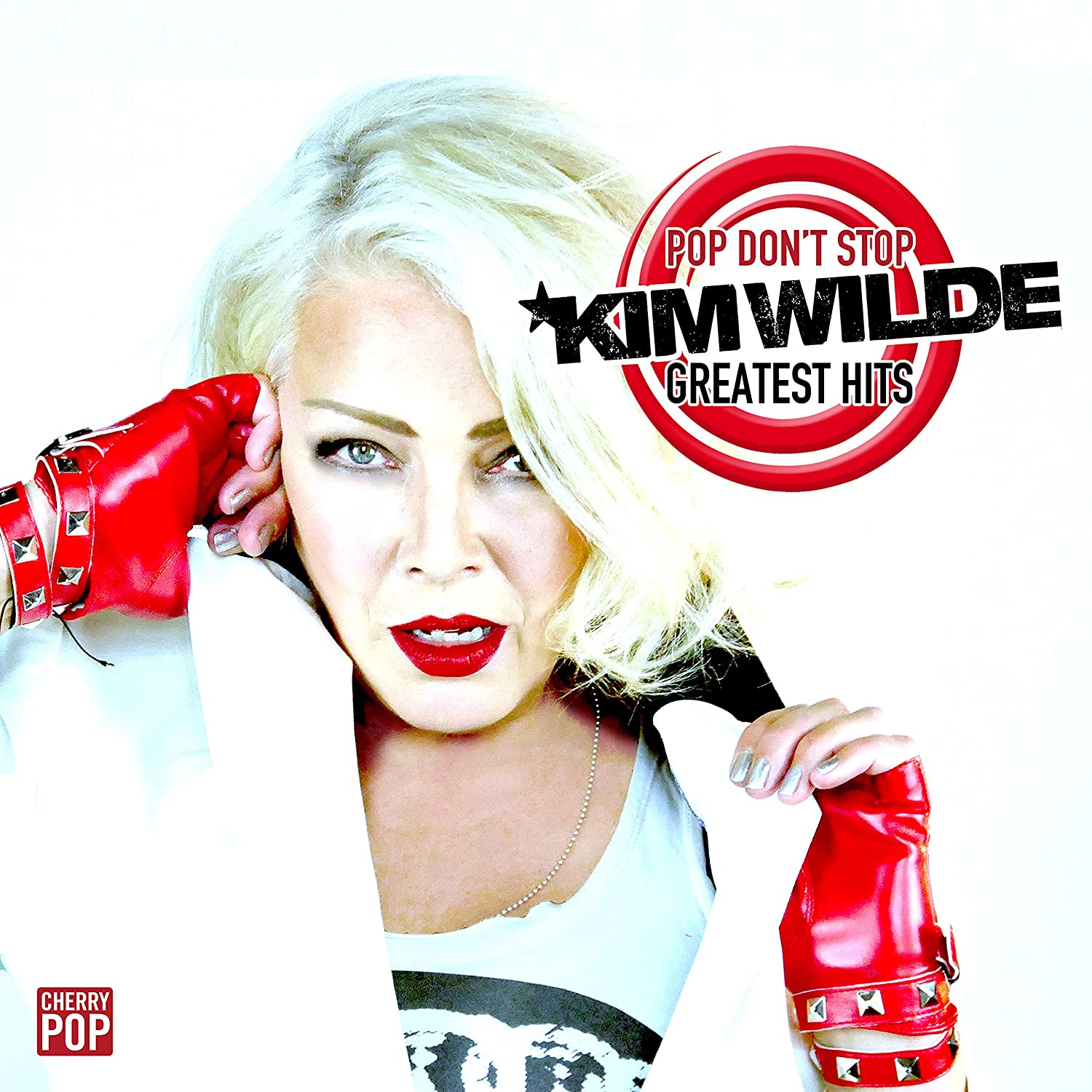 Pop Don't Stop: Greatest Hits Kim Wilde
/
2CD edition
CD 1

THE SECOND TIME (7" Version)
NEVER TRUST A STRANGER (7" Version)
MILLION MILES AWAY (7" Version)
ANOTHER STEP (CLOSER TO YOU) (With Junior) (7" Version)
HEART OVER MIND (7" Version)
FOUR LETTER WORD
SAY YOU REALLY WANT ME (7" Remix)
HEY MISTER HEARTACHE (7" Version)
RAGE TO LOVE (7" Remix)
WHO DO YOU THINK YOU ARE?
CAN'T GET ENOUGH (OF YOUR LOVE) (7" Version)
BREAKIN' AWAY
TIME
LOVE IS HOLY
IF I CAN'T HAVE YOU
THIS I SWEAR (Radio Edit)
I CAN'T SAY GOODBYE (7" Version)
LOVE IN THE NATURAL WAY
YOU CAME (7" Version)
YOU KEEP ME HANGIN' ON

CD 2

KIDS IN AMERICA
KANDY KRUSH (Radio Edit)
PERFECT GIRL (Radio Edit)
WATER ON GLASS (7" Version)
A LITTLE RESPECT
VIEW FROM A BRIDGE
LOVE BLONDE (7" Version)
TOGETHER WE BELONG (Radio Edit)
LIGHTS DOWN LOW
CAMBODIA
LOVED
POP DON'T STOP (Radio Edit)
GET OUT
IT'S ALRIGHT (Radio Edit)
BIRTHDAY (Radio Edit)
REAL LIFE
CHEQUERED LOVE
AMOUREUX DES REVES (With Laurent Voulzy)
SHINE ON (With Boy George)
NUMINOUS
YOU'RE MY KARMA (With Tom Aspaul)