 News
King Crimson / In The Court of the Crimson King 3CD+blu-ray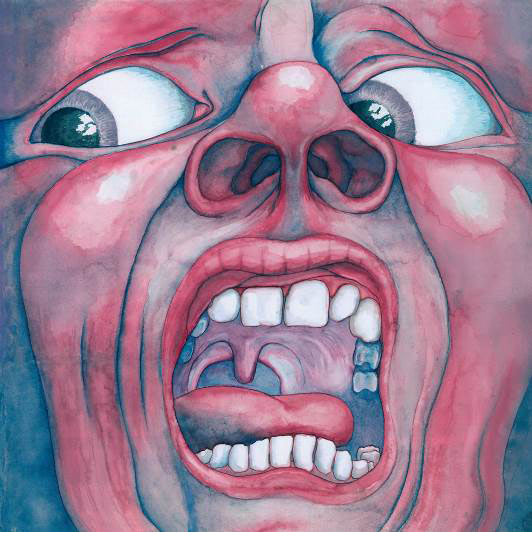 50th anniversary reissue of the seminal debut • 2019 Steven Wilson mixes in 5.1 and stereo • New 2LP vinyl also available
King Crimson's 1969 debut album In The Court of the Crimson King is to be reissued as a Blu-ray+3CD edition and a double vinyl set, for its 50th anniversary.

The blu-ray features an enormous amount of content, including all new 2019 stereo and 5.1 mixes by Steven Wilson (at 24/96 resolution), the original mix (the 'master edition') also at 24/96, a complete alternate version of the album comprising 2019 Steven Wilson mixes, 2019 instrumental mixes and more. This blu-ray is all-region and playable on all drives.
The three CDs in the box set feature the new 2019 Steven Wilson stereo mix, an exapanded edition of the alternate album in the blu-ray and the original master edition of the 1969 mix plus additional tracks. Full track listings and details below.
In terms of packaging the four discs are presented into two card gatefold sleeves which sit alongside a booklet within a rigid exterior slipcase. New sleeve-notes by King Crimson biographer Sid Smith feature in the booklet.
The 50th anniversary double vinyl edition of In The Court of the Crimson King features Steven Wilson's new 2019 stereo mix on the first record with the alternate album with tracks mixed by Wilson and David Singleton. These are pressed on 200g vinyl and have been cut by Jason Mitchell at Loud Mastering from original 24/96 high-resolution source files.
Also, the artwork for both Bluray/CD and vinyl has been derived from the original paintings and has been meticulously restored.
Note, all material on this blu-ray+3CD package will feature on the forthcoming Complete 1969 Sessions – the eighth boxed set in the series documenting King Crimson's studio & live recordings from 1969 onwards.
In The Court of the Crimson King is reissued on 25 October 2019, via Panegyric.
Compare prices and pre-order
King Crimson
In The Court Of The Crimson King 50th Anniversary Edition (3CD+Blu Ray)
Bullet point summary:
Blu-Ray features a complete alternate album comprising 2019 mixes by Steven Wilson including a much extended duo version of 'I Talk to The Wind', a June 19th version of 'The Court of the Crimson King' from the band's final day at Morgan studios in June 1969, an isolated voice dominant version of 'Epitaph' & a version of '21st Century Schizoid Man' which combines the Morgan studios instrumental with Greg Lake vocals from Wessex studios and August 2019 overdubs by Mel Collins & Jakko Jakszyk – the latter two mixed by David Singleton.
A further album's worth of additional material drawn from studio takes – much of it mixed by Steven Wilson & including extracts from the 'wind session' that produced the intro to 21CSM in stereo for the first time, the single a/b sides of the album title track drawn, for the first time since on disc, from the original master tapes & more are also included.
The Blu-Ray is completed by a set of 2019 instrumental mixes and the surviving fragment of black & white footage from Hyde Park in 1969
This set marks the first appearance of the album on Blu-Ray completing the availability of all King Crimson studio albums on the format.
CD1 presents the album in its 2019 stereo mix – along with the 2019 instrumental takes (with 'Moonchild' edited to song length)
CD2 presents an expanded edition of the alternate album from the Blu-Ray
CD3 features the original master edition of the 1969 mix plus additional tracks
Blu-Ray NTSC, Zone ABC, playable on all BD players & drives
DTS-HD MA 5.1 & LPCM 5.1/DTS-HD MA Stereo & LPCM 24/96
2019 5.1 mixes
1. 21st Century Schizoid Man
2. I Talk to the Wind
3. Epitaph
4. Moonchild
5. The Court of the Crimson King
Additional track
6. I Talk to the Wind (duo version)
Mixed by Steven Wilson
Original Master Edition
1. 21st Century Schizoid Man
2. I Talk to the Wind
3. Epitaph
4. Moonchild
5. The Court of the Crimson King
Produced by King Crimson
Alternate Album
1. 21st Century Schizoid Man
2. I Talk to the Wind
3.  I Talk to the Wind
4. Epitaph
5. Epitaph
6. Moonchild
7. The Court of the Crimson King
Notes re above
1. Morgan studios June 1969 take with Greg Lake vocal overdubs from Wessex August 1969  & Mel Collins & Jakko Jakszyk August 2019 overdubs
2. Alternate 2019 mix
3. Duo version, full length master, 2019 mix
4. Vocals isolated/highlighted, 2019 mix
5. Alt take – 2019 mix
6. Take 1, 2019 mix
7. Morgan studios, June 1969 take, 2019 mix
Mixed by Steven Wilson except 1, 4 mixed by David Singleton
Additional material
1. Wind Session (2019 stereo mix)
2. 21st Century Schizoid Man (Trio version, 2019 mix)
3. I Talk to the Wind (Studio run through, 2019 mix)
4. Epitaph (Backing track, 2019 mix)
5. Moonchild (Album edit, 2009 mix)
6. The Court of the Crimson King (Take 3, 2009 mix)
7. 21st Century Schizoid Man (Morgan studios take, June 1969)
8. The Court of the Crimson King (part 1) (Single a-side, 1969)
9. The Court of the Crimson King (part 2) (Single b-side, 1969)
Mixed by Steven Wilson 1 – 6, Mixed by King Crimson 7 – 9
2019 Instrumental mixes
1. 21st Century Schizoid Man
2. I Talk to the Wind
3. Epitaph
4. Moonchild
5. The Court of the Crimson King
Mixed by Steven Wilson
Video: 21csm extract Hyde Park 1969
CD 1   2019 stereo mixes & instrumental mixes
21st Century Schizoid Man
I Talk to the Wind
Epitaph
Moonchild
The Court of the Crimson King
21st Century Schizoid Man
I Talk to the Wind
Epitaph
Moonchild (edit)
The Court of the Crimson King
1 – 10 mixed by Steven Wilson
CD2 Alternate Album, expanded edition
1. Wind Session (Wind Session, 2019 stereo mix)
2. 21st Century Schizoid Man
3. I Talk to the Wind
4. I Talk to the Wind
5. Epitaph
6. Epitaph
7. Moonchild
8. The Court of the Crimson King
9. 21st Century Schizoid Man
Notes re above
1.  Wind Session, 2019 stereo mix
2. Morgan studios June 1969 take with Greg Lake vox overdubs from Wessex August 1969 & Mel Collins/Jakko Jakszyk August 2019 overdubs
3. Alternate 2019 mix
4. Duo version, full length master, 2019 mix
5. Vocals isolated/highlighted, 2019 mix
6. Alt take – 2019 mix
7. Take 1, 2019 mix
8. Morgan studios, June 1969 take, 2019 mix
9. Trio version, 2019 mix
Mixed by Steven Wilson except 2, 5 mixed by David Singleton
CD3 Original Master Edition, expanded
1 21st Century Schizoid Man
2. I Talk to the Wind
3. Epitaph
4. Moonchild
5. The Court of the Crimson King
6. 21st Century Schizoid Man
7. I Talk to the Wind
8. Epitaph
9. The Court of the Crimson King (single a side)
10. The Court of the Crimson King (single b side)
1 to 5   Original master edition produced by King Crimson
Mastered by Simon Heyworth
6. Morgan studios instrumental take, 1969, produced by King Crimson
7. studio run through, 2019 mix by Steven Wilson
8. Backing track, 2019 mix by Steven Wilson
9/10. Original single master
In The Court of the Crimson King 2LP vinyl
LP 1: 2019 mixes
Side A
1 21st Century Schizoid Man
2 I Talk to the Wind
3 Epitaph 
Side B
4 Moonchild
5 The Court of the Crimson King
Mixed by Steven Wilson
LP2: The Alternate Album
Side C
1 21st Century Schizoid Man
2 I Talk to the Wind
3 Epitaph           
Side D
1 Epitaph
2 Moonchild
3 The Court of the Crimson King
4 21st Century Schizoid Man
Side C1, D1 mixed by David Singleton, 2019
All other tracks mixed by Steven Wilson, 2019
Side C notes
1 Morgan studios June 1969 take with Greg Lake vocal overdubs from Wessex August 1969 & Jakko Jakszyk/Mel Collins August 2019 overdubs
2 Alternate 2019 mix
3 Alt. take – 2019 mix
Side D notes
1 Vocals isolated/highlighted, 2019 mix
2 Take 1, 2019 mix
3 Morgan studios, June 1969 take, 2019 mix
4 Trio version, 2019 mix