 News
Leo Sayer / The Fantasy Years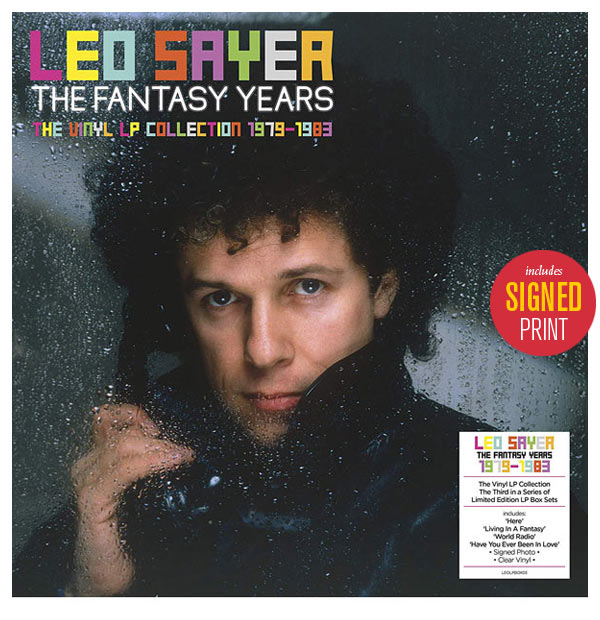 4LP clear vinyl • Overseen by Leo • Comes with a SIGNED print
Leo Sayer is set to release a third vinyl box set in his series of 'years' themed collections next month. The Fantasy Years 1979-1983 follows previous boxes The Hollywood Years and The London Years and also completes his first decade of success with Chrysalis Records.

The albums contained are 1979's Here, 1980's Living in a Fantasy, World Radio from 1982 and Have You Ever Been in Love, which was issued in '83. Each record will be pressed on heavyweight 180g clear vinyl and the box will contain a period-appropriate signed print.
The Fantasy Years includes four albums pressed on clear vinyl and a signed print
While no longer quite enjoying the level of success that he'd be used to across the 1970s, with hits such as 'When I Need You' and 'You Make Me Feel Like Dancing', the anglo-Australian pop minstrel was still popping up on Top of the Pops with occasional hits, and The Fantasy Years still has a few pop nuggets such as the hits 'More Than I Can Say', 'Orchard Road', the Ivor Novello winning 'Have You Ever Been In Love' and the Bee Gees-written 'Heart (Stop Beating In Time)'.
Here was produced by old mucker David Courtney, while Living in a Fantasy saw Leo team up with Alan Tarney, who would go on to produce most of a-ha's first album, Hunting High and Low. In fact, after the Arif Mardin producer World Radio, Christopher Neil co-produced Have You Ever Been In Love with the returning Alan Tarney. Neil worked on about half of a-ha's fourth album East Of The Sun West Of The Moon. So there you go!
The Fantasy Years 1979-1983 is released on 11 October 2019 (was 27 September).
Compare prices and pre-order
Leo Sayer
The Fantasy Years 1979-1983
LP 1 – Here
1. The World Has Changed
2. When The Money Runs Out
3. The EnD
4. Lost Control
5. An Englishman In The USA
6. Who Will The Next Fool Be
7. Work
8. Oh Girl
9. Ghosts
10. Takin' The Easy Way Out
LP 2 – Living in a Fantasy
1. Time Ran Out On You
2. Where Did We Go Wrong
3. You Win-I LosE
4. More Than I Can Say
5. Millionaire
6. Once In A While
7. Living In A Fantasy
8. She's Not Coming Back
9. Let Me Know
10. Only Foolin
LP 3 – World Radio
1. Heart (Stop Beating In Time)
2. Paris Dies In The Morning
3. Have You Ever Been In Love
4. Rumours
5. Heroes
6. Til You Let Your Heart Win
7. The End Of The Game
8. Wondering Where The Lions Are
9. We've Got Ourselves In Love
10. World Radio
LP 4 – Have You Ever Been In Love
1. Til You Come Back To Me
2. Sea Of Heartbreak
3. More Than I Can Say
4. Darlin'
5. Don't Wait Until Tomorrow
6. How Beautiful You Are
7. Orchard Road
8. Aviation
9. Heart (Stop Beating In Time)
10. Your Love Still Brings Me To My Knees
11. Have You Ever Been In Love
12. Wounded Heart
13. Love Games
14. Never Had A Dream Come True