 News
Cherry Red steps up Toyah reissues with massive Anthem box set
1981 album gets the super deluxe treatment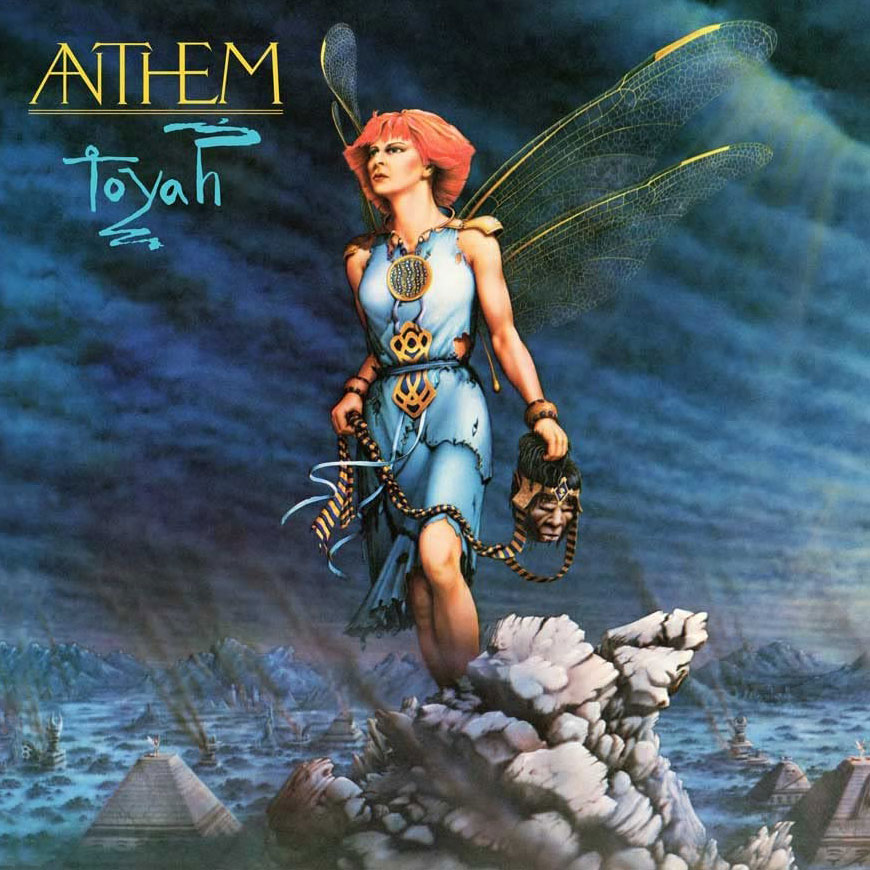 Toyah's 1981 album Anthem will be reissued in September across three physical formats, one of which is a large seven-disc super deluxe edition box set which comes with a signed print.
The album was the first to feature the new line-up of Toyah Willcox, Joel Bogen, Nigel Glockler, Phil Spalding and Adrian Lee. It reached number two in the UK album charts and contained a pair of top ten hits in 'It's A Mystery' (which was issued in February '81 as part of the 'Four From Toyah' EP) and 'I Want To Be Free' which was issued just before the album in May of that same year. Audio for the reissues has been remastered by Nick Watson (from the original master tapes) and approved by Joel Bogen.
To date, the 'top-of-the-range' reissues of Toyah's early albums have all been 2CD+DVD affairs, but clearly for the band's most popular album Cherry Red have decided it deserves the super deluxe treatment. This is what it contains
CD of remastered Anthem with bonus tracks
CD of bonus tracks, largely unreleased
DVD (NTSC, region-free) with Toyah track-by-track commentary, 2021 sessions, Top of the Pops and other BBC TV performances, promo videos & more
Exclusive CD of a further 20 bonus tracks (all previously unreleased)
Vinyl picture disc of Anthem
Splatter vinyl 12″ of non-album single 'Thunder in the Mountains'
Orange 7″ single of 'Sphinx'/'For You' transparent orange vinyl 7" single
44-page book of Anthem anecdotes and lyrics by Toyah Willcox
12″ album artwork print signed by Toyah Willcox
4 colour postcards, celebrating the Four From Toyah photography
This box set is strictly limited but if it's not your thing then the good news is that a 2CD+DVD edition is also available which is consistent with the first two album reissues. The contents of those three discs is identical to the ones in the box set, although obviously you miss out on the bonus CD, all the vinyl, the book and signed print etc.
As previously, a coloured vinyl edition of the album is on offer; this time it's a gold-coloured vinyl pressing. These three editions (box, 2CD+DVD and vinyl) are the only physical versions of Anthem available.
Anthem is reissued on 9 September 2022 via Cherry Red Records.
Compare prices and pre-order
Toyah
Anthem - super deluxe box set
Compare prices and pre-order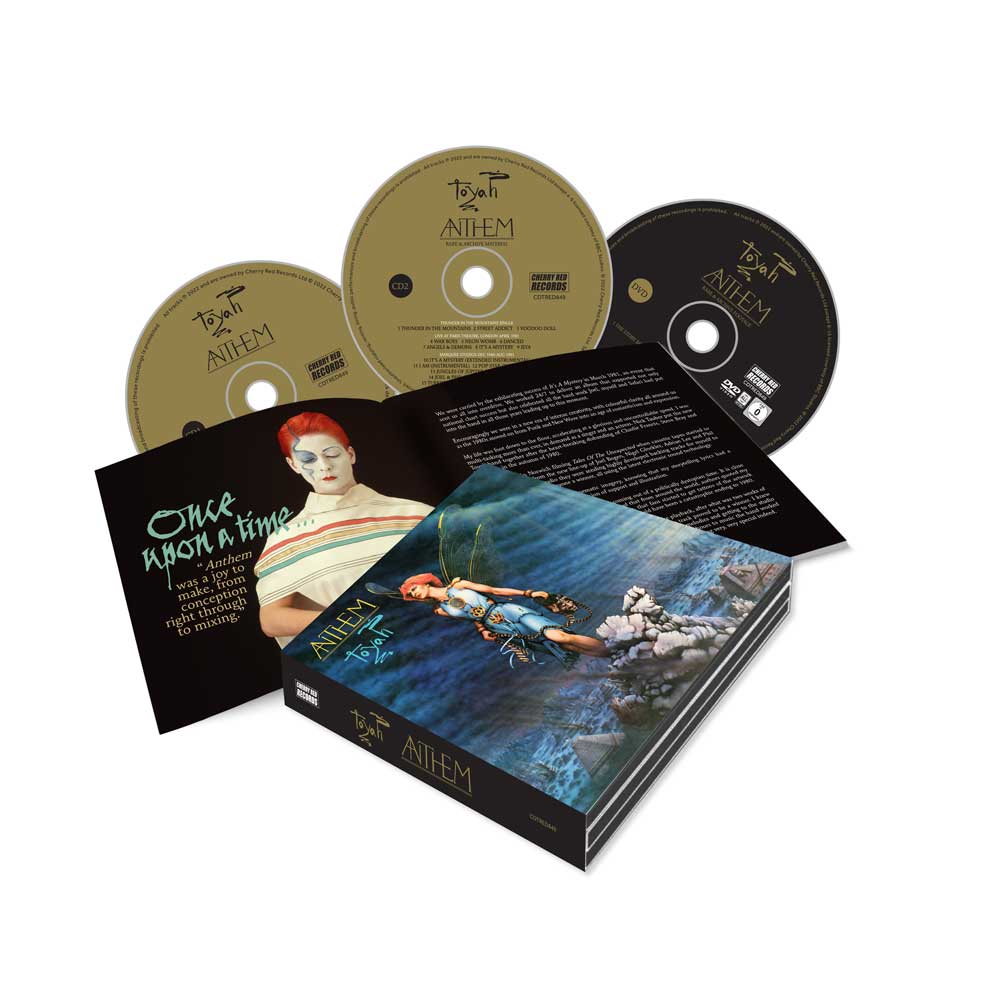 Compare prices and pre-order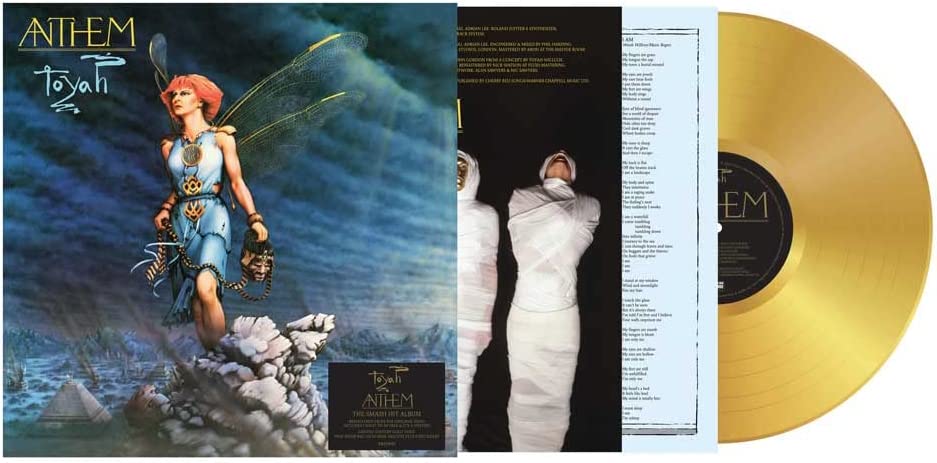 Toyah
Anthem - coloured vinyl
Tracklisting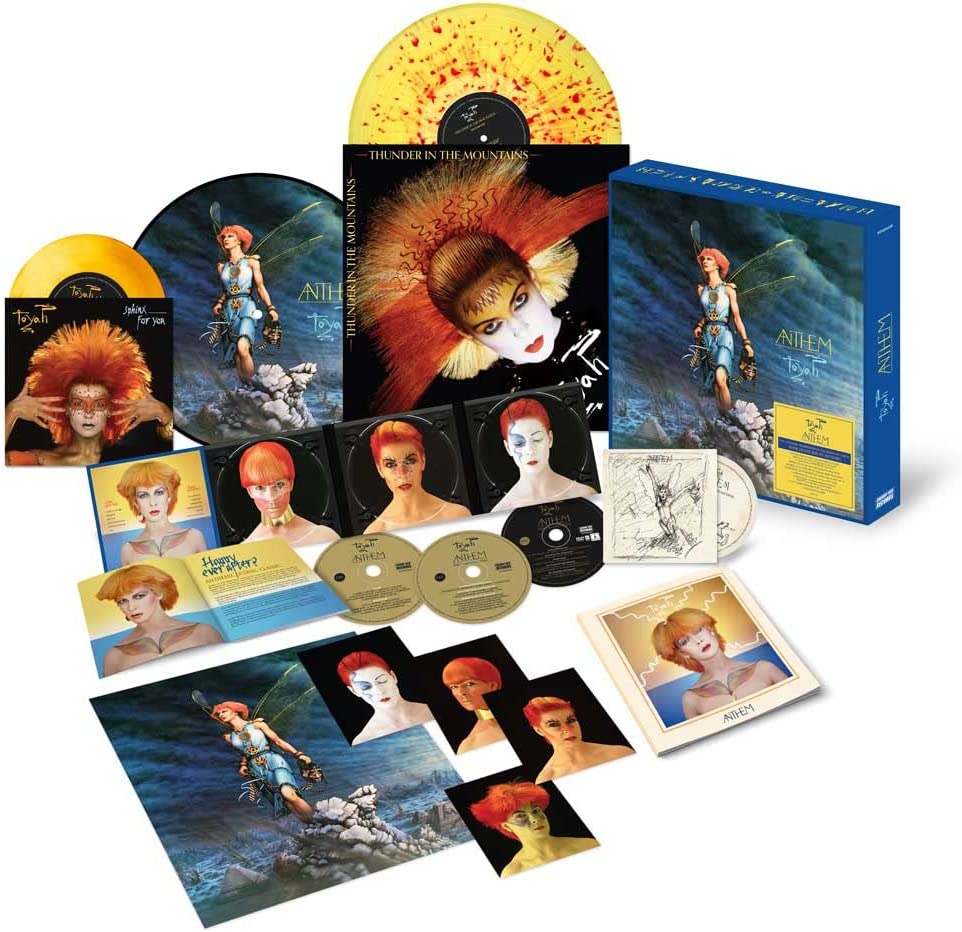 Anthem Toyah
/
Disc One: CD

I WANT TO BE FREE
OBSOLETE
POP STAR
ELOCUTION LESSON
JUNGLES OF JUPITER
I AM
IT'S A MYSTERY (ALBUM MIX)
MASAI BOY
MARIONETTE
DEMOLITION MEN
WE ARE

BONUS TRACKS

IT'S A MYSTERY
REVELATIONS
WAR BOYS
ANGELS & DEMONS
WALKIE TALKIE
ALIEN
SPHINX
FOR YOU (UNFADED VERSION)*
I WANT TO BE FREE (INSTRUMENTAL)*

* PREVIOUSLY UNRELEASED

Disc Two: CD

THUNDER IN THE MOUNTAINS
STREET ADDICT
VOODOO DOLL
WAR BOYS (LIVE AT PARIS THEATRE LONDON APRIL 1981*
NEON WOMB (LIVE AT PARIS THEATRE LONDON APRIL 1981*
DANCED (LIVE AT PARIS THEATRE LONDON APRIL 1981*
ANGELS & DEMONS (LIVE AT PARIS THEATRE LONDON APRIL 1981*
IT'S A MYSTERY (LIVE AT PARIS THEATRE LONDON APRIL 1981*
IEYA (LIVE AT PARIS THEATRE LONDON APRIL 1981*
IT'S A MYSTERY (EXTENDED INSTRUMENTAL)*
I AM (INSTRUMENTAL)*
POP STAR (INSTRUMENTAL)*
JUNGLES OF JUPITER (INSTRUMENTAL)*
JOEL & PHIL (INSTRUMENTAL OUTTAKE)*
TURKISH DELIGHT (INSTRUMENTAL OUTTAKE)*
TELEVISION (INSTRUMENTAL OUTTAKE)*

* PREVIOUSLY UNRELEASED

Disc Three: DVD

THE STORY BEHIND THE ALBUM
TRACK BY TRACK COMMENTARY
I WANT TO BE FREE: ELECTRO/ACOUSTIC SESSION 2021
IT'S A MYSTERY: ELECTRO/ACOUSTIC SESSION 2021
WE ARE: ELECTRO/ACOUSTIC SESSION 2021
I WANT TO BE FREE: PROMO VIDEO
THUNDER IN THE MOUNTAINS: PROMO VIDEO
IT'S A MYSTERY: TOP OF THE POPS 19/02/1981
IT'S A MYSTERY: TOP OF THE POPS 19/03/1981
I WANT TO BE FREE: TOP OF THE POPS 21/05/1981
THUNDER IN THE MOUNTAINS: TOP OF THE POPS 01/10/1981
I WANT TO BE FREE: CHEGGERS PLAYS POP 18/05/1981
IT'S A MYSTERY: SWAP SHOP 10/10/1881
IEYA: SOMETHING ELSE 30/10/1981
THUNDER IN THE MOUNTAINS: SOMETHING ELSE 30/10/1981

Disc Four: CD

IT'S A MYSTERY RE-RECORDED TV VERSION
REVELATIONS ALTERNATE VOCAL
WAR BOYS ALTERNATE MIX
I WANT TO BE FREE ALTERNATE VOCAL
I AM ACOUSTIC
POP STAR ROUGH MIX
MARIONETTE ROUGH MIX
DEMOLITION MEN ROUGH MIX
THUNDER IN THE MOUNTAINS ALTERNATE VOCAL
WALKIE TALKIE INSTRUMENTAL
JAPAN INSTRUMENTAL OUTTAKE
THE DOOR IS A WHORE INSTRUMENTAL
FOR YOU INSTRUMENTAL
MASAI BOY INSTRUMENTAL
ALIEN INSTRUMENTAL
THUNDER IN THE MOUNTAINS ORIGINAL INSTRUMENTAL
STREET ADDICT INSTRUMENTAL
VOODOO DOLL INSTRUMENTAL
CLAPHAM JUNCTION ORIGINAL INSTRUMENTAL
DROPPED EARRING INSTRUMENTAL

ALL PREVIOUSLY UNRELEASED

Disc Five: Anthem vinyl picture disc

SIDE ONE (ONCE UPON A TIME)

WANT TO BE FREE
OBSOLETE
POP STAR
ELOCUTION LESSON
JUNGLES OF JUPITER
I AM

SIDE TWO (HAPPY EVER AFTER?)

IT'S A MYSTERY (ALBUM MIX)
MASAI BOY
MARIONETTE
DEMOLITION MEN
WE ARE

Disc Six: Thunder in the Mountains splatter 12″ vinyl

 SIDE ONE (THUNDER SIDE)

THUNDER IN THE MOUNTAINS
STREET ADDICT
VOODOO DOLL
CLAPHAM JUNCTION

SIDE TWO (LIGHTNING SIDE)

THUNDER IN THE MOUNTAINS ORIGINAL* INSTRUMENTAL
STREET ADDICT INSTRUMENTAL*
VOODOO DOLL INSTRUMENTAL*
CLAPHAM JUNCTION ORIGINAL INSTRUMENTAL*

*Previously unreleased

Disc Seven: Sphinx/For You orange 7″ single

SIDE ONE

SPHINX
FOR YOU

SIDE TWO

SPHINX INSTRUMENTAL DEMO
FOR YOU INSTRUMENTAL

CD 1

I WANT TO BE FREE
OBSOLETE
POP STAR
ELOCUTION LESSON
JUNGLES OF JUPITER
I AM
IT'S A MYSTERY (ALBUM MIX)
MASAI BOY
MARIONETTE
DEMOLITION MEN
WE ARE BONUS TRACKS
IT'S A MYSTERY
REVELATIONS
WAR BOYS
ANGELS & DEMONS
WALKIE TALKIE
ALIEN
SPHINX
FOR YOU (UNFADED VERSION)*
I WANT TO BE FREE (INSTRUMENTAL)*

* PREVIOUSLY UNRELEASED

CD 2

THUNDER IN THE MOUNTAINS
STREET ADDICT
VOODOO DOLL
WAR BOYS (LIVE AT PARIS THEATRE LONDON APRIL 1981*
NEON WOMB (LIVE AT PARIS THEATRE LONDON APRIL 1981*
DANCED (LIVE AT PARIS THEATRE LONDON APRIL 1981*
ANGELS & DEMONS (LIVE AT PARIS THEATRE LONDON APRIL 1981*
IT'S A MYSTERY (LIVE AT PARIS THEATRE LONDON APRIL 1981*
IEYA (LIVE AT PARIS THEATRE LONDON APRIL 1981*
IT'S A MYSTERY (EXTENDED INSTRUMENTAL)*
I AM (INSTRUMENTAL)*
POP STAR (INSTRUMENTAL)*
JUNGLES OF JUPITER (INSTRUMENTAL)*
JOEL & PHIL (INSTRUMENTAL OUTTAKE)*
TURKISH DELIGHT (INSTRUMENTAL OUTTAKE)*
TELEVISION (INSTRUMENTAL OUTTAKE)*

* PREVIOUSLY UNRELEASED

DVD

THE STORY BEHIND THE ALBUM
TRACK BY TRACK COMMENTARY
I WANT TO BE FREE: ELECTRO/ACOUSTIC SESSION 2021
IT'S A MYSTERY: ELECTRO/ACOUSTIC SESSION 2021
WE ARE: ELECTRO/ACOUSTIC SESSION 2021
I WANT TO BE FREE: PROMO VIDEO
THUNDER IN THE MOUNTAINS: PROMO VIDEO
IT'S A MYSTERY: TOP OF THE POPS 19/02/1981
IT'S A MYSTERY: TOP OF THE POPS 19/03/1981
I WANT TO BE FREE: TOP OF THE POPS 21/05/1981
THUNDER IN THE MOUNTAINS: TOP OF THE POPS 01/10/1981
I WANT TO BE FREE: CHEGGERS PLAYS POP 18/05/1981
IT'S A MYSTERY: SWAP SHOP 10/10/1881
IEYA: SOMETHING ELSE 30/10/1981
THUNDER IN THE MOUNTAINS: SOMETHING ELSE 30/10/1981

Vinyl LP

SIDE ONE (ONCE UPON A TIME)

WANT TO BE FREE
OBSOLETE
POP STAR
ELOCUTION LESSON
JUNGLES OF JUPITER
I AM

SIDE TWO (HAPPY EVER AFTER?)

IT'S A MYSTERY (ALBUM MIX)
MASAI BOY
MARIONETTE
DEMOLITION MEN
WE ARE