 News
Marc Almond / Tenement Symphony reissue
6CD+DVD deluxe edition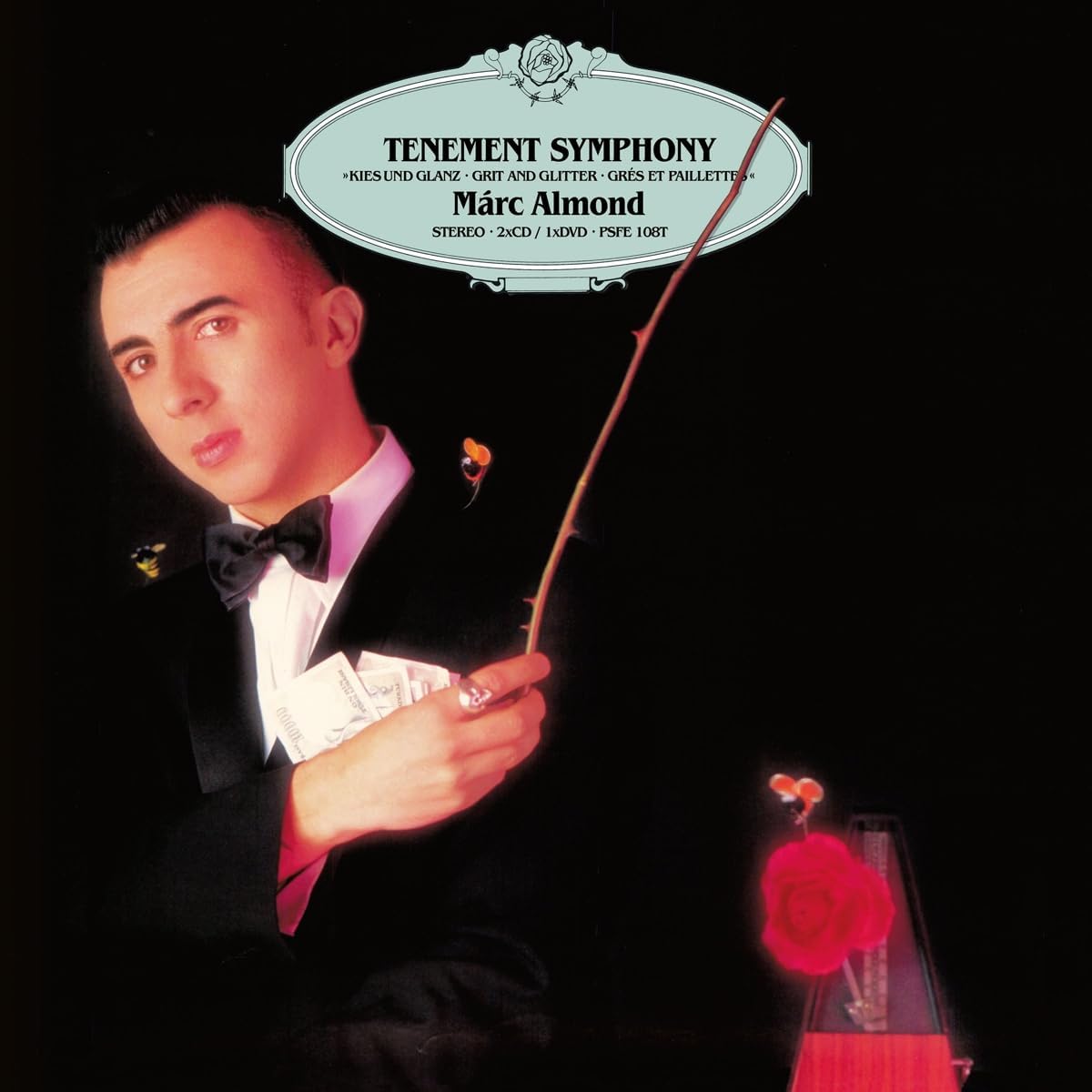 Massively comprehensive 6CD+DVD deluxe set of Almond's 1991 album
Marc Almond's 1991 album Tenement Symphony will be reissued as a 6CD+DVD deluxe edition in October.
After 1990's excellent Enchanted spawned just one top 40 single, the Trevor Horn-produced Tenement Symphony delivered three, including 'Days of Pearly Spencer', Almond's last top 10 hit in the UK (it reached No 4).
Not that the album was anything other than a creative endeavour; listening to the record was supposed to be like looking through the windows of different rooms in a tenement building and with narrative songs about disparate characters residing therein. The album also saw Marc work with his old mucker Dave Ball, from Soft Cell. They co-wrote three songs ('Meet Me in My Dream', 'I've Never Seen Your Face' and 'My Hand Over My Heart').
This forthcoming reissue goes above and beyond when it comes to bonus material. The first CD features the album and six B-sides, and then there is FIVE additional CDs of remixes, edits, demos and so forth. One of those five discs is devoted to live material –  including some 'time shifting' performances from 2000 and 2016 – but there's also a CD completely made up of live cuts from 1992.
The label claim 34 audio tracks that have never been commercially released, which is insane, and to top things off, there's also a DVD with promo videos and BBC TV appearances.
If this is all too much for you, there's a 2CD set which simply is discs one and two from the deluxe. A 2LP transparent blue vinyl edition spreads the album over two and a bit sides and fills out the space with B-sides and a few remixes.
Tenement Symphony will be released on 6 October 2023 via Cherry Red imprint SFE.
Compare prices and pre-order
Marc Almond
Tenement Symphony - 6CD+DVD deluxe edition
Compare prices and pre-order
Marc Almond
Tenement Symphony - 2LP blue vinyl
Compare prices and pre-order
Marc Almond
Tenement Symphony - 2CD set
Tracklisting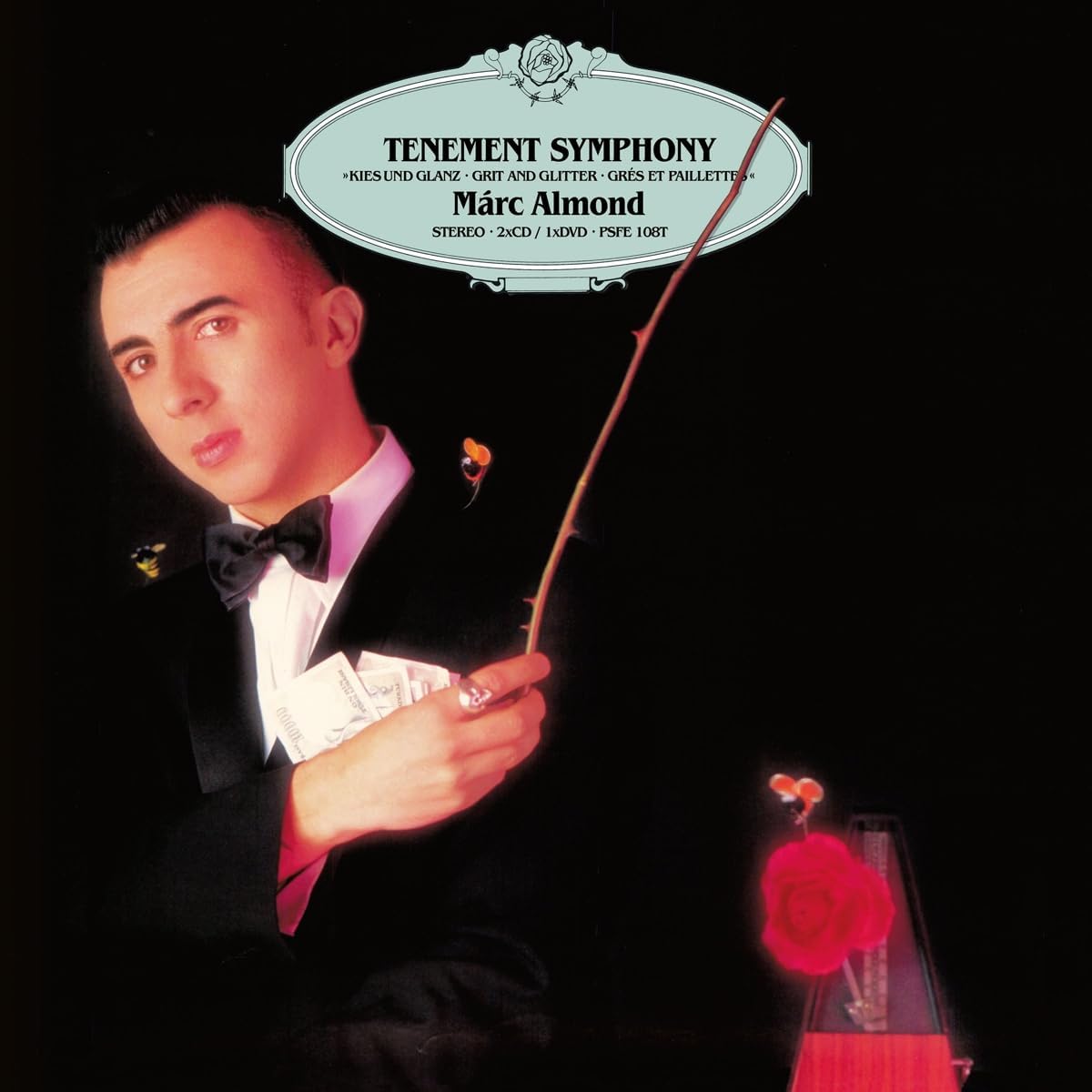 Tenement Symphony Marc Almond
/
6CD+DVD deluxe
CD 1: Tenement Symphony + B-sides

Prelude
Jacky
What Is Love?
Trois Chansons De Bilitis – Extract
The Days Of Pearly Spencer
My Hand Over My Heart
Meet Me In My Dream
Beautiful Brutal Thing
I've Never Seen Your Face
Vaudeville & Burlesque
Champagne
Bruises
Deadly Serenade
Deep Night (7" Mix)
A Love Outgrown
Night And No Morning
Money For Love (Ennio Mix)

CD 2: Bonus Tracks & Remixes

Jacky (Youth 7" Remix)
My Hand Over My Heart (Single Mix)
The Days Of Pearly Spencer (The German 7" Mix)
What Is Love? (7" Edit)
Like A Prayer
Jacky (Youth 12" Remix)
My Hand Over My Heart (Grit And Glitter Mix)
Dancing In A Golden Cage
Deep Night (12" Mix)
Money For Love (Fiddle Mix)
Jacky (Alpine Dub)
My Hand Over My Heart (John Coxon 12" Mix)
Dancing In A Golden Cage (Reflection In A Golden Eye)

CD 3: Tenement Symphony – Further LIstening

My Hand Over My Heart (Special Radio Edit)
What Is Love? (Larrabee 5th Mix)
Jacky (12" Phil Harding Dub)
Deadly Serenade (Acoustic Mix)
Beautiful Brutal Thing (7" Remix)
Dancing In A Golden Cage (Mr B's Supa Dub)
My Hand Over My Heart (No Strings)
Champagne (Early Version)
Meet Me In My Dream (Rough Mix)
What Is Love? (Larrabee Echo Mix)
Beautiful Brutal Thing (12" Techno Remix)
My Hand Over My Heart (John Coxon Dub Mix)
Champagne (Backing Track with Piano)

CD 4: Tenement Symphony – Live 1992

Jacky (Live At Liverpool Philharmonic Hall, 1992)
Meet Me In My Dream (Live At Liverpool Philharmonic Hall, 1992)
Champagne (Live At Liverpool Philharmonic Hall, 1992)
Vaudeville & Burlesque ('As Live' Video Soundtrack, Twelve Years Of Tears, 1992)
I've Never Seen Your Face ('As Live' Video Soundtrack, Twelve Years Of Tears, 1992)
Beautiful Brutal Thing ('As Live' Video Soundtrack, Twelve Years Of Tears, 1992)
Champagne ('As Live' Video Soundtrack, Twelve Years Of Tears, 1992)
Jacky ('As Live' Video Soundtrack, Twelve Years Of Tears, 1992)
The Days Of Pearly Spencer ('As Live' Video Soundtrack, Twelve Years Of Tears, 1992)
My Hand Over My Heart ('As Live' Video Soundtrack, Twelve Years Of Tears, 1992)
Meet Me In My Dream (Twelve Years Of Tears, Live 1992)

CD 5: Tenement Symphony – Live & Demos

Jacky (Live At The Union Chapel, 2000)
The Days Of Pearly Spencer (Live At Leicester Cathedral, 2000)
Champagne (Live At Leicester Cathedral, 2000)
Night And No Morning (Live At Leicester Cathedral, 2000)
Jacky (Live At The Lokerse Festival, 2000)
My Hand Over My Heart (Live At The Lokerse Festival, 2000)
The Days of Pearly Spencer (Live At The Lokerse Festival, 2000)
Jacky (Live At The Playhouse Theatre, 2016)
The Days Of Pearly Spencer (Cowboy Version Demo)
What Is Love? (Demo)
Jacky (Demo)
My Hand Over My Heart (Orchestral Sections Demo)
The Days Of Pearly Spencer (Demo)

CD 6: Tenement Dancehall… Plus!

What Is Love? (12" Larrabee Vocal Mix)
Jacky (12″ Phil Harding & Ian Curnow Remix)
What Is Love? (Moody Vocal Mix)
Beautiful Brutal Thing (12" Remix)
What Is Love? (Moody Vocal Mix #2)
Jacky (Backing Track)
My Hand Over My Heart (Backing Track)
The Days of Pearly Spencer (Backing Track)
What Is Love? (Backing Track)

DVD: Promo Videos and BBC TV Appearances

NTSC Region 0

Jacky (Promo Video)
My Hand Over My Heart (Promo Video)
The Days Of Pearly Spencer (Promo Video)
Jacky (Wogan 7/9/91)
The Days Of Pearly Spencer (Bruce's Guest Night 17/4/92)
The Days Of Pearly Spencer (Pebble Mill 28/4/92)
The Days Of Pearly Spencer (Top Of The Pops 30/4/92)
The Days Of Pearly Spencer (Good Morning Summer 5/7/95)

CD 1: Tenement Symphony & B-sides

Prelude
Jacky
What Is Love?
Trois Chansons De Bilitis – Extract
The Days Of Pearly Spencer
My Hand Over My Heart
Meet Me In My Dream
Beautiful Brutal Thing
I've Never Seen Your Face
Vaudeville & Burlesque
Champagne
Bruises
Deadly Serenade
Deep Night (7" Mix)
A Love Outgrown
Night And No Morning
Money For Love (Ennio Mix)

CD 2: Bonus Tracks & Remixes

Jacky (Youth 7" Remix)
My Hand Over My Heart (Single Mix)
The Days Of Pearly Spencer (The German 7" Mix)
What Is Love? (7" Edit)
Like A Prayer
Jacky (Youth 12" Remix)
My Hand Over My Heart (Grit And Glitter Mix)
Dancing In A Golden Cage
Deep Night (12" Mix)
Money For Love (Fiddle Mix)
Jacky (Alpine Dub)
My Hand Over My Heart (John Coxon 12" Mix)
Dancing In A Golden Cage (Reflection In A Golden Eye)

LP 1

Side A

1 Prelude
2 Jacky
3 What Is Love?
4 Trois Chansons De Bilitis – Extract
5 The Days Of Pearly Spencer
6 My Hand Over My Heart

Side B

Meet Me In My Dream
Beautiful Brutal Thing
I've Never Seen Your Face
Vaudeville & Burlesque

LP 2

Side C

Champagne
Bruises
Deadly Serenade
Night And No Morning
A Love Outgrown

Side D

Deep Night (12" Version)
Money For Love (Ennio Mix)
Dancing In A Golden Cage (Reflection In A Golden Eye)