 News
Marillion / Clutching at Straws reissue
4CD+blu-ray deluxe set • 5.1 mix • Live audio • demos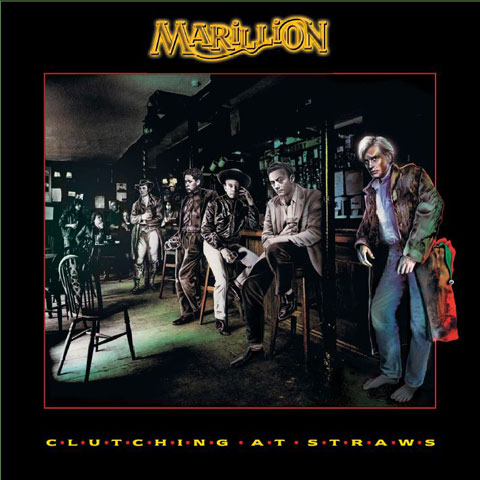 After the successful reissue of Marillion's 1985 album Misplaced Childhood in 2017, Parlophone will reissue the British quintet's fourth studio album Clutching at Straws in November.

Like its predecessor, the album was produced by Chris Kimsey and it delivered three top forty hits ('Incommunicado', 'Sugar Mice' and 'Warm Wet Circles'). Clutching At Straws would turn out to be Marillion's final studio release with original singer Fish.

Clutching at Straws will be reissued as a 4CD+blu-ray deluxe edition and a 5LP vinyl box set. Both include a new stereo remix by Andy Bradfield and Avril Mackintosh (Mackintosh was the original mixing engineer for producer Chris Kimsey in Advision studios back in 1987) and a concert recording of the band performing at the Edinburgh Playhouse in December '87. Some of these live performance have appeared before, on The Thieving Magpie live album, although it should be noted that this is a new mix for 2018 by Michael Hunter.


The 4CD+blu-ray edition adds a disc of demos, most of which were issued on the 1999 two-CD deluxe, although there are four 'new' ones are added here ('Hotel Hobbies/Warm Wet Circles', 'Just For The Record', 'Torch Song' and 'Slàinte Mhath').
The blu-ray features the stereo remix and a 5.1 mix although not by Steven Wilson this time, but by Bradfield and Mackintosh, again. Fish describes the new surround mix as "truly wonderful". As a bonus the blu-ray gives you the original mix of the album in stereo and a a few extra mixes. Video content includes a new 60 minute documentary featuring Mick Wall interviewing the band and discussing the album, plus promo films for the three singles.

Clutching at Straws will be reissued on 23 November 2018. Both versions are currently very well priced on Amazon UK but you can spend a bit more and get signed versions from Fish's online shop or editions signed by Marillion from their store!

Worth noting that Warners have told Fish that "both the vinyl and CD/BRD disc box sets will be discontinued after they have sold this production run."


Compare prices and pre-order
Marillion
Clutching at Straws - 4CD+blu-ray deluxe
Compare prices and pre-order
Marillion
Clutching at Straws - 5LP vinyl box
Clutching at Straws / 4CD + blu-ray deluxe edition
Disc One: 2018 Andy Bradfield & Avril Mackintosh Re-mix
"Hotel Hobbies"

"Warm Wet Circles"

"That Time of the Night (The Short Straw)"

"Going Under" (Alternate Version)

"Just or the Record"

"White Russian"

"Incommunicado"

"Torch Song"

"Slàinte Mhath"

"Sugar Mice"

"The Last Straw"

"Happy Ending"
Disc Two: Live at the Edinburgh Playhouse 1987 (2018 Michael Hunter Mix)
"La Gazza Ladra"

"Slàinte Mhath"

"Assassing"

"White Russian"

"Incubus"

"Sugar Mice"

"Fugazi"

"Hotel Hobbies"

"Warm Wet Circles"

"That Time of the Night (The Short Straw)"
Disc Three: Live at the Edinburgh Playhouse 1987 (2018 Michael Hunter Mix)
"Pseudo Silk Kimono" (Intro)

"Kayleigh"

"Lavender"

"Bitter Suite"

"Heart of Lothian"

"The Last Straw"

"Incommunicado"

"Garden Party"

"Market Square Heroes" (incomplete, featuring "My Generation," "Margaret," and "Let's Twist Again")
Disc Four: 1999 Remaster Demos           
"Beaujolais Day" (Demo)

"Story From A Thin Wall" (Demo)

"Shadows On The Barley" (Demo)

"Exile On Princes Street" (Demo)

"Sunset Hill" (Demo)

"Tic-Tac-Toe" (Demo)

"Voice In The Crowd" (Demo)

"White Russians" (Demo)

"Sugar Mice In The Rain" (Demo)

"Hotel Hobbies/ Warm Wet Circles" (The Mosaic Demos) *

"Just for the Record" (Demo) *

"Torch Song" (Demo) *

"Slàinte Mhath" (Demo) *
Blu-ray Content
Clutching At Straws (2018 Andy Bradfield & Avril Mackintosh Re-mix)
48/24 PCM Stereo Remix48/24 LPCM Master Audio 5.1 Mix

48/24 DTS Master Audio 5.1 Mix
"The Last Straw" Clutching At Straws: Interviews with Fish and band
Promo Films (SD Content)
"Incommunicado"

"Sugar Mice"

"Warm Wet Circles"
Audio Extras          
Clutching At Straws (Original 1987 Album Mix)
Bonus Tracks (Audio Only)
"Incommunicado" (Alternative Version)

"Tux On"

"Going Under" (Extended Version) 

Clutching at Straws 5LP vinyl box set
Clutching At Straws (2018 Andy Bradfield & Avril Mackintosh Re-Mix)    
Side One
Hotel Hobbies

Warm Wet Circles

That Time of the Night (The Short Straw)
Side Two
Going Under (track only included on original CD version)

Just for the Record

White Russian
Side Three
Incommunicado

Torch Song

Slàinte Mhath
Side Four
Sugar Mice

The Last Straw

Happy Ending
Live at the Edinburgh Playhouse (19/12/1987) (2018 Michael Hunter Remix)
Side Five
La Gazza Ladra

Slàinte Mhath

Assassing

White Russian (Previously released on Thieving Magpie)
Side Six
1. Incubus

Sugar Mice
Side Seven
Fugazi
Side Eight
Hotel Hobbies

Warm Wet Circles

That Time of the Night (The Short Straw)
Side Nine
Pseudo Silk Kimono (instrumental)

Kayleigh

Lavender

Bitter Suite

Heart of Lothian
Side Ten
The Last Straw

Incommunicado (Previously released on Thieving Magpie)

Garden Party