 News
Marillion / Script For A Jester's Tear 4CD+blu-ray and 4LP vinyl sets
New stereo remix • 5.1 mix • 4CD+blu-ray • 4LP vinyl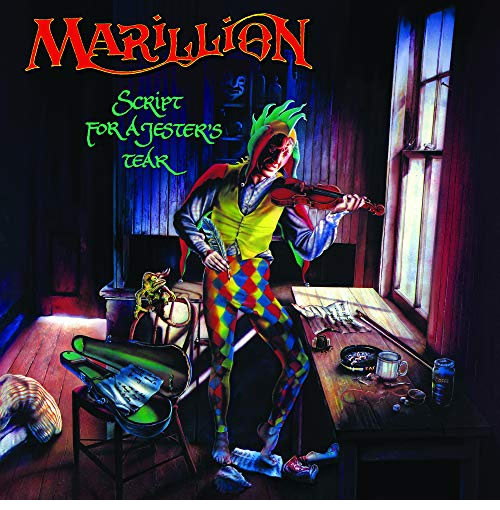 Marillion's debut album Script For A Jester's Tear will get the full reissue treatment in April with the now familiar multi-disc CD+blu-ray and vinyl formats, with the former offering a 5.1 surround mix.

Issued in March 1983, Script For A Jester's Tear was a top ten album in the UK and featured two top 40 singles: 'He Knows You Know' (#35) and 'Garden Party' (#16). The studio album had been preceded by the 'Market Square Heroes' single in late 1982. None of the three tracks on the 12-inch of that made release it onto the album and producer David Hitchcock ended up being replaced by Nick Tauber, after being badly injured in a car accident.
The album also boasts the unique line-up of Fish (vocals), Steve Rothery (guitar), Pete Trewavas (bass), Mark Kelly (keyboards) and Mick Pointer (drums).
In terms of this new reissue, the four CD + blu-ray edition offers newly remixed stereo versions (by Andy Bradfield and Avril Mackintosh) of both the album and the 'Market Square Heroes' EP across the first two discs. 'He Knows You Know' B-side 'Charting the Single' is also included on CD 2 in remixed form.
An unreleased live performance of Marillion at London's Marquee Club (from 29 December 1982) is split across discs three and four and finally the blu-ray disc offers an enormous amount of content. Unlike Misplaced Childhood and Clutching at Straws, as well as the new 5.1 mix and stereo remix of the album, this disc offers ALL of the audio on the CDs in hi-res, including the live concert. Add to this a documentary with band interviews – that covers the 1979 formation of Marillion in Aylesbury through the release of Script for a Jester's Tear in 1983 – and you've got a cracking blu-ray!
The 4LP vinyl box set repeats the content on the first four CDs in the box set: that is, stereo remix of both album and Market Square Heroes EP and the live concert.
Script for a Jester's Tear will be reissued on 17 April 2020 (was 3 April). As before, you can get signed copies from Fish and Marillion's sites respectively.
Compare prices and pre-order
Marillion
Script For A Jester's Tear - 4CD + blu-ray
Compare prices and pre-order
Marillion
Script For A Jester's Tear - 4LP vinyl
Script For A Jester's Tear 4CD+Blu-ray
CD 1: Script For A Jester's Tear (2020 Stereo Remix)
"Script For A Jester's Tear"
"He Knows You Know"
"The Web"
"Garden Party"
"Chelsea Monday"
"Forgotten Sons"
CD 2: Market Square Heroes EP (2020 Stereo Remix)
"Market Square Heroes"
"Three Boats Down From The Candy"
"Grendel"
Bonus Track
"Charting The Single" – 2020 Remaster
CD 3: Live at the Marquee Club, London (12/29/82)
"Garden Party" *
"Three Boats Down From The Candy" *
"Grendel" *
"Chelsea Monday" *
"He Knows You Know" *
CD 4: Live at the Marquee Club, London (12/29/82)
"The Web" *
"Script For A Jesters Tear" *
"Forgotten Sons" *
"Market Square Heroes" *
"Margaret" *
Disc 5: Blu-ray
Documentary: "Sackcloth and Greasepaint – The Story of Script For A Jester's Tear"
Script For A Jesters Tear – 2020 Stereo Remix (96k 24 bit)
Script For A Jester's Tear (5.1 Surround Remix)
Market Square Heroes EP – 2020 Stereo Remix (96k 24 bit)
Live at the Marquee Club, London (12/29/82) – 2020 Stereo Remix (96k 24 bit)
* previously unreleased
Script For A Jester's Tear 4LP vinyl
LP One: Script For A Jester's Tear (2020 Stereo Remix)
Side A
"Script For A Jester's Tear"
"He Knows You Know"
"The Web"
Side B
"Garden Party"
"Chelsea Monday"
"Forgotten Sons"
LP Two: Market Square Heroes EP (2020 Stereo Remix)
Side C
"Market Square Heroes"
"Three Boats Down From The Candy"
Bonus Track
"Charting The Single" – 2020 Remaster
Side D
"Grendel"
LP Three: Live at the Marquee Club, London (12/29/82)
Side E
"Garden Party" *
"Three Boats Down From The Candy" *
"Chelsea Monday" *
Side F
"Grendel" *
"He Knows You Know" *
LP Four: Live at the Marquee Club, London (12/29/82)
Side G
"The Web" *
"Script For A Jesters Tear" *
Side H
"Forgotten Sons" *
"Market Square Heroes" *
"Margaret" *
* previously unreleased