 News
Matt Berry / Gather Up deluxe box set
4CD or 5LP options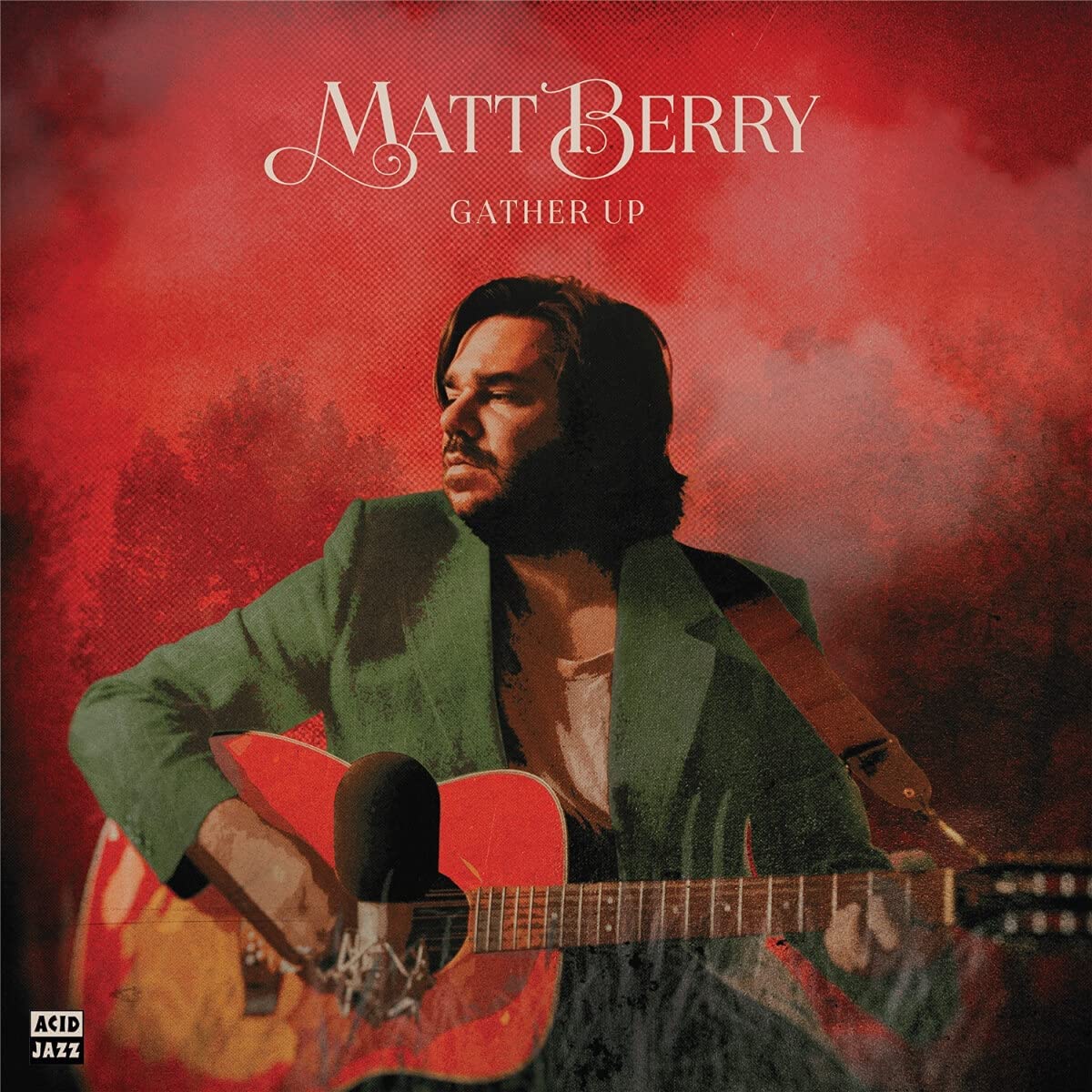 This November, Acid Jazz will release Gather Up, a career-spanning box set of music by comedic actor and musician Matt Berry. Available as a four-CD set or signed 5LP vinyl package, Gather Up is part 'best of' and part rarities collection and has been compiled by Berry himself.
Over 10 years with Acid Jazz Records Matt Berry has released nine incredibly diverse albums, including the tangled-folk rock thickets of Witchazel and Kill The Wolf, the out-there explorations of Music For Insomniacs, TV Themes' retro-kitsch delights, the twilight grooves of The Small Hours, the classic pedal-steel songwriting of Phantom Birds and the psychedelic sounds on The Blue Elephant.
The four-CD and 5LP vinyl boxes contain the same audio, the only different being that the 21-track career-spanning 'best of' requires two records compared to one CD, incidentally single CD and 2LP releases of this selection are also available.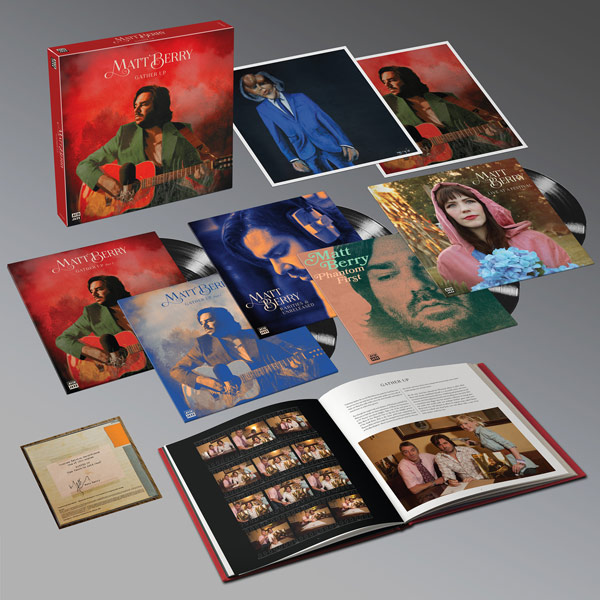 The third LP (or CD 2) is a selection of rare and never heard before outtakes. It includes cuts from Berry's 2010 Myspace EP 'Summer Sun'; outtakes from the Witchazel and The Blue Elephant albums; the 'Catch Me In Time' track featuring soul legend Geno Washington; a live radio session version of 'Take My Hand' featuring Cecilia Fage; embryonic versions of album tracks, and much more.
LP four (or CD 3), Phantom First, comprises demo recordings of some songs which did and did not evolve into the Phantom Birds album. Many of these involve different track titles and completely different lyrics with familiar melodies wrong-footing the listener.
Finally, Live At A Festival which is LP 5 (or CD 4) features five songs recorded over three festivals in 2015, including The Green Man Festival in the Brecon Beacons.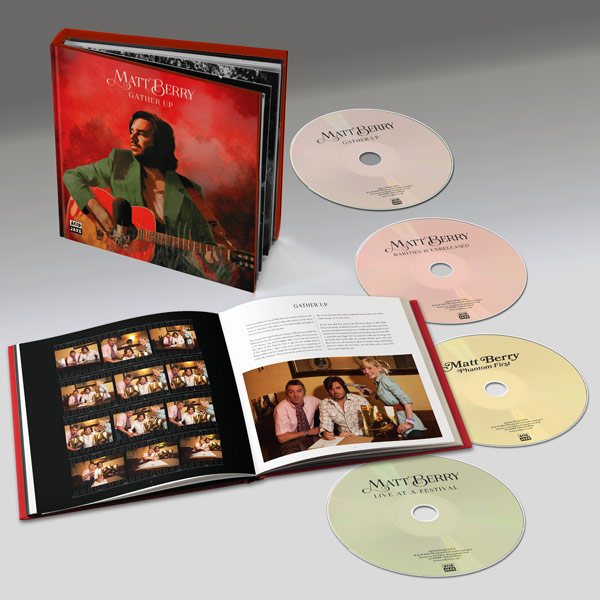 The vinyl set comes with two original Matt Berry artwork prints, a 64-page hardcover book with sleeve notes and an exclusive photographic archive of Matt's 10 years with Acid Jazz. It also includes a certificate of authenticity signed by Berry.
The CD deluxe set is the casebound book format and features a 24-page book with sleeve notes and photos.
Gather Up will be released on 26 November 2021. The 2LP edition is a gatefold edition and is pressed on red vinyl. Nice.
Compare prices and pre-order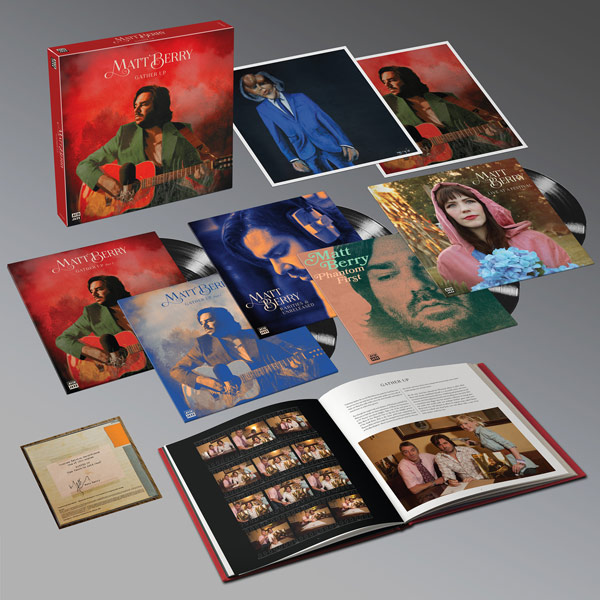 Matt Berry
Gather up - 5LP box set with signed certificate and book
Compare prices and pre-order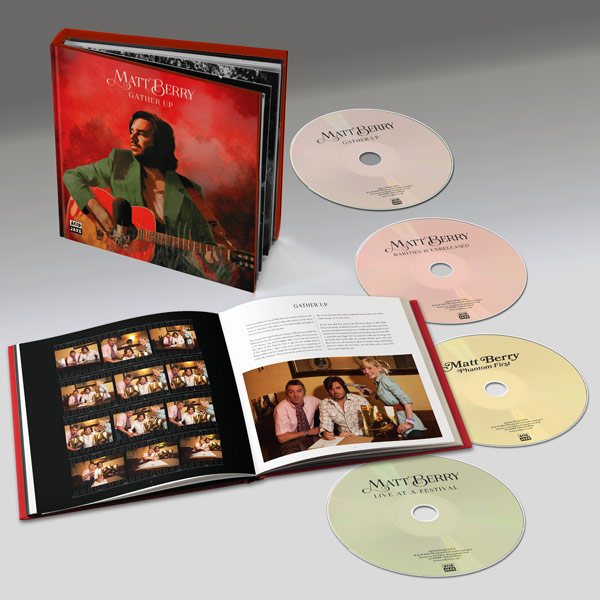 Matt Berry
Gather up - 4CD deluxe set
Compare prices and pre-order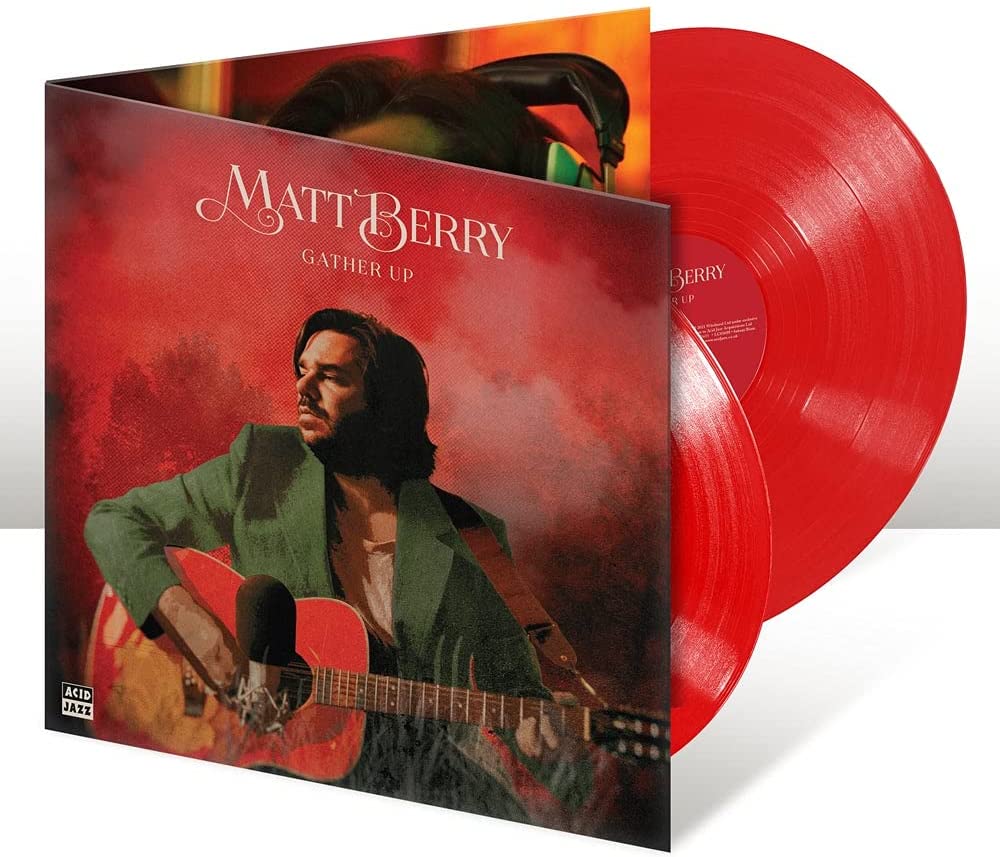 Matt Berry
gather up - 2LP red vinyl
Compare prices and pre-order
Matt Berry
gather up - single CD retrospective
Tracklisting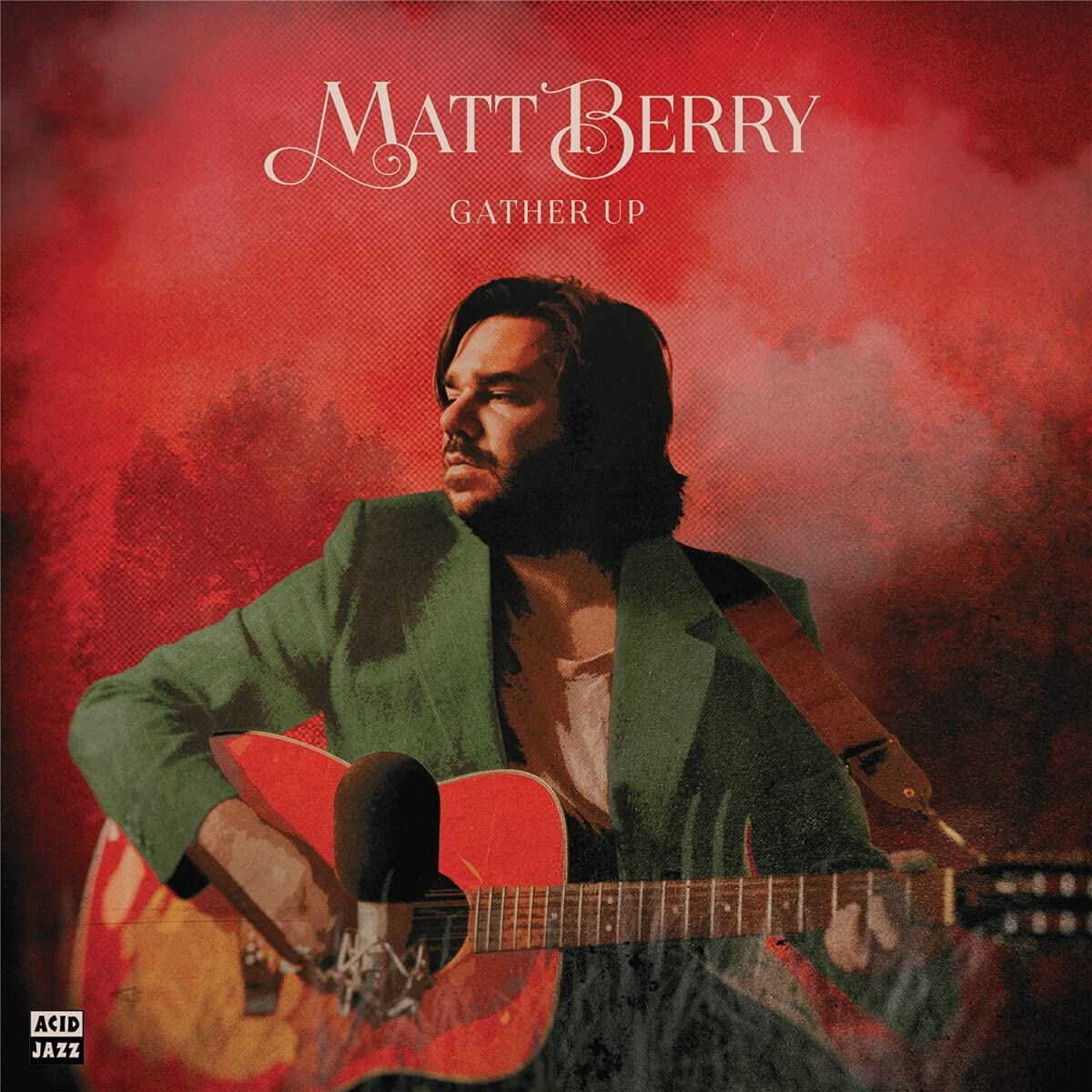 Gather Up Matt Berry
/
4CD deluxe set
CD 1 – Gather Up

Take My Hand
Something In My Eye
Medicine
Badger's Wake
World In Action
One By One
Take A Bow
October Sun
So Low
Summer Sun
Gather Up
Theme from Snuff Box
Middle Of The East
Like Stone
Phantom Birds
Music For Insomniacs Part IV
Say It Again
The Innkeepers Song Live
Obsessed & So Obscure
Woman
Solstice

CD 2 – Rare & Unreleased

Bigger Than A Dog Original Witchazel Intro
Take My Hand Live On Absolute Radio
Autumn Witchazel Outtake
The Dawn From Myspace EP 'Summer Sun' 2010
Snuff Box Live Loop Used Live Between 2005 – 2012
Catch Me In Time
Dark Beach From Myspace EP 'Summer Sun' 2010
The Hangman Acoustic Version 2007
Wonder Theme Became 'Something In My Eye'
Music For Insomniacs Alternative Intro
Theme From 'Sorry' Live from Charlie Brooker's Screenwipe 2007
Music For Insomnaics Rejected Theme
Walk With Samuel Devil Inside Me'
Blankety Blank Vocal Intro
The Blue Elephant Trip Two
Sweet Velvet Became 'Seasons On Fire'
The Blue Elephant Alternative Intro

CD 3 – Phantom First

Covered In Clowns
Get Her Out Of My Mind
I'm Going
Make It Go Away
Peter Cleopatra and The Windmill
Play On
Take A Bow
The Preacher's House
A Shot Rang Out In The Forest
The Wrong House
Where's My Love?
You Danced All Night

CD 4 – Live at a Festival

Medicine / So Low
Silver Sun
Theme From Snuffbox
Solstice
The Pheasant
Tracklisting
Gather Up Matt Berry
/
5LP vinyl box with signed certificate and prints
Side A

Take My Hand
 Something In My Eye
Medicine
Badger's Wake
 World In Action
One By One

Side B

Take A Bow
October Sun
So Low
Summer Sun
Gather Up

Side C

Snuff Box Theme
Middle Of The East
Like Stone
Phantom Birds
Music For Insomniacs Pt. IV
Say It Again

Side D

The Innkeeper's Song (Live)
Obsessed & So Obscure
 Woman
 Solstice

Side E

Bigger Than A Dog (Original Witchazel Intro)
Take My Hand (Live On Absolute Radio)
Autumn (Witchazel Outtake)
The Dawn (From Myspace EP 'Summer Sun' 2010)
Snuff Box Live Loop (Used Live Between 2005 – 2012)
Catch Me In Time
Dark Beach (From Myspace EP 'Summer Sun' 2010)
The Hangman (Acoustic Version 2007)

Side F

Wonder Theme (Became 'Something In My Eye')
Music For Insomniacs (Alternative Intro)
Theme From 'Sorry' (Live from Charlie Brooker's Screenwipe 2007)
Music For Insomnaics Rejected Theme
Walk With Samuel Devil Inside Me'
Blankety Blank Vocal Intro
The Blue Elephant Trip Two
Sweet Velvet Became 'Seasons On Fire'
The Blue Elephant Alternative Intro

Side G

Covered In Clowns
 Get Her Out Of My Mind
 I'm Going
Make It Go Away
Peter Cleopatra And The Windmill
Play On

Side H

Take A Bow
The Preacher's House
A Shot Rang Out In The Forest
The Wrong House
Where's My Love?
You Danced All Night

Side I

Medicine / So Low
 Silver Sun
Theme From Snuffbox

Side J

Solstice
The Pheasant