 News
Menswear / The Menswear Collection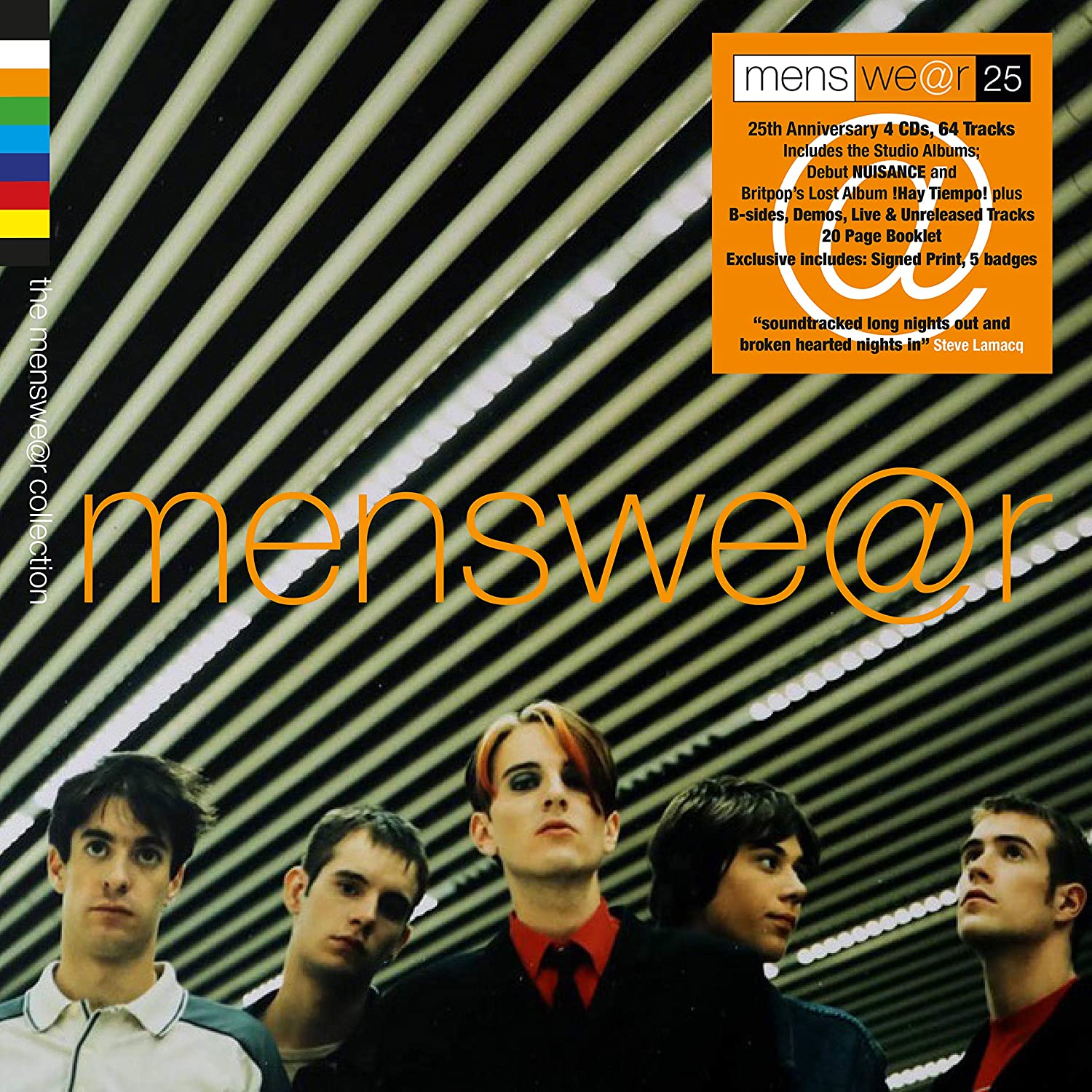 Four-CD box with demos, rarities & 'lost' album • SIGNED
The output of Britpop fly-by-nights Menswear comes under close scrutiny with The Menswear Collection, a new four-CD box set that includes surely everything the band every released or recorded!

Menswear were singer Johnny Dean, guitarists Chris Gentry and Simon White, bassist Stuart Black and drummer Matt Everitt (who would go on to find actual fame at BBC Radio 6 Music). They enjoyed a string of top 30 singles from their 1995 debut Nuisance including Daydreamer.
Ultimately, that would be their only UK album and they called it a day in 1998 and became a Britpop footnote. But no! A second album, ¡Hay Tiempo!, was issued in Japan and that is included in this box set alongside Nuisance – both remastered.
Other content includes demos, singles, b-sides, remixes, rarities and live tracks. This clamshell box set is a limited edition, with 1000-only coming with a signed photograph. It also includes five badges and a booklet with interviews.
The Menswear Collection will be released on 23 October 2020, via Edsel. ¡Hay Tiempo! is also being issued as a special standalone clear vinyl LP on the same date.
Compare prices and pre-order
Menswear
The Menswear Collection - ltd 4CD signed box
Compare prices and pre-order
Menswear
¡Hay Tiempo! (180g Clear Vinyl) [VINYL]
CD 1 – Nuisance remastered
1. 125 West 3rd Street
2. I'll Manage Somehow
3. Sleeping In
4. Little Miss Pinpoint Eyes
5. Daydreamer
6. Hollywood Girl
7. Being Brave
8. Around You Again
9. The One
10. Stardust
11. Piece Of Me
12. Stardust (Reprise)
13. Bones And Red Meat
CD 2
1. I'll Manage Somehow (7″ Version)
2. Second Hand
3. Gentlemen Jim
4. Around You Again (Live Session)
5. Back in the Bar
6. Satellite
7. Dubdreamer
8. Sleeping In (Radio Edit)
9. Sunday Driver
10. Now Is The Hour
11. 26 Years
12. Sunlight on the Moon
13. This Will Be Our Year
14. Public Image
15. We Love You
16. Crash
17. Phat Kid Music
18. Hanging in the Blue Sky
19. The One (Live at Shepherds Bush Empire)
20. Sleeping In (Live at Shepherds Bush Empire)
21. Little Miss Pinpoint Eyes (Live at Shepherds Bush Empire)
CD 3 – ¡Hay Tiempo! remastered
1. Every Sounds A Melody
2. Wait For The Sun
3. Silver Tongue
4. Lower Loveday
5. Shine
6. Coming Home
7. I'll Sing For You
8. Insider The Dream
9. Holding Tight
10. Tomorrow
CD 4 ¡Hay Tiempo! Sessions
1. I'll Manage Somehow (EMI demo)
2. Daydreamer (EMI demo)
3. Stardust (EMI demo)
4. Can't Smile Without You (Childline album)
5. Daydreamer [student union remix] (White Label)
6. People I'm Hooch (Japanese advert)
7. You're Never Alone In Tokyo (Demo)
8. We Love You (Demo)
9. While He Slept (Demo)
10. Start A Fire (¡Hay Tiempo! Sessions)
11. Why I Love Her
12. Coming Back For More
13. Is This The Way?
14. Something For Nothing
15. You're Not Alone
16. She Makes Him
17. Weekday People
18. Pick Me Up On Your Way Down
19. Valium