 News
Neil Young & Crazy Horse / Colorado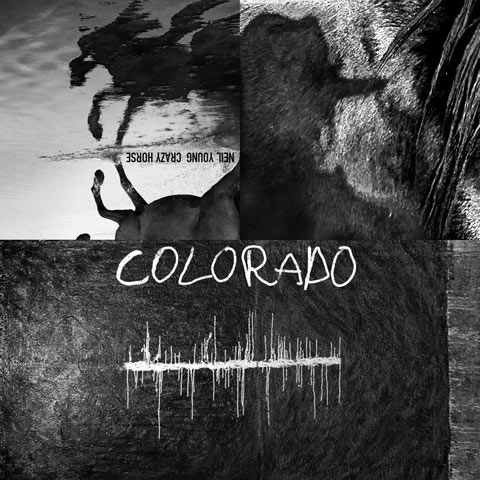 Neil Young & Crazy Horse will release a new album Colorado in October.

The 11-track album was recorded in a studio in the Rocky Mountains and produced by Young and John Hanlon. The current line-up of Crazy Horse features bassist Billy Talbot and Ralph Molina (on drums) and guitarist Nils Lofgren.
Young's wife Daryl Hannah created the artwork for the sleeve, and Neil raves about her "beautiful artistic sentiment" on this post on his archives site.
The album is released on CD and as a 2LP vinyl + 7″ package. The audio actually takes up only three sides of the vinyl with side four etched. The seven-inch single features a live version of album track 'Rainbow of Colors' and a studio recording Truth Kills on the B-side.
Colorado is released on 25 October 2019.
Compare prices and pre-order
Neil Young with Crazy Horse
Colorado
Compare prices and pre-order
Neil Young with Crazy Horse
Colorado [VINYL]
Colorado CD edition
1. Think Of Me
2. She Showed Me Love
3. Olden Days
4. Help Me Lose My Mind
5. Green Is Blue
6. Shut It Down
7. Milky Way
8. Eternity
9. Rainbow Of Colors (studio version)
10. I Do
Colorado 2LP + 7″ vinyl edition
Side 1
Think Of Me
She Showed Me Love
Side 2
Olden Days
Help Me Lose My Mind
Green Is Blue
Shut It Down
Side 3
Milky Way
Eternity
Rainbow Of Colors (studio version)
I Do
Side 4
Etched artwork
Rainbow of Colors – bonus 7″ which comes with the vinyl LP
1. Rainbow Of Colors (Solo – Live in Portland, May 17, 2019) – Neil Young
2. Truth Kills (Neil Young with Crazy Horse – studio)