 News
Neil Young / Somewhere Under The Rainbow
Orginal Bootleg Series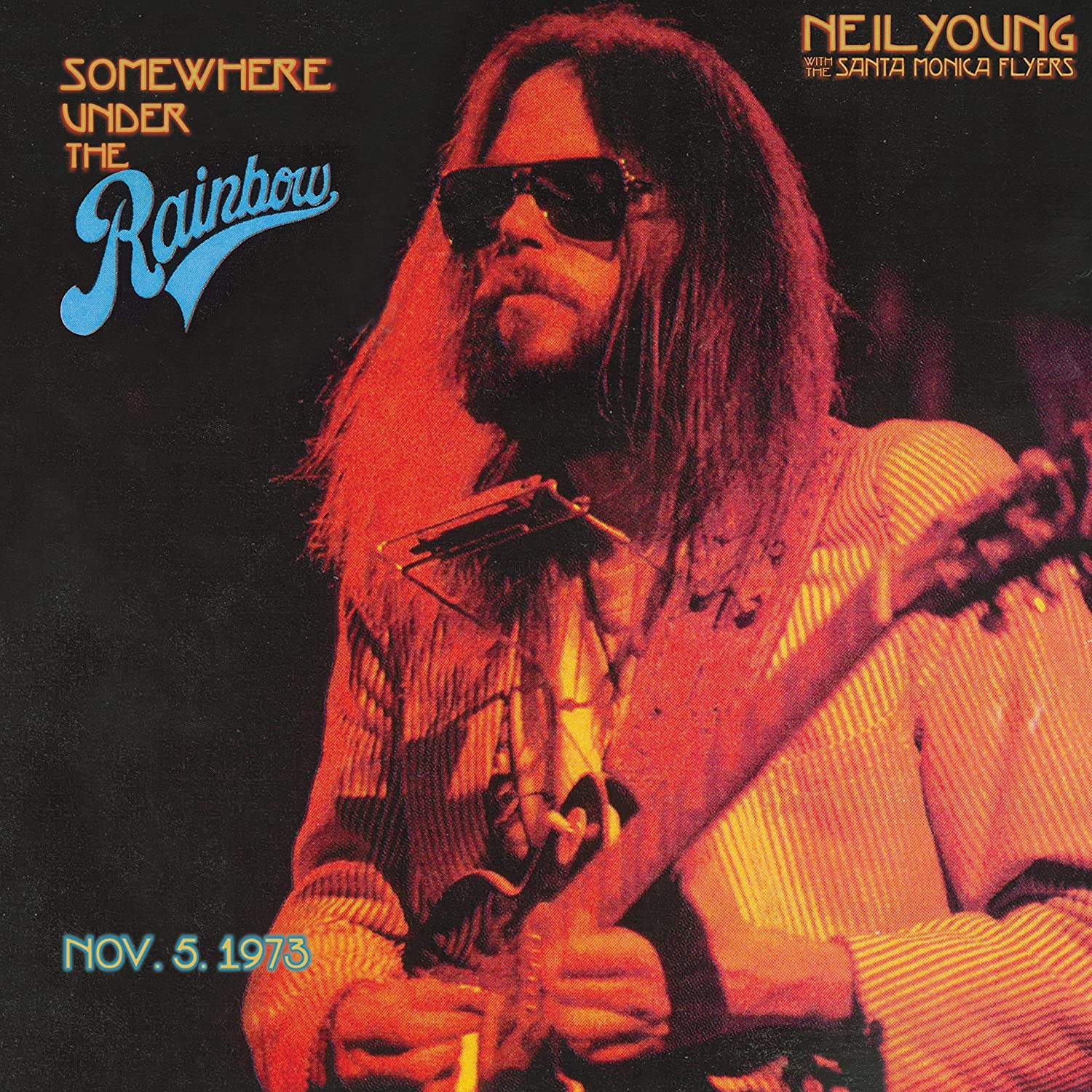 New Original Bootleg Series release
Neil Young is releasing a new Original Bootleg Series release called Somewhere Under The Rainbow in April.
This album features Neil Young with the Santa Monica Flyers, recorded live at the Rainbow Theatre in London on 5 November 1973.
The band featured Neil Young (vocals, guitar), Nils Lofgren (lead and rhythm guitar, piano, accordion, vocals), Ben Keith (pedal steel guitar, vocals), Billy Talbot (bass, vocals) and Ralph Molina (drums, vocals).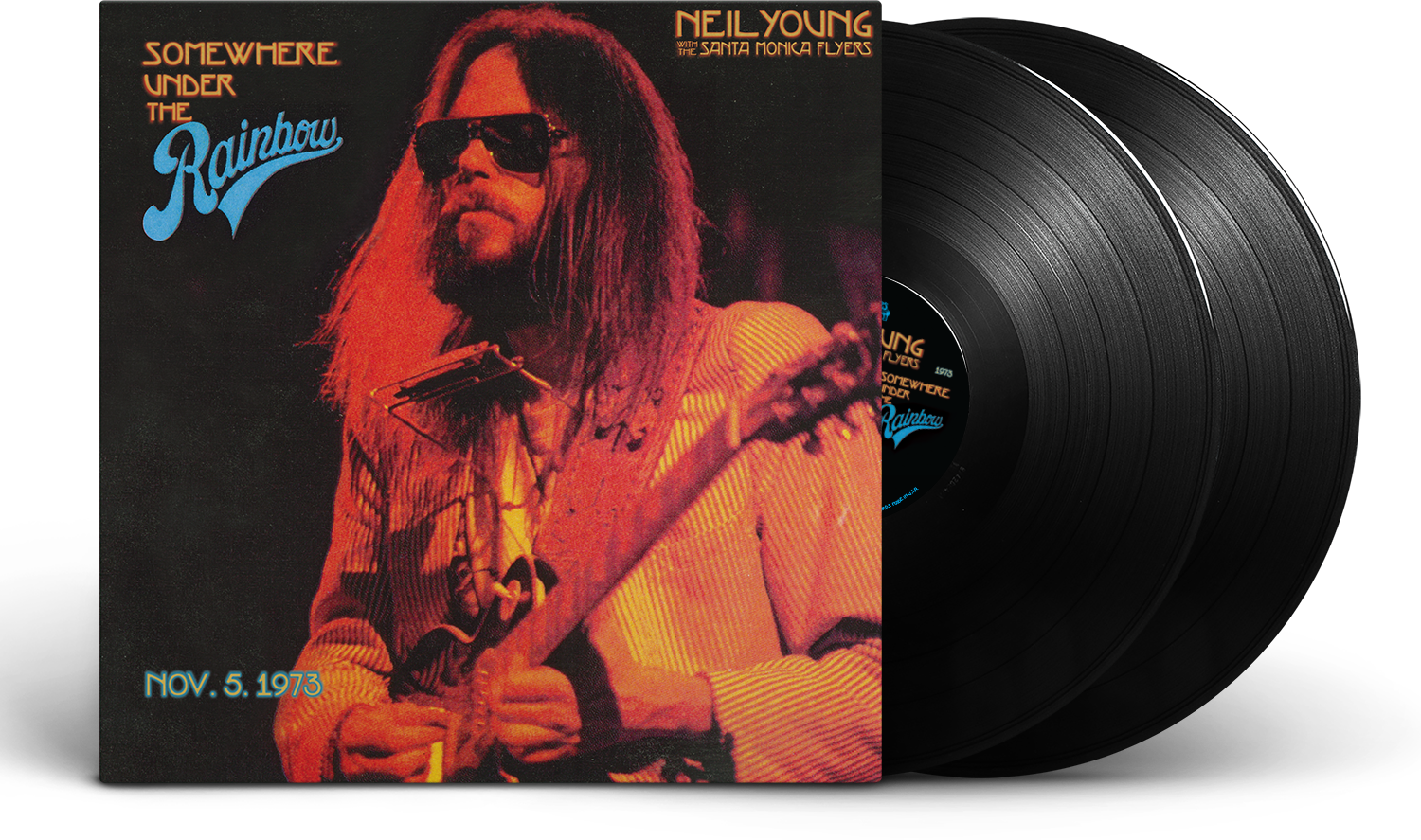 The setlist features most of the Tonight's the Night album (which had only been recorded a few months earlier) along with a few classics such as 'Helpless', 'Don't Be Denied' and 'Cowgirl In The Sand'. This show is well known for its "completely spontaneous and high-revved performance" and this release comes with sleeve notes from recording engineer Pete Long's who tries to "help listeners relive a place and time that won't be repeated".
The album is available as a 2CD or 2LP vinyl set, with Tonight's The Night material on disc one and the other songs on disc 2. Nice to see Neil Young vinyl relatively cheap, the 2LP set is only £22 on Amazon in the UK.
Another Original Bootleg Series release is The Ducks' High Flyin'. The Ducks was a band that often made unannounced appearances in their own backyards at clubs like the Back Room, The Crossroads Club, The Catalyst and others, featuring Neil Young (guitar, harmonica and vocals), Bob Mosley (bass and vocals), Jeff Blackburn (guitar and vocals) and Johnny Craviotto (drums & vocals).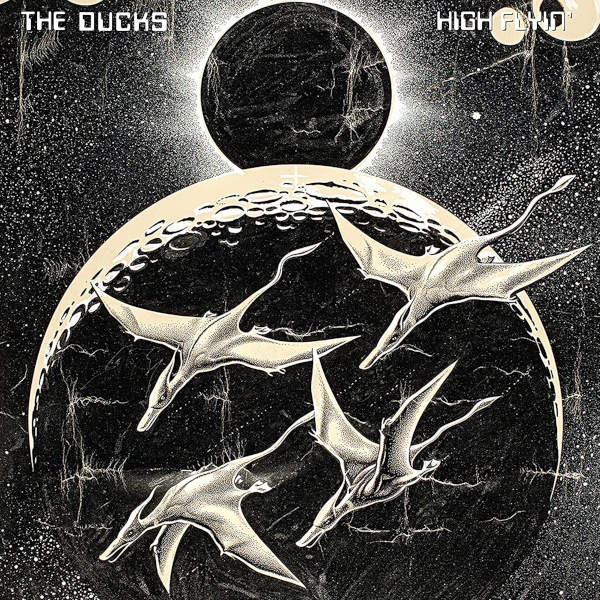 This new collection – on 3LP vinyl and 2CD – of those nights, as well as two evenings at the nearby Magical Devices studio have been bootlegged for decades, and High Flyin' is now an official release.
Somewhere Under The Rainbow and High Flyin' will both be released on 14 April 2023 via Warner Music.
Compare prices and pre-order
Neil Young with the Santa Monica Flyers
Somewhere Under The Rainbow - 2LP vinyl
Compare prices and pre-order
Neil Young with the Santa Monica Flyers
Somewhere Under The Rainbow - 2CD edition
Compare prices and pre-order
The Ducks
The Ducks - High Flyin - 3LP vinyl
Compare prices and pre-order
The Ducks
The Ducks High Flyin - 2CD
YOU MIGHT ALSO LIKE…
Compare prices and pre-order
Neil Young
OBS - Citizen Kane Jr Blues 1974 - Live at the Bottom Line - CD edition
Compare prices and pre-order
Neil Young
OBS - Royce Hall 1971 - CD Edition
Compare prices and pre-order
Neil Young
OBS - Dorothy Chandler Pavilion 1971 - CD edition
Tracklisting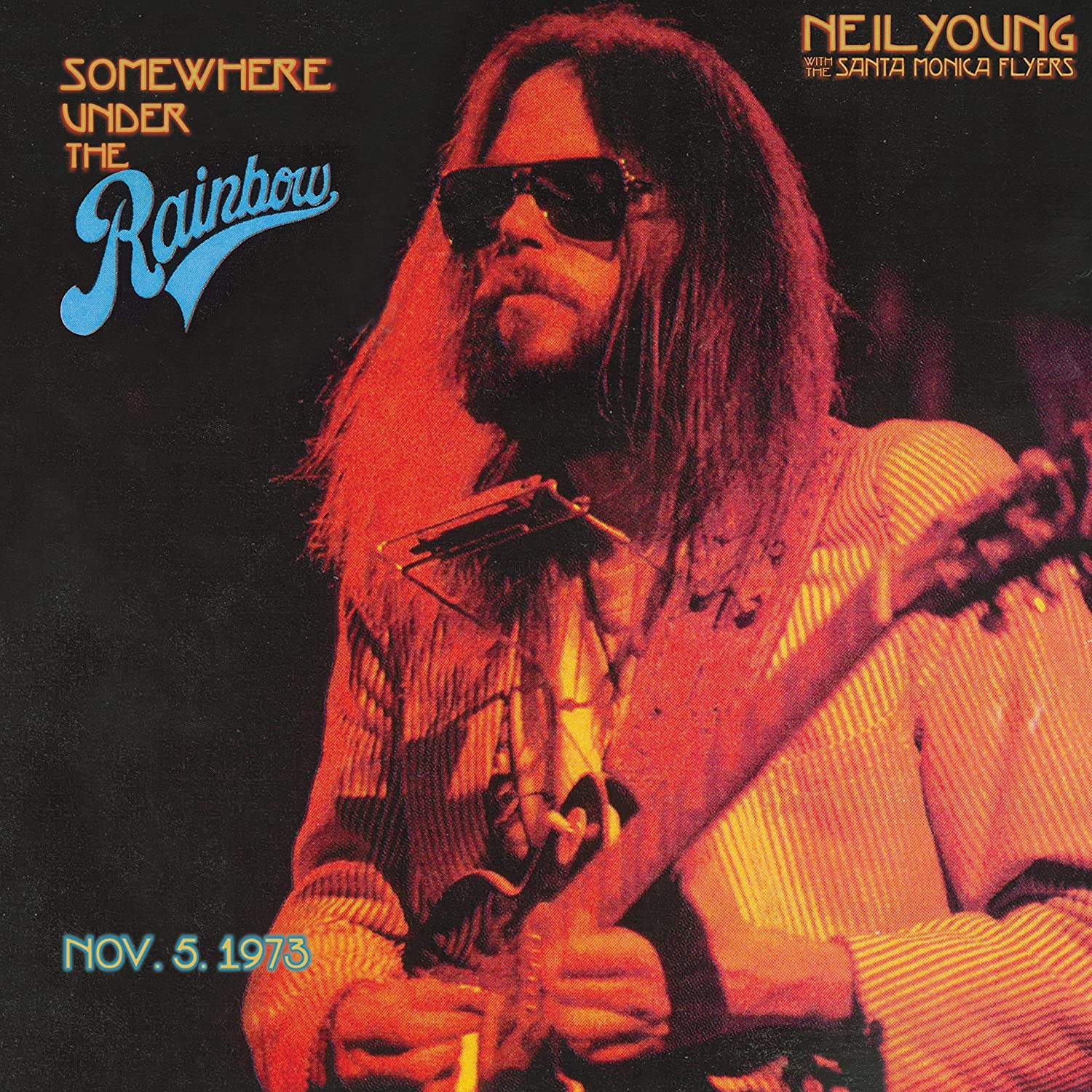 Somewhere Under The Rainbow Neil Young and the Santa Monica Flyers
/
CD 1

Tonight's The Night
Mellow My Mind
World On A String
Speakin' Out
Albuquerque
New Mama
Roll Another Number (For
The Road)
Tired Eyes
Tonight's The Night – Part II

CD 2

Flying On The Ground Is
Wrong
Human Highway
Helpless
Don't Be Denied
Cowgirl In The Sand

LP 1

Side 1

Tonight's The Night
Mellow My Mind
World On A String
Speakin' Out
Albuquerque

Side 2

New Mama
Roll Another Number (For
The Road)
Tired Eyes
Tonight's The Night – Part II

LP 2

Side 3

Flying On The Ground Is
Wrong
Human Highway
Helpless

Side 4

Don't Be Denied
Cowgirl In The Sand
Tracklisting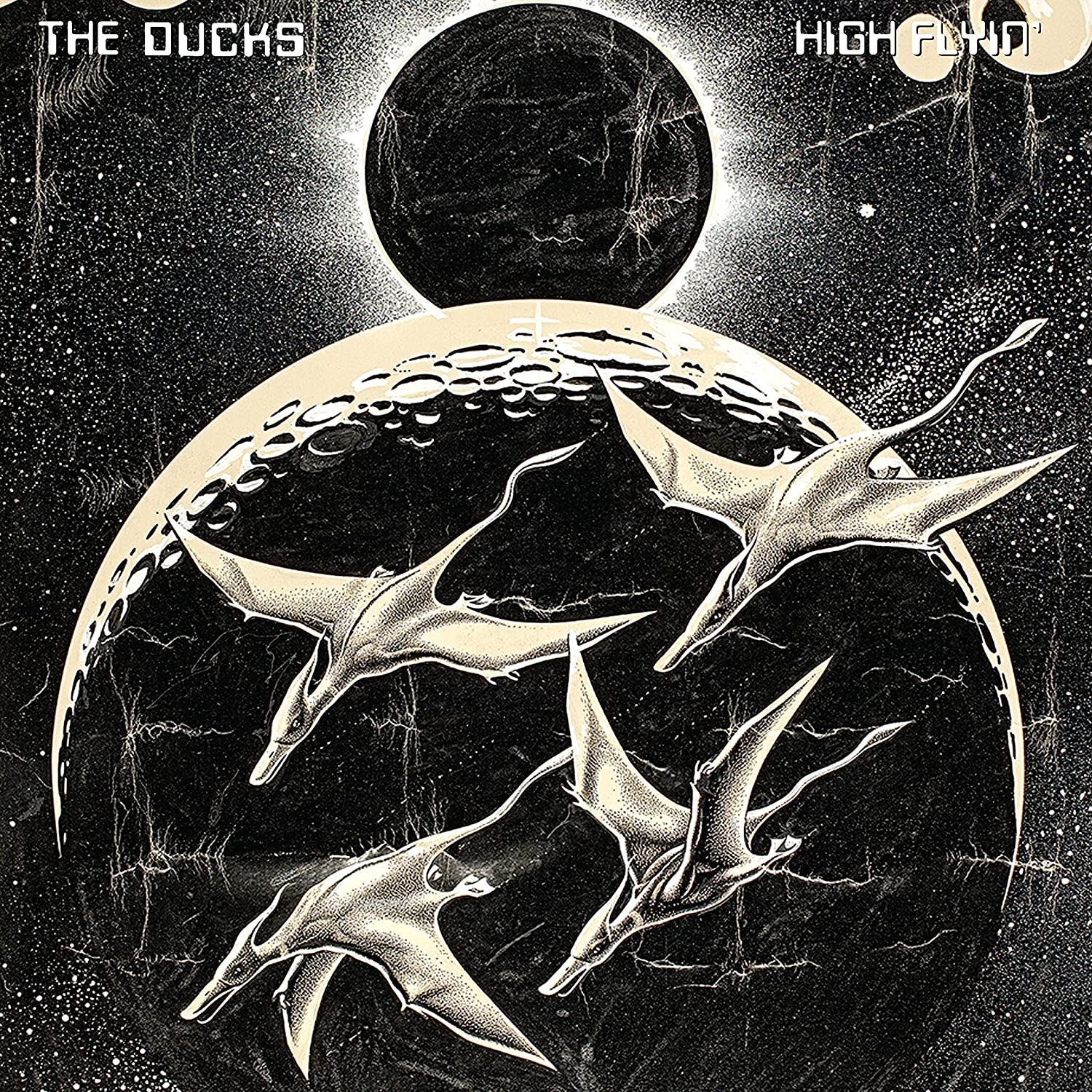 High Flyin The Ducks
/
CD 1

I Am a Dreamer (Live)
Younger Days (Live)
Gypsy Wedding (Live)
Are You Ready For The Country? (Live)
Hold On Boys (Live)
My My My (Poor Man) [Live]
I'm Tore Down (Live)
Hey Now (Live)
Wide Eyed and Willing (Live)
Truckin' Man (Live)
Sail Away (Live)
Gone Dead Train (Live)
Silver Wings (Live)

CD 2

Human Highway (Live)
Your Love (Live)
I'm Ready (Live)
Little Wing (Live)
Car Tune (Live)
Windward Passage (Live)
Leaving Us Now (Live)
Mr. Soul (Live)
Two Riders (Live)
Honky Tonk Man (Live)
Sailor Man (Live)
Silver Wings (Set 2) [Live]