 News
New Sparks anthology & album reissue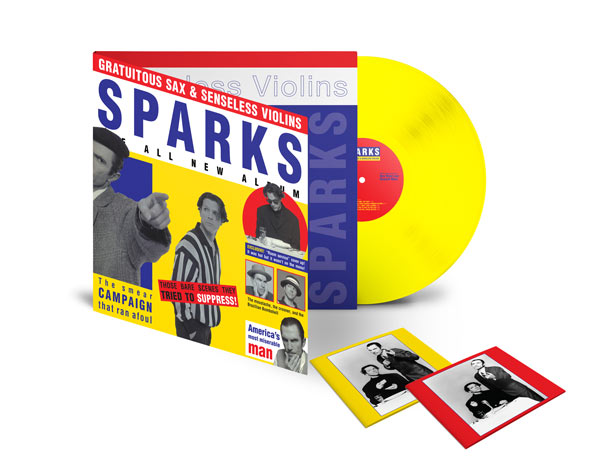 New 'best of' on three physical formats • Gratuitous Sax & Senseless Violins expanded to three discs • Coloured vinyl options
BMG will issue two Sparks releases in November; a new compilation called Past Tense: The Best of Sparks and a reissue of the duo's 1994 album Gratuitous Sax & Senseless Violins.

The former is available on three physical formats; a three-CD set features 58 tracks, from 1967's 'Computer Girl' (recorded under the name Urban Renewal Project) to 'Check Out Time 11AM' from 2017's Hippopotamus; a two-CD edition of the same compilation distils the offering down to 39 tracks, while the 3LP vinyl set includes 27 songs from the Sparks back catalog. Ron and Russell Mael have 'hand-picked' the selections, by the way and sleeve notes come courtesy of Simon Price.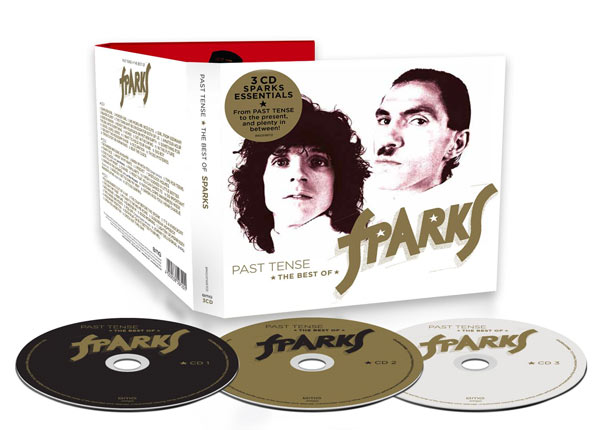 The second release (November is big enough for the both of them) is a reissue of 1994 album Gratuitous Sax & Senseless Violins. A the time, the album was their first in six years, having spent a few years on film-making projects that came to naught. This long-player features 'When Do I Get To Sing 'My Way'' which saw some success in Germany and was a minor hit in the UK.
Gratuitous Sax & Senseless Violins has been remastered and expanded to three CDs. Disc two offers B-sides, remixes and live recordings while the third disc includes unreleased tracks with vocals by actress-musician Christi Haydon and 12 previously unreleased demos. To round off what sounds like a very good package, Ron, Russell and Christi contribute sleeve notes.

A yellow vinyl edition of the Gratuitous Sax & Senseless Violins remaster comes with two CDs of bonus material
There's a single LP remaster available (with red vinyl available exclusively via the Sparks store), but also, interestingly, a vinyl edition that comes with the two CDs of bonus material in the three-CD set. The latter is pressed on yellow vinyl and the coloured vinyl is available everywhere.
Past Tense: The Best of Sparks will be issued on 8 November, while the Gratuitous Sax and Senseless Violins reissue comes a week later on 15 November 2019.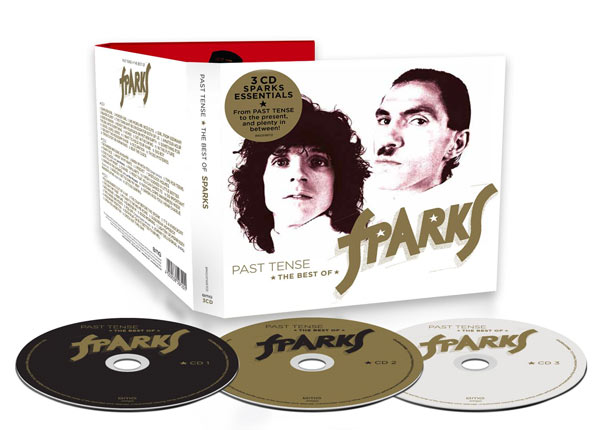 Past Tense: The Best of Sparks 3CD set
CD 1
Computer Girl
Wonder Girl
(No More) Mr. Nice Guys
Girl from Germany
Beaver O'Lindy
This Town Ain't Big Enough for Both of Us
Amateur Hour
Here In Heaven
Never Turn Your Back On Mother Earth
Something for the Girl With Everything
Achoo
Get in the Swing
In The Future
Looks, Looks, Looks
I Want To Hold Your Hand
Big Boy
I Bought The Mississippi River
Occupation
Those Mysteries
Tryouts for the Human Race
Beat the Clock
CD 2
The Number One Song in Heaven
When I'm With You
Tips for Teens
Funny Face
Angst in My Pants
I Predict
Sherlock Holmes
Cool Places (with Jane Wiedlin)
Popularity
I Wish I Looked A Little Better
With All My Might
Change
Music That You Can Dance To
So Important
Singing In The Shower (with Les Rita Mitsouko)
National Crime Awareness Week (Psycho Cut)
When Do I Get to Sing 'My Way'
(When I Kiss You) I Hear Charlie Parker Playing – Radio Edit
Let's Go Surfing
CD 3
Pulling Rabbits Out Of A Hat
The Calm Before The Storm
It's A Knockoff
The Rhythm Thief
My Baby's Taking Me Home
Suburban Homeboy
Dick Around
Perfume
Islington N1
Good Morning
Lighten Up, Morrissey
Two Hands, One Mouth
Piss Off (Sparks original demo)
Johnny Delusional (FFS)
Missionary Position
Edith Piaf (Said It Better Than Me)
I Wish You Were Fun
Check Out Time 11AM
Past Tense: The Best of Sparks 2CD edition
CD 1
Wonder Girl
Girl from Germany
This Town Ain't Big Enough for Both of Us
Amateur Hour
Never Turn Your Back On Mother Earth
Something for the Girl With Everything
Get in the Swing
Looks, Looks, Looks
Big Boy
Forever Young
Tryouts for the Human Race
The Number One Song in Heaven
When I'm With You
Tips for Teens
Funny Face
Angst in My Pants
I Predict
Cool Places (with Jane Wiedlin)
I Wish I Looked A Little Better
With All My Might
Change
CD 2
Music That You Can Dance To
So Important
Singing In The Shower (with Les Rita Mitsouko)
National Crime Awareness Week (Psycho Cut)
When Do I Get to Sing 'My Way'
(When I Kiss You) I Hear Charlie Parker Playing – Radio Edit
Pulling Rabbits Out Of A Hat
The Calm Before The Storm
The Rhythm Thief
Suburban Homeboy
Dick Around
Perfume
Good Morning
Lighten Up, Morrissey
Johnny Delusional (FFS)
Missionary Position
Edith Piaf (Said It Better Than Me)
Check Out Time 11AM

Past Tense: The Best of Sparks 3LP vinyl
LP 1
Side A
Wonder Girl
Girl from Germany
This Town Ain't Big Enough for Both of Us
Amateur Hour
Never Turn Your Back On Mother Earth
Something for the Girl With Everything
Side B
Get in the Swing
Big Boy
Forever Young
The Number One Song in Heaven
LP 2
Side A
Tryouts for the Human Race – Single Version
When I'm With You
Funny Face
I Predict
Cool Places (with Jane Wiedlin)
Side B
With All My Might
Change
Music That You Can Dance To
So Important
LP 3
Side A
When Do I Get to Sing 'My Way'
Pulling Rabbits Out Of A Hat
The Calm Before The Storm
The Rhythm Thief
Side B
Dick Around
Good Morning
Johnny Delusional (FFS)
Edith Piaf (Said It Better Than Me)
Gratuitous Sax & Senseless Violins 3CD edition
CD 1
original album remastered
1.        Gratuitous Sax
2.        When Do I Get To Sing "My Way"
3.        (When I Kiss You) I Hear Charlie Parker Playing
4.        Frankly, Scarlett, I Don't Give A Damn
5.        I Thought I Told You To Wait In The Car
6.        Hear No Evil, See No Evil, Speak No Evil
7.        Now That I Own The BBC
8.        Tsui Hark
9.        The Ghost Of Liberace
10.     Let's Go Surfing
11.     Senseless Violins
CD 2
Mixes and versions
1.        National Crime Awareness Week (Complete Psycho) produced by Finiflex
2.        When Do I Get To Sing "My Way" (The Grid Radio Edit) Remixed by The Grid
3.        (When I Kiss You) I Hear Charlie Parker Playing [Bernard Butler's Fashionable World Of Fashion Mix] remixed by Bernard Butler
4.        Now That I Own The BBC (Live BBC Acoustic Version)
5.        When Do I Get To Sing "My Way" (Vince Clarke Remix)
6.        She's An Anchorman
7.        Little Drummer Boy Unreleased studio version
8.        Beat The Clock (Live in Concert) Live at Shepherds Bush Empire, London. 17 November 1994
9.        National Crime Awareness Week (13 Minutes In Heaven) produced by Finiflex
10.     When Do I Get To Sing "My Way" (Sticks & Stones Remix) remixed by Keith Marantz & David Longoria at The Steamroom
11.     (When I Kiss You) I Hear Charlie Parker Playing [The Beatmasters' Full-Blown Dub] Remixed by The Beatmasters
12.     Now That I Own The BBC (Motiv 8 Extended Vocal Mix) remixed by Motiv 8
13.     When Do I Get To Sing "My Way" (Pro-Gress Mix) Remix & additional production by Pro-Gress for D.E.F.
14.     National Crime Awareness Week (The Janet Leigh Mix) remixed by Steve Bates
CD 3
Unreleased demos     
1.        Where Did I Leave My Halo?
2.        She's Beautiful (So What)
3.        Mid-Atlantic
4.        The Farmer's Daughter
5.        This Angry Young Man Ain't Angry No More
6.        Bob Hope
7.        She's An Anchorman (Demo)
8.        Love Can Conquer All
9.        That's What I Call Paradise
10.     This Angry Young Man Ain't Angry No More (Ron Vocal Version)
11.     Mid-Atlantic (Ron Vocal Version)
12.     That's Entertainment (feat. Les Bohem)
Unreleased tracks from Christi Haydon EP
(with vocals by Christi Haydon)
13.     Katharine Hepburn
14.     Titanic
15.     Othello
16.     Holiday
17.     Boris The Spider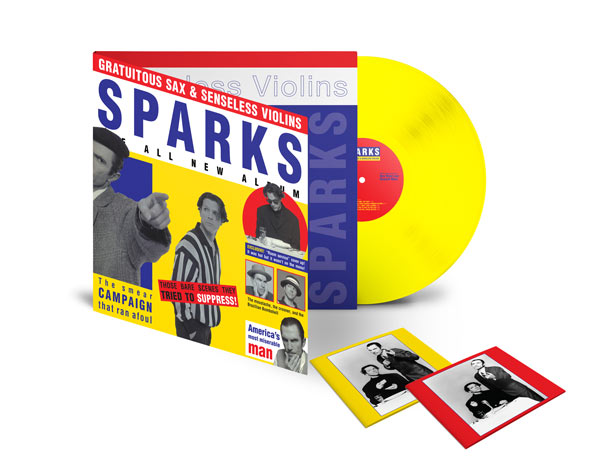 Gratuitous Sax & Senseless Violins Vinyl LP + 2CD edition
Vinyl LP
original album remastered
Side A
1.        Gratuitous Sax
2.        When Do I Get To Sing "My Way"
3.        (When I Kiss You) I Hear Charlie Parker Playing
4.        Frankly, Scarlett, I Don't Give A Damn
5.        I Thought I Told You To Wait In The Car
6.        Hear No Evil, See No Evil, Speak No Evil
Side B
1.        Now That I Own The BBC
2.        Tsui Hark
3.        The Ghost Of Liberace
4.        Let's Go Surfing
5.        Senseless Violins
CD 2
Mixes and versions
1.        National Crime Awareness Week (Complete Psycho) produced by Finiflex
2.        When Do I Get To Sing "My Way" (The Grid Radio Edit) Remixed by The Grid
3.        (When I Kiss You) I Hear Charlie Parker Playing [Bernard Butler's Fashionable World Of Fashion Mix] remixed by Bernard Butler
4.        Now That I Own The BBC (Live BBC Acoustic Version)
5.        When Do I Get To Sing "My Way" (Vince Clarke Remix)
6.        She's An Anchorman
7.        Little Drummer Boy Unreleased studio version
8.        Beat The Clock (Live in Concert) Live at Shepherds Bush Empire, London. 17 November 1994
9.        National Crime Awareness Week (13 Minutes In Heaven) produced by Finiflex
10.     When Do I Get To Sing "My Way" (Sticks & Stones Remix) remixed by Keith Marantz & David Longoria at The Steamroom
11.     (When I Kiss You) I Hear Charlie Parker Playing [The Beatmasters' Full-Blown Dub] Remixed by The Beatmasters
12.     Now That I Own The BBC (Motiv 8 Extended Vocal Mix) remixed by Motiv 8
13.     When Do I Get To Sing "My Way" (Pro-Gress Mix) Remix & additional production by Pro-Gress for D.E.F.
14.     National Crime Awareness Week (The Janet Leigh Mix) remixed by Steve Bates
CD 3
Unreleased demos     
1.        Where Did I Leave My Halo?
2.        She's Beautiful (So What)
3.        Mid-Atlantic
4.        The Farmer's Daughter
5.        This Angry Young Man Ain't Angry No More
6.        Bob Hope
7.        She's An Anchorman (Demo)
8.        Love Can Conquer All
9.        That's What I Call Paradise
10.     This Angry Young Man Ain't Angry No More (Ron Vocal Version)
11.     Mid-Atlantic (Ron Vocal Version)
12.     That's Entertainment (feat. Les Bohem)
Unreleased tracks from Christi Haydon EP
(with vocals by Christi Haydon)
13.     Katharine Hepburn
14.     Titanic
15.     Othello
16.     Holiday
17.     Boris The Spider