 News
Nirvana / Nevermind 30th anniversary edition
Hello, hello, hello… (again)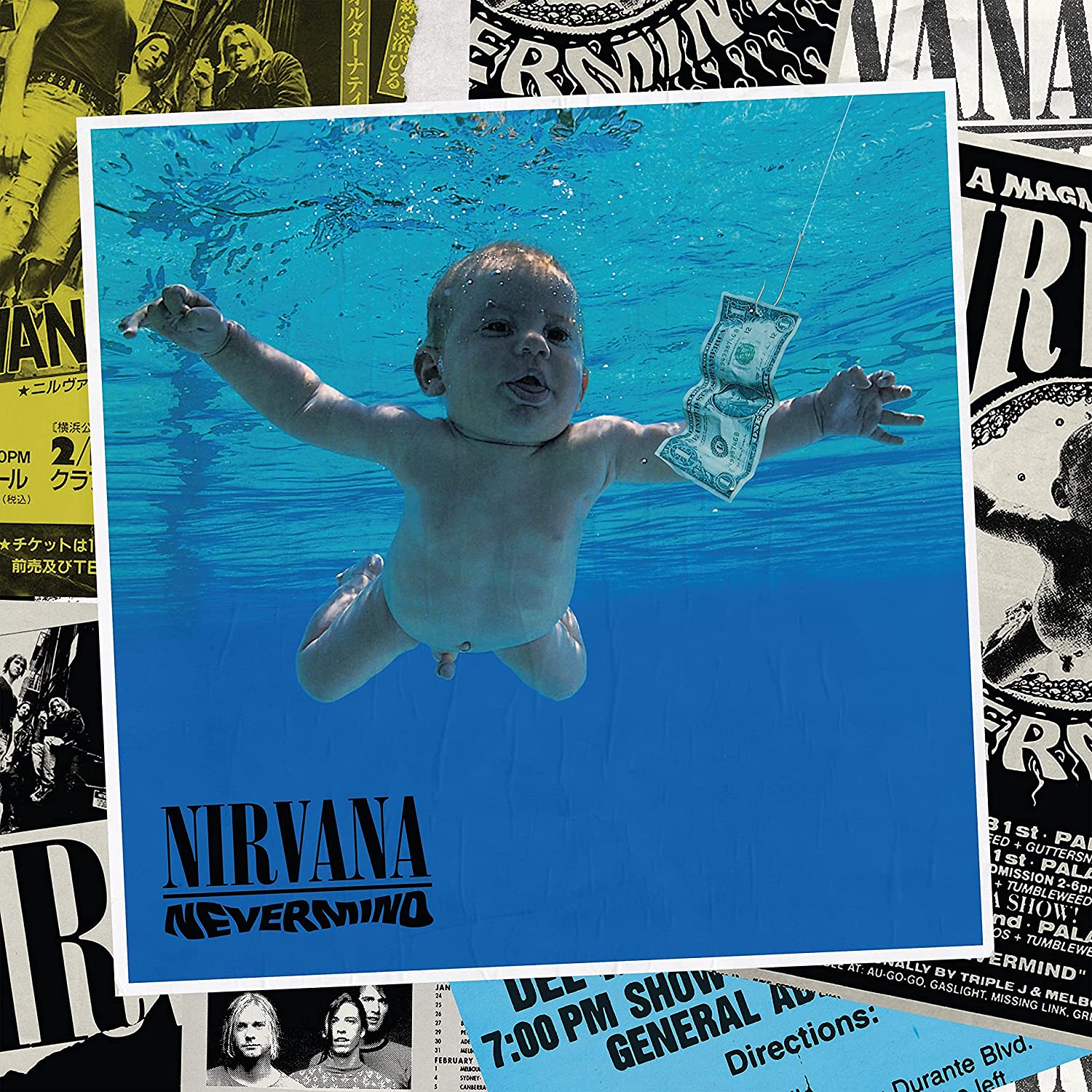 Universal Music/Polydor will release 30th anniversary editions of Nirvana's classic 1991 album Nevermind album, in November.
Even though it only feels like yesterday when the 20th anniversary sets were released, UMC are going for it 5CD+blu-ray and 8LP vinyl (+seven-inch) super deluxe editions. Two-CD and vinyl+seven-inch sets are also on offer.
While the 4CD+DVD set from ten years ago was concerned with alternate mixes, rehearsals, BBC sessions and Live at the Paramount, a decade on and there is a big focus on live performance.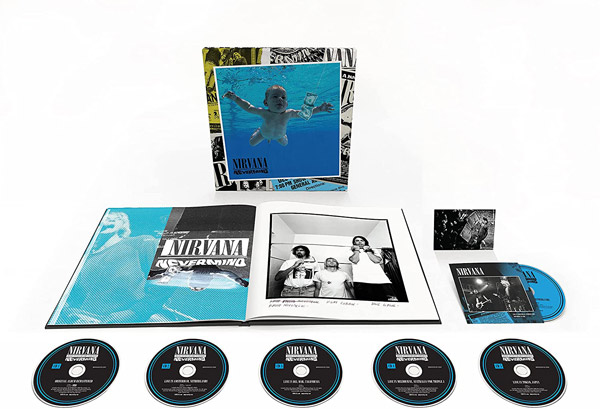 In the 5CD+blu-ray super deluxe, the album itself has been remastered from the original analog tapes (the previous remaster was generally disliked by fans) and added to that are four complete concerts from the Nevermind tour from Amsterdam, Netherlands; Del Mar, California; Melbourne, Australia and Tokyo, Japan. Additionally, a Blu-ray of the complete and newly remastered in HD Live in Amsterdam concert video is included along with a 40-page hardcover book with unreleased photos.
The 8LP super deluxe has the same content as the CD set (sans blu-ray) above but also includes a first-ever seven-inch for 'Endless, Nameless' with B-sides 'Even In His Youth' and 'Aneurysm. This also comes with a 40-page hardcover book with unreleased photos.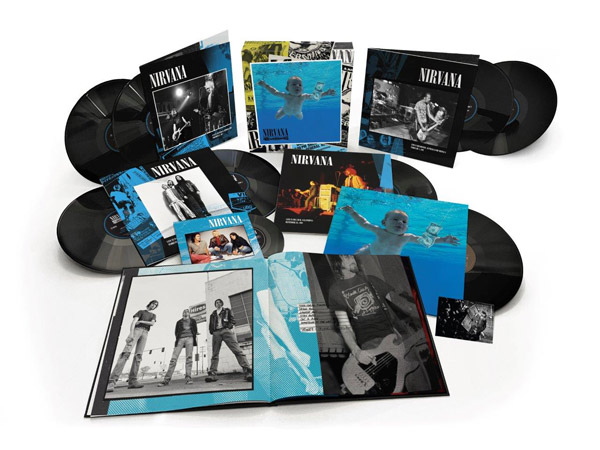 The two-CD deluxe features the remastered album and highlights from the four concerts which are in the super deluxe editions. A vinyl edition (which also comes with that same seven-inch) features the remastered album and comes in a premium 'tip-on' sleeve.
All formats of Nevermind 30 are released on 12 November, except the 8LP vinyl super deluxe which won't be shipping until 27 May 2022!
Compare prices and pre-order
Nirvana
Nevermind 30 - 8LP super deluxe
Compare prices and pre-order
Nirvana
Nevermind 30 - 5CD super deluxe
Compare prices and pre-order
Nirvana
Nevermind 30 - 2CD deluxe
Compare prices and pre-order
Nirvana
Nevermind 30 - vinyl LP + seven-inch
Tracklisting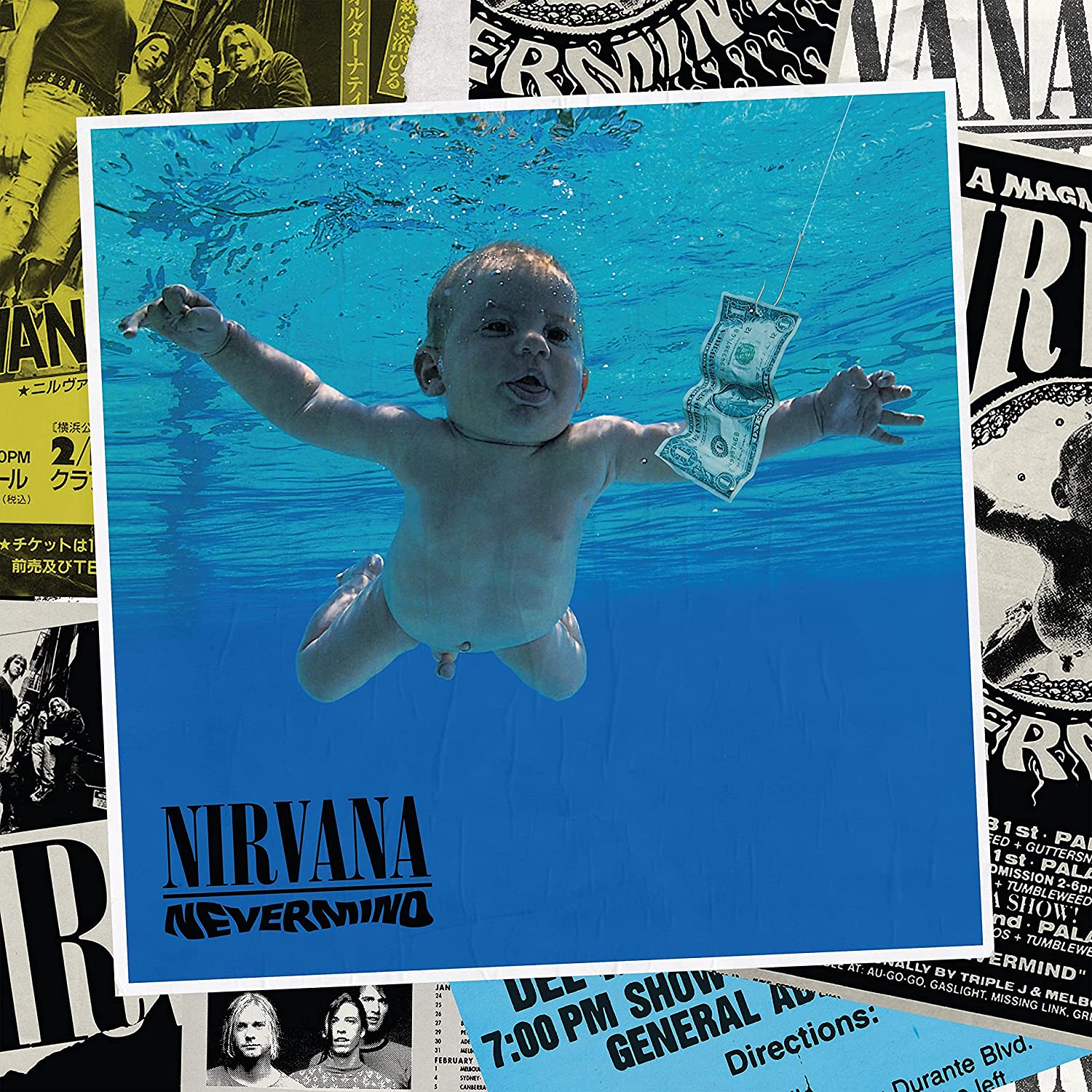 Nevermind 30 Nirvana
/
5CD super deluxe
CD 1: Original Album Remastered

Smells Like Teen Spirit
In Bloom
Come As You Are
Breed
Lithium
Polly
Territorial Pissings
Drain You
Lounge Act
Stay Away
On A Plain
Something In The Way

CD 2: Live in Amsterdam, Netherlands (Paradiso, November 25, 1991)

Drain You*
Aneurysm*
School
Floyd The Barber*
Smells Like Teen Spirit*
About A Girl*
Polly*
Lithium
Sliver*
Breed*
Come As You Are*
Been A Son
Negative Creep*
On A Plain*
Blew
Love Buzz*
Territorial Pissings*

*previously unreleased

CD 3: Live in Del Mar, California (Pat O'Brien Pavilion, Del Mar Fairgrounds, December 28, 1991)

Drain You
Aneurysm
School*
Floyd The Barber*
Smells Like Teen Spirit
About A Girl*
Polly
Sliver
Breed*
Come As You Are*
Lithium*
Territorial Pissings*

*previously unreleased

CD 4: Live in Melbourne, Australia for triple j (The Palace, St. Kilda, February 1, 1992)

Aneurysm*
Drain You*
School*
Sliver*
About A Girl*
Come As You Are*
Lithium*
Breed*
Polly*
Lounge Act*
In Bloom*
Love Buzz*
Smells Like Teen Spirit*
Feedback Jam*
Negative Creep*
On A Plain*
Blew*

*previously unreleased

CD 5: Live in Tokyo, Japan (Nakano Sunplaza, February 19, 1992)

Negative Creep*
Been A Son*
On A Plain*
Blew*
Come As You Are*
Lithium*
Breed*
Sliver*
Drain You*
About A Girl*
School*
Aneurysm*
Love Buzz*
Polly*
Territorial Pissings*
Smells Like Teen Spirit*

*previously unreleased

Blu-ray: Live in Amsterdam, Netherlands (Paradiso, November 25, 1991)

Drain You*
Aneurysm*
School*
Floyd The Barber*
Smells Like Teen Spirit*
About A Girl*
Polly*
Lithium*
Sliver*
Breed*
Come As You Are*
Been A Son*
Negative Creep*
On A Plain*
Blew*
Love Buzz*
Territorial Pissings*

*previously unreleased
Tracklisting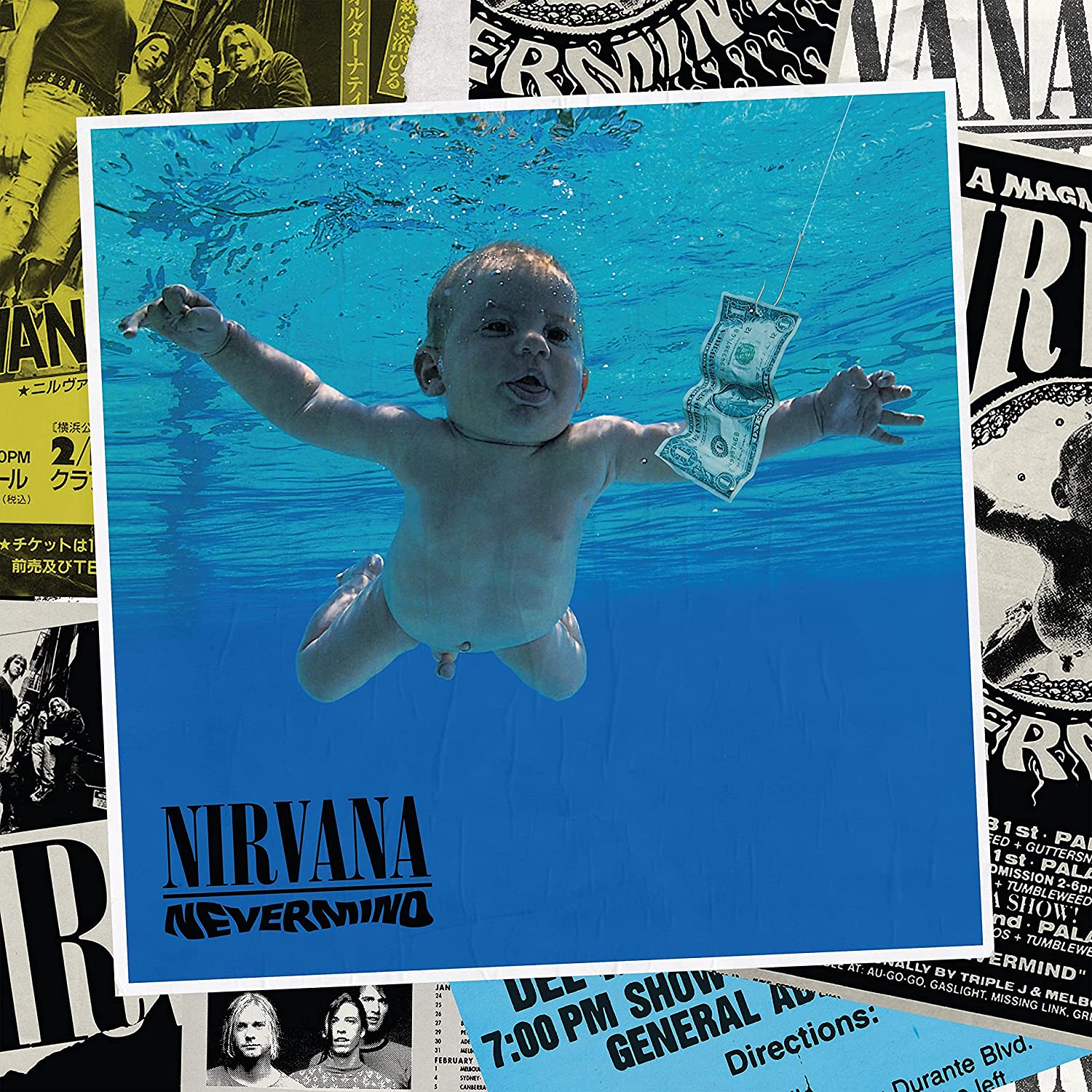 Nevermind 30 Nirvana
/
8LP super deluxe
LP 1: Nevermind – Original Album Remastered

Smells Like Teen Spirit (Side A)
In Bloom (Side A)
Come As You Are (Side A)
Breed (Side A)
Lithium (Side A)
Polly (Side A)
Territorial Pissings (Side B)
Drain You (Side B)
Lounge Act (Side B)
Stay Away (Side B)
On A Plain (Side B)
Something In The Way (Side B)

LP 2: Live in Amsterdam, Netherlands (Paradiso, November 25, 1991)

Drain You* (Side A)
Aneurysm* (Side A)
School (Side A)
Floyd The Barber* (Side A)
Smells Like Teen Spirit* (Side B)
About A Girl* (Side B)
Polly* (Side B)
Lithium (Side B)

*previously unreleased

LP 3: Live in Amsterdam, Netherlands (Paradiso, November 25, 1991) (continued)

Sliver* (Side A)
Breed (Side A)
Come As You Are* (Side A)
Been A Son (Side A)
Negative Creep* (Side A)
On A Plain* (Side B)
Blew (Side B)
Love Buzz* (Side B)
Territorial Pissings* (Side B)

*previously unreleased

LP 4: Live in Del Mar, California (Pat O'Brien Pavilion, Del Mar Fairgrounds, December 28, 1991)

Drain You (Side A)
Aneurysm (Side A)
School* (Side A)
Floyd The Barber* (Side A)
Smells Like Teen Spirit (Side A)
About A Girl* (Side A)
Polly (Side B)
Sliver (Side B)
Breed* (Side B)
Come As You Are* (Side B)
Lithium* (Side B)
Territorial Pissings* (Side B)

*previously unreleased

LP 5: Live in Melbourne, Australia for triple j (The Palace, St. Kilda, February 1, 1992)*

Aneurysm (Side A)
Drain You (Side A)
School (Side A)
Sliver (Side A)
About A Girl (Side B)
Come As You Are (Side B)
Lithium (Side B)
Breed (Side B)
Polly (Side B)

*previously unreleased

LP 6: Live in Melbourne, Australia for triple j (The Palace, St. Kilda, February 1, 1992)* (continued)

Lounge Act (Side A)
In Bloom (Side A)
Love Buzz (Side A)
Smells Like Teen Spirit (Side A)
Feedback Jam (Side B)
Negative Creep (Side B)
On A Plain (Side B)
Blew (Side B)

*previously unreleased

LP 7: Live in Tokyo, Japan (Nakano Sunplaza, February 19, 1992)*

Negative Creep (Side A)
Been A Son (Side A)
On A Plain (Side A)
Blew (Side A)
Come As You Are (Side A)
Lithium (Side B)
Breed (Side B)
Sliver (Side B)
Drain You (Side B)

*previously unreleased

LP 8: Live in Tokyo, Japan (Nakano Sunplaza, February 19, 1992)* (continued)

About A Girl (Side A)
School (Side A)
Aneurysm (Side A)
Love Buzz (Side A)
Polly (Side B)
Territorial Pissings (Side B)
Smells Like Teen Spirit (Side B)

*previously unreleased

7″ single

Endless, Nameless (Side A)
Even In His Youth (Side B)
Aneurysm (Side B)
Tracklisting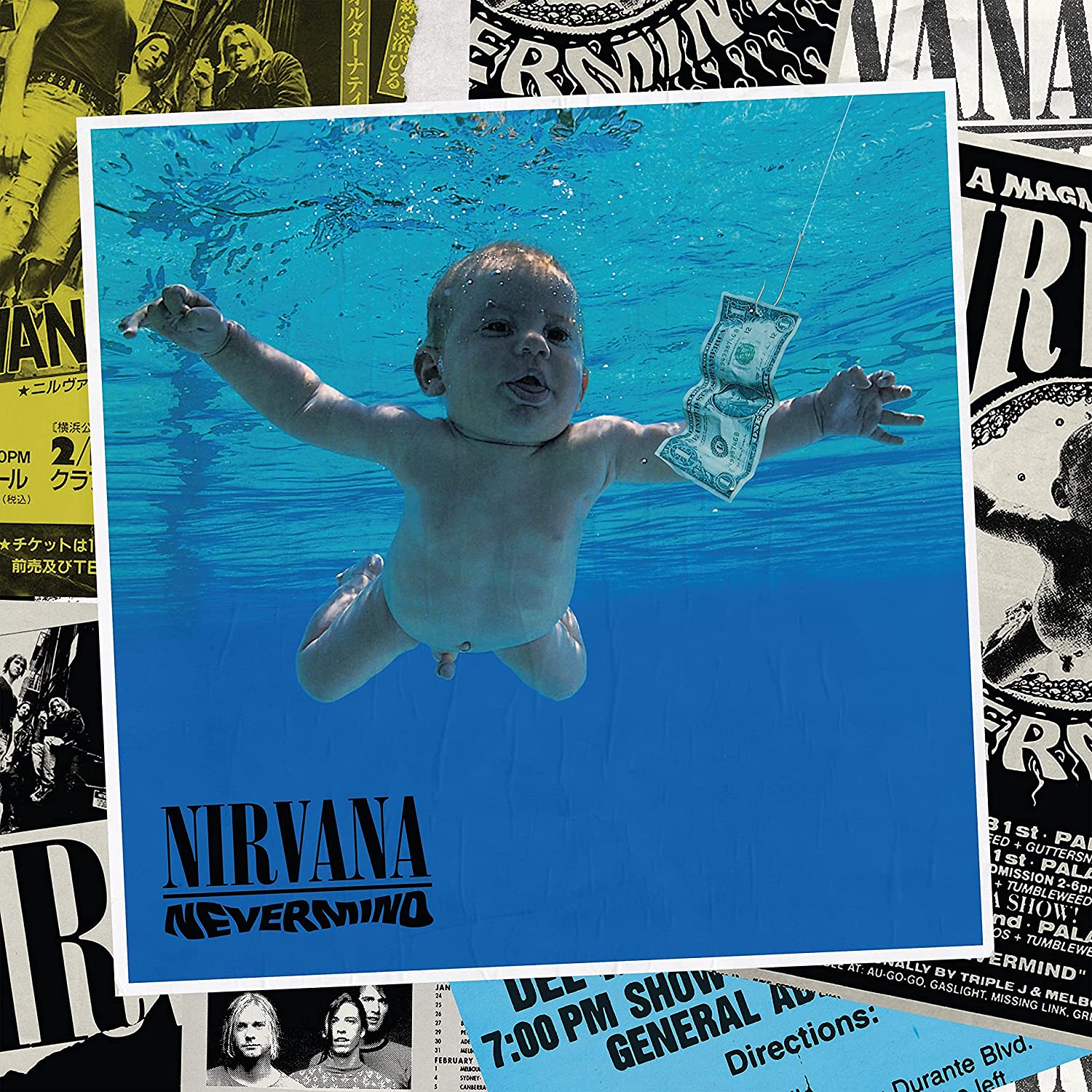 Nevermind 30 Nirvana
/
2CD deluxe
CD 1: Nevermind (Original Album Remastered)

Smells Like Teen Spirit
In Bloom
Come As You Are
Breed
Lithium
Polly
Territorial Pissings
Drain You
Lounge Act
Stay Away
On A Plain
Something In The Way

CD 2: Live on Nevermind Tour

Negative Creep (Live in Tokyo, Japan 1992)*
Been A Son (Live in Tokyo, Japan 1992) *
On A Plain (Live in Tokyo, Japan 1992) *
Blew (Live in Tokyo, Japan 1992) *
Aneurysm (Live in Melbourne, Australia for triple j 1992) *
Drain You (Live in Melbourne, Australia for triple j 1992) *
School (Live in Melbourne, Australia for triple j 1992) *
Lounge Act (Live in Melbourne, Australia for triple j 1992) *
Sliver (Live in Del Mar, California 1991)
Breed (Live in Del Mar, California 1991) *
Come As You Are (Live in Del Mar, California 1991) *
Lithium (Live in Del Mar, California 1991) *
Floyd The Barber (Live at the Paradiso, Amsterdam 1991) *
Smells Like Teen Spirit (Live at the Paradiso, Amsterdam 1991) *
About A Girl (Live at the Paradiso, Amsterdam 1991) *
Territorial Pissings (Live at the Paradiso, Amsterdam 1991) *

*previously unreleased
Tracklisting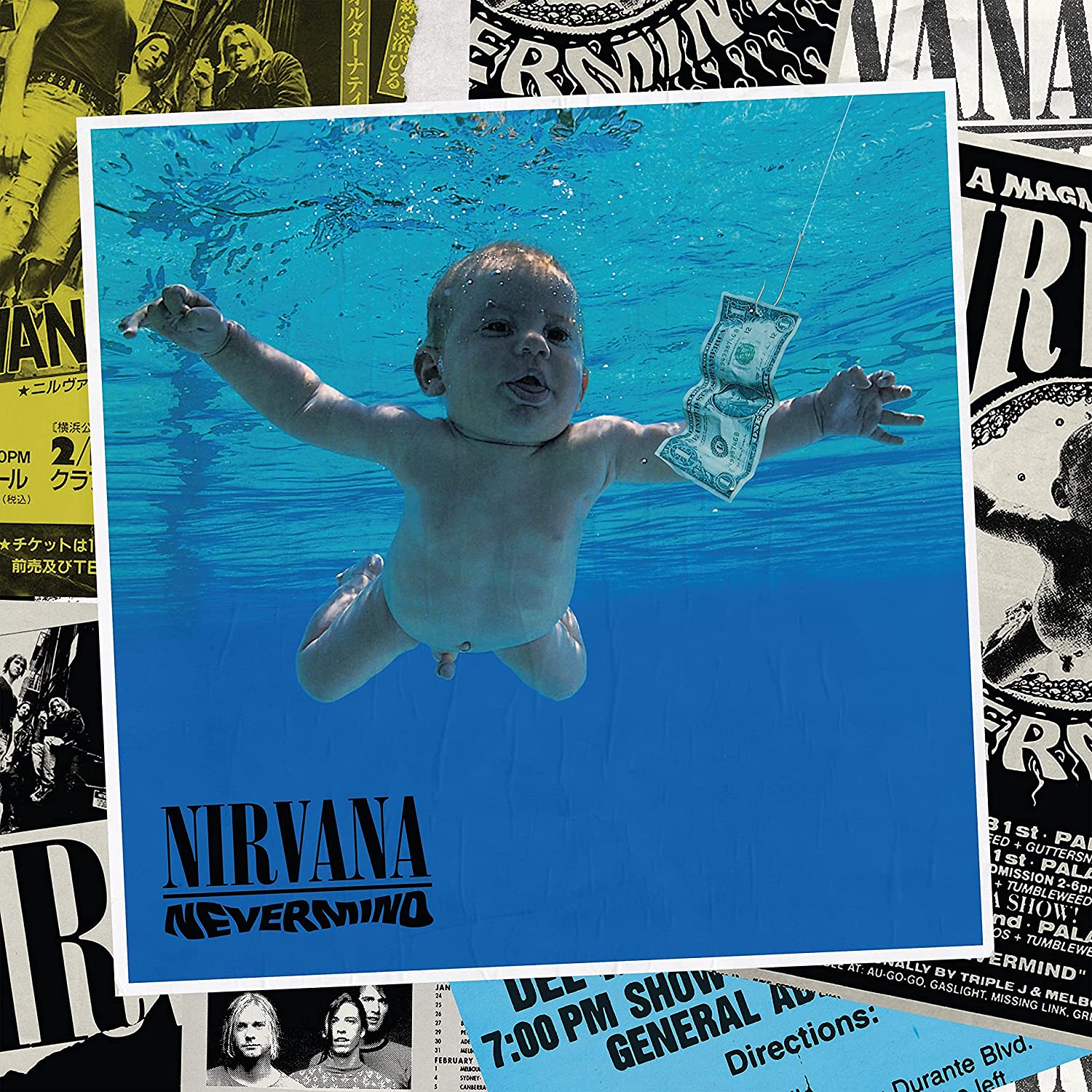 Nevermind 30 Nirvana
/
vinyl LP + 7″
LP: Nevermind (original album remastered)

Smells Like Teen Spirit (Side A)
In Bloom (Side A)
Come As You Are (Side A)
Breed (Side A)
Lithium (Side A)
Polly (Side A)
Territorial Pissings (Side B)
Drain You (Side B)
Lounge Act (Side B)
Stay Away (Side B)
On A Plain (Side B)
Something In The Way (Side B)

7″ single

Endless, Nameless (Side A)
Even In His Youth (Side B)
Aneurysm (Side B)