 News
Oasis / Definitely Maybe 25th anniversary 2LP silver vinyl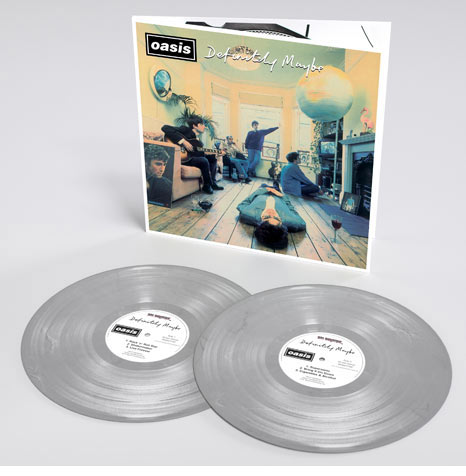 Oasis' classic debut Definitely Maybe is being reissued on coloured vinyl for its 25th anniversary.

The 1994 album which features the hits 'Supersonic,' 'Shakermaker', 'Live Forever' and 'Cigarettes And Alcohol' is pressed on silver-coloured vinyl and is described by the label as a 'limited collectors edition'.
Definitely Maybe was originally released on 29 August 1994 and this vinyl reissue will be issued 25 years and one day later on on 30 August 2019. Pre-order via the SDE shop using this link or the button below.
A1.Rock 'n' Roll Star (Remastered) 00:05:22
A2.Shakermaker (Remastered) 00:05:08
A3.Live Forever (Remastered) 00:04:37
B1.Up In The Sky (Remastered) 00:04:28
B2.Columbia (Remastered) 00:06:17
B3.Sad Song (Remastered) 00:04:29
C1.Supersonic (Remastered) 00:04:44
C2.Bring It On Down (Remastered) 00:04:18
C3.Cigarettes & Alcohol (Remastered) 00:04:49
D1.Digsy's Dinner (Remastered) 00:02:32
D2.Slide Away (Remastered) 00:06:32
D3.Married With Children (Remastered) 00:03:12