 News
Out This Week / on 29 June 2018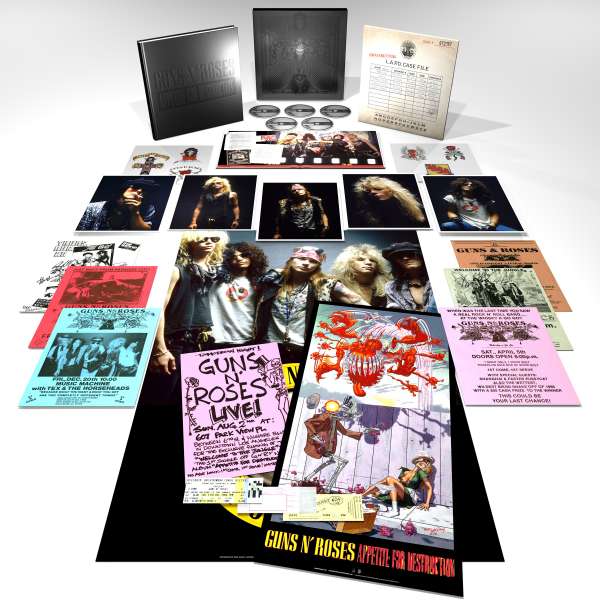 Guns N Roses / Appetite For Destruction (box sets)
Massive reissue campaign for the 1987 Guns N' Roses album, although you'll need to part with a fair bit of cash to enjoy the super deluxe and remortgage the house for the Locked N' Loaded edition which comes in a wooden cabinet!  
---
David Bowie / Welcome to the Blackout (Live London '78)
One of the best David Bowie archive releases for a long time. Welcome to the Blackout is from the same tour as Stage, but is arguably better than the official 1978 album. The vinyl was an RSD exclusive, but this week a two-CD set is available to all. Also Christiane F. (red vinyl) and the Baal EP (black 10-inch) also being reissued, but those are 'bricks and mortar' record shops only.  
---
Buffalo Springfield / What's That Sound? Complete Albums Collection
Neil Young has supervised the remastering of this Buffalo Springfield three album set. It's actually five discs because the first two are available in original mono and stereo. Vinyl box is limited to 5,000 copies and includes gatefolds replicating original packaging.   
---
Yes / The Steven Wilson Remixes (vinyl box)
The Yes Album, Fragile, Close To The Edge, Tales From Topographic Oceans, and Relayer are the albums included in this new Yes vinyl box. First time on vinyl for these Steven Wilson remixes which are faithful to the originals and are highly regarded. In the UK the price has gone up in recent weeks, so Brits can save about £40 by picking this up from the USA. 
---
Gorillaz / The Now Now
Gorillaz new album will be available in a number of formats including a deluxe vinyl box set (pictured above) which features a lenticular sleeve, a blue vinyl pressing of the album and a book. 
---
Various Artists / Who's That Girl 
This soundtrack features four Madonna songs, including UK number one Who's That Girl. In fact, the material girl named her 1987 tour after the song/album/film. This is part of Rhino's summer soundtrack reissue campaign, although unfortunately they chosen to press this on black, not coloured vinyl. 
---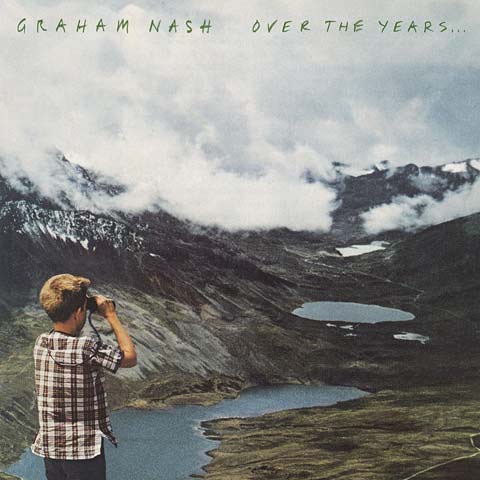 Graham Nash / Over The Years (2CD and 2LP vinyl)
I still can't get over how cheap the two-CD version of this new Graham Nash anthology is, especially since it offers proper archive audio in the shape of unreleased demos, unreleased mixes and was co-curated by Nash himself. The double LP set doesn't feature any of this and is four times the price! 
<
---
The Flaming Lips / Seeing The Unseeable: 1986-1990 (6CD box)
This is the 'Complete Studio Recordings' from the early days of The Flaming Lips and is a six-CD box set. All the music has been remastered from original sources by David Fridmann with help from Wayne Coyne and Michael Ivins. 
---
Lalo Schifrin / Bullitt soundtrack (coloured vinyl)
Regularly shown on late night ITV in Britain in the late '70s and 1980s, Bullitt is famous for both its San Francisco car chase and the jazz-inspired score of Lalo Schifrin. This is a classic and a no-brainer for £16 in the UK and pressed on orange vinyl. 
---
The Feeling / Twelve Stops And Home (reissue)
Twelfth (geddit?) anniversary reissue for The Feeling's debut album. Options are a four-disc super deluxe edition and a double yellow vinyl set. Both feature newly remastered audio. 
---
Chicago / Chicago II: Live on Soundstage
A five-disc collectors' edition of Chicago II is coming at the end of August and includes this performance (recorded at WTTW-TV studios in Chicago) from 2017 of the whole double album in full. But you can get it early this week as a standalone release. Physical options are CD+DVD (with a 5.1 mix) and CD only.
---
Florence + The Machine / High As Hope
Fourth studio album by Florence + The Machine and the first without drummer Christopher Lloyd Hayden
---
Ray Davies / Our Country: Americana Act II
Ray Davies follows up last year's Americana with Our Country: Americana Act II. The Kinks frontman says: "Our Country follows my journey across America; through endless tours not just to reclaim the Kinks' career, but to rediscover the country that offered me my earliest inspirations."
---
Paul Rodgers  / Free Spirit (CD+DVD
This release is a CD+DVD package of a Paul Rodgers live concert at The Royal Albert Hall. Also available on vinyl and as a standalone blu-ray (the DVD and blu-ray feature 5.1 surround sound). Hideous cover art is the main negative!