 News
Paul Weller / True Meanings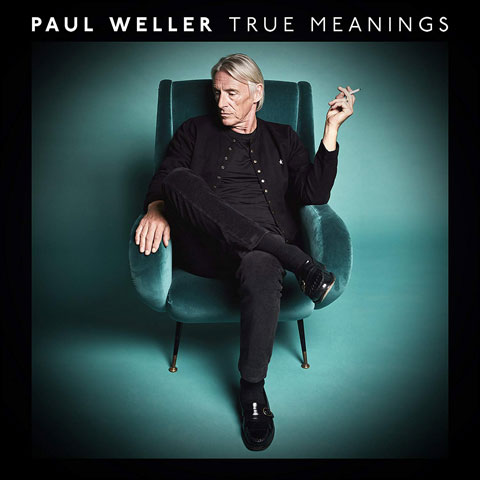 Paul Weller will release a new album, True Meanings in September.
The 14-track album is the 26th solo long-player of his career and is described as incorporating "lush orchestration" that contains a "dreamy, peaceful, pastoral set of songs".

True Meanings features many guests, including Rod Argent ( Hammond organ on The Soul Searchers, piano and Mellotron on White Horses) and Martin Carthy and Danny Thompson (picked guitar and double bass respectively on Come Along).
Interestingly, lyrics for four songs were written – to Weller's melodies – by others. Connor O'Brien wrote the words to The Soul Searchers, while Erland Cooper did the same for Bowie, Wishing Well and White Horses.
The album was recorded in around three weeks at Paul's Black Barn Studio and produced largely by Weller. It was engineered and recorded by Charles Rees and mixed by Jan Stan Kybert.
Formats are kept quite simple (compared to last year's A Kind Revolution). The 14-track CD is available in 'soft-pack' gatefold card wallet packaging, with a 12-page booklet or as a casebound book deluxe edition which features a bigger 28-page booklet. The deluxe featurs five bonus tracks (making it a 19-track CD) which include "remixes from Richard Hawley, RaVen and The Reflex and instrumentals of Glide and Old Castles".
The double heavyweight vinyl edition is housed in a gatefold 'tip-on' sleeve (initial orders only) and includes an eight-page booklet, fixed inside the gatefold sleeve.
True Meanings is released on 14 September 2018.
You might also like…

Deluxe CD with casebound book packaging
Both CD edition track listing
1. The Soul Searchers
2. Glide
3. Mayfly
4. Gravity
5. Old Castles
6. What Would He Say?
7. Aspects
8. Bowie
9. Wishing Well
10. Come Along
11. Books
12. Movin' On
13. May Love Travel With You
14. White Horses
2LP vinyl track listing
Side 1
1. The Soul Searchers
2. Glide
3. Mayfly
4. Gravity
Side 2
1. Old Castles
2. What Would He Say?
3. Aspects
Side 3
1. Bowie
2. Wishing Well
3. Come Along
4. Books
Side 4
1. Movin' On
2. May Love Travel With You
3. White Horses