 News
Paul Weller deluxe gets bonus tracks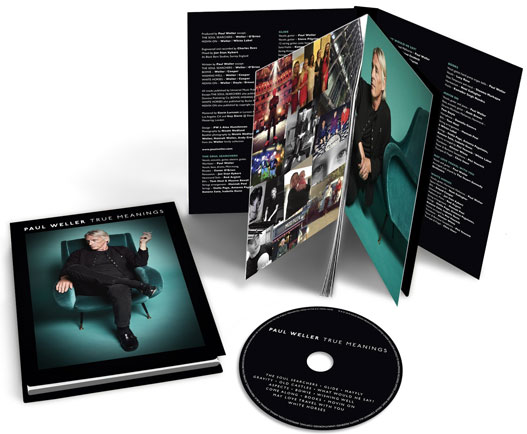 The deluxe CD edition of Paul Weller's forthcoming album True Meanings will now have some bonus tracks, his official twitter feed has confirmed.

When originally announced, the deluxe CD appeared to offer only improved presentation – a hardcover 'casebound book' package, and more pages in the booklet – with the same 14 tracks as the standard CD and vinyl. However, an official twitter post on Thursday informed fans that it will contain five bonus tracks (making it a 19-track CD) which include "remixes from Richard Hawley, RaVen and The Reflex and instrumentals of Glide and Old Castles". An updated track listing hasn't been published anywhere, yet though, as far as I can tell.
True Meanings will be released on 14 September 2018.
Compare prices and pre-order
Paul Weller
True Meanings Deluxe CD with 5 bonus tracks
Compare prices and pre-order
Paul Weller
True Meanings 2LP gatefold vinyl
Compare prices and pre-order
Paul Weller
True Meanings

Deluxe CD with casebound book packaging
Both CD edition track listing
1. The Soul Searchers
2. Glide
3. Mayfly
4. Gravity
5. Old Castles
6. What Would He Say?
7. Aspects
8. Bowie
9. Wishing Well
10. Come Along
11. Books
12. Movin' On
13. May Love Travel With You
14. White Horses
15. The Soul Searchers (Richard Hawley Remix)
16. Aspects (RAVEN Remix)
17. Mayfly (The Reflex Revision)
18. Glide (Instrumental)
19. Old Castles (Instrumental)
2LP vinyl track listing
Side 1
1. The Soul Searchers
2. Glide
3. Mayfly
4. Gravity
Side 2
1. Old Castles
2. What Would He Say?
3. Aspects
Side 3
1. Bowie
2. Wishing Well
3. Come Along
4. Books
Side 4
1. Movin' On
2. May Love Travel With You
3. White Horses