 News
Paul Young drops by SDE to sign copies of the No Parlez reissue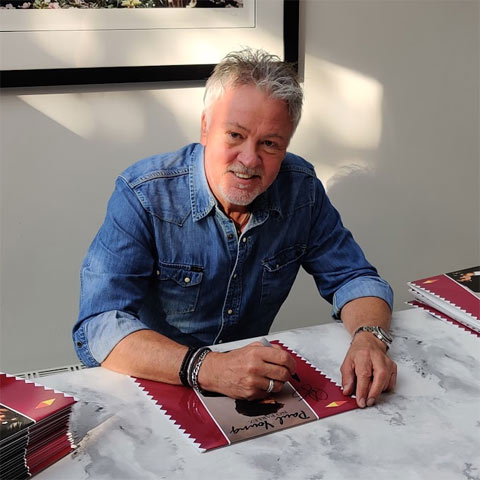 Paul Young dropped by SDE last week to sign copies of Music On Vinyl's reissue of his classic 1983 debut No Parlez.

The album is pressed on limited edition purple vinyl and comes with a facsimile of the original insert. Like most Music On Vinyl releases this comes in a resealable outer sleeve, so we spent hours 'de-sleeving' each album (wearing latex gloves to avoid pesky finger marks) so that Paul could sign the front of each album cover.
Paul was on great form, and was telling us how much he was looking forward to supporting Cher on her UK tour (he plays London's O2 with her tonight). Paul did a brilliant job with a black 'sharpie' and was remarkably consistent (see image above).
There are only 2,000 purple vinyl pressings of the No Parlez reissue available and Paul signed 600 exclusively for SDE.
SIGNED VERSIONS NOW SOLD OUT but you can still pre-order the limited coloured vinyl edition of No Parlez that isn't signed (use button below or visit the SDE shop).
These are shipping this week and the official release date is this Friday, 25 October 2019.

Paul Young with SDE Editor Paul Sinclair
SIDE A
1. Come Back And Stay
2. Love Will Tear Us Apart
3. Wherever I Lay My Hat (That's My Home)
4. Ku Ku Kurama
5. No Parlez
SIDE B
1. Love Of The Common People
2. Oh Women
3. Iron Out The Rough Spots
4. Broken Man
5. Tender Trap
6. Sex