 News
Picturesque Matchstickable Messages From The Status Quo: 2LP coloured vinyl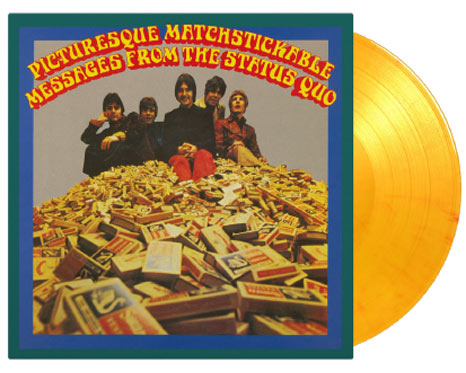 180g 2LP vinyl • Mono & Stereo Mixes • Limited to 2000 • Coloured vinyl
Status Quo's 1968 album, Picturesque Matchstickable Messages From The Status Quo is being reissued as a limited edition 2LP coloured vinyl set which will offer both mono and stereo versions of the band's debut.

The album features Quo's first hit record 'Pictures of Matchstick Men' which reached number seven in the UK, and number twelve in the USA. It also features a few covers, including 'Green Tambourine' by The Lemon Pipers and 'Spicks and Specks' by the Bee Gees.
This is the first time both the original mono and stereo remix have been brought together for a vinyl package and both LPs will be printed on yellow 'flame'-coloured vinyl.
These are limited to 2000 individually numbered copies and will be released on 2 October 2020 (was 18 September) via Music On Vinyl. Order your copy via the SDE shop using this link or the button below.
SIDE A (MONO VERSION)
1. Black Veils Of Melancholy
2. When My Mind Is Not Alive
3. Ice In The Sun
4. Elizabeth Dreams
5. Gentleman Joe's Sidewalk Café
6. Paradise Flat
SIDE B (MONO VERSION)
1. Technicolor Dreams
2. Spicks And Specks
3. Sheila
4. Sunny Cellophane Skies
5. Green Tambourine
6. Pictures Of Matchstick Men
SIDE C (STEREO VERSION)
1. Black Veils Of Melancholy
2. When My Mind Is Not Alive
3. Ice In The Sun
4. Elizabeth Dreams
5. Gentleman Joe's Sidewalk Café
6. Paradise Flat
SIDE D (STEREO VERSION)
1. Technicolor Dreams
2. Spicks And Specks
3. Sheila
4. Sunny Cellophane Skies
5. Green Tambourine
6. Pictures Of Matchstick Men