 News
Pixies / Come On Pilgrim… It's Surfer Rosa / 30th anniversary reissue
3LP coloured vinyl set • 3CD • Live bonus disc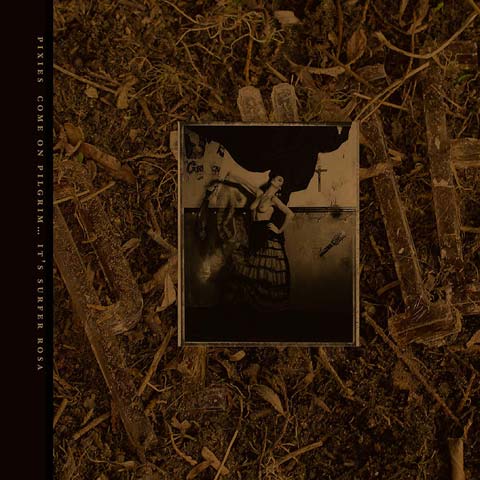 Come On Pilgrim… It's Surfer Rosa is a forthcoming 30th anniversary deluxe edition that brings together Pixies' eight-track mini-album Come On Pilgrim and the band's full-length album Surfer Rosa.

Come On Pilgrim was originally issued in September 1987, its eight tracks taken (in remixed form) from the so-called Purple Tape (which contained 17 early demos). Six months later the influential debut album proper, Surfer Rosa, was issued. This includes Where Is My Mind?, which was memorably featured right at the end of David Fincher's 1999 film, Fight Club.



This anniversary release is a three disc set, since Live From The Fallout Shelter – a very early radio concert that first aired in late 1986 on on WJUL-FM in Lowell, MA – is included as a bonus disc. The 15-song performance includes most of Come On Pilgrim performed live a long time before it was released.
3LP gold vinyl package

Come On Pilgrim… It's Surfer Rosa is available as a three-CD set in casebound hardcover book presentation (with lyric booklet) or a 3LP package, which includes GOLD coloured vinyl records housed in a wide-spined sleeve and a download card. Vaughan Oliver, the longtime Pixies designer, reinterprets his original artwork

Both of these are scheduled for release in September, but 4AD are offering a limited edition deluxe 3LP edition which is pressed on CLEAR vinyl and comes in a clothbound hardcover book and features a lyric book and art book. This will be released 'later in 2018' and can only be ordered direct from the band's website. It's around double the cost of the standard 3LP set.

Come On Pilgrim… It's Surfer Rosa will be issued on 28 September 2018.


Compare prices and pre-order
Pixies
Come On Pilgrim... It's Surfer Rosa - 3LP Gold vinyl
Compare prices and pre-order
Pixies
Come On Pilgrim... It's Surfer Rosa - 3CD hardcover book set
3CD hardcover casebound book package

3LP and 3CD track listings:

Disc 1 – Come On Pilgrim
1. Caribou
2. Vamos (Pilgrim)
3. Isla De Encanta
4. Ed Is Dead
5. The Holiday Song
6. Nimrod's Son
7. I've Been Tired
8. Levitate Me

Disc 2 – Surfer Rosa
1. Bone Machine
2. Break My Body
3. Something Against You
4. Broken Face 5. Gigantic
5. River Euphrates
6. Where Is My Mind?
7. Cactus
8. Tony's Theme
9. Oh My Golly!
10. Vamos (Surfer Rosa)
11. I'm Amazed
12. Brick Is Red

Disc 3 – Live from The Fallout Shelter
1. Holiday Song (Live from The Fallout Shelter)
2. I'm Amazed (Live from The Fallout Shelter)
3. Rock A My Soul (Live from The Fallout Shelter)
4. Isla de Encanta (Live from The Fallout Shelter)
5. Caribou (Live from The Fallout Shelter)
6. Broken Face (Live from The Fallout Shelter)
7. Subbacultcha (Live from The Fallout Shelter)
8. Build High (Live from The Fallout Shelter)
9. Ed Is Dead (Live from The Fallout Shelter)
10. Nimrod's Son (Live from The Fallout Shelter)
11. Down To The Well (Live from The Fallout Shelter)
12. I've Been Tired (Live from The Fallout Shelter)
13. Boom Chicka Boom (Live from The Fallout Shelter)
14. Vamos (Live from The Fallout Shelter)
15. In Heaven (Live from The Fallout Shelter)