 News
Popol Vuh / The Essential Album Collection, Vol. 1 / 6LP vinyl box set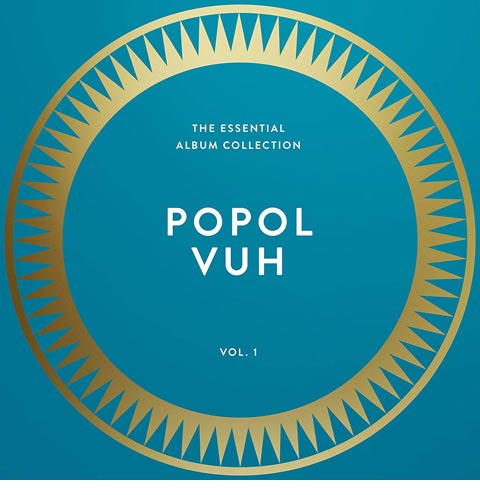 Remastered albums & Herzog soundtracks • CDs also available
BMG are issuing some key works of German electronic avant-garde band Popol Vuh next month. The Essential Album Collection, Vol. 1 – a 6LP vinyl box set – is on the way, as well as some standalone remastered CD releases.

Founded in 1970 in Munich, Popol Vuh were pioneers of electronic music and progressive rock. They were the first German group to use the Moog-synthesizer and delivered music that could be broadly categorised as experimental, ambient, progressive and ethnic. The compositions often have a hypnotic filmic quality and indeed in 1972 they started a collaboration with film director Werner Herzog that saw pianist and keyboardist Florian Fricke writing soundtracks for some of Herzog's best known films (resulting in several Oscar nominations). Fricke died in 2001, bringing to an end Popol Vuh.
Five albums have been remastered by Popol Vuh members Guido Hieronymus and Frank Fiedler. They are debut Affenstunde (1970), Hosianna Mantra (1972), Einsjäger & Siebenjäger (1974), Aguirre (1975) and Nosferatu (1978).
Affenstunde, Hosianna Mantra and Einsjäger & Siebenjäger are the first, third and fifth albums respectively, while Nosferatu is a 2LP set (hence six records for five albums) and features the two albums that were recorded for Werner Herzog classic film of the same name: Brüder des Lichts and On The Way to a Little Way. The other Herzog soundtrack is Aguirre composed for another cult classic (most of his films would fit that description!) Aguirre – The Wrath of God, the movie that features a memorable performance from Klaus Kinski playing Spanish soldier Lope de Aguirre, who leads a group of conquistadores down the Amazon River in South America in search of the legendary city of gold, El Dorado.
The vinyl is all 180g and feature original track listings plus bonus tracks. The outer box is spot varnished and these sets come with a six-page insert and two band posters.
There is no CD box, but rather separate digipaks with the remastered audio and bonus tracks. These come with detailed, illustrated booklets and sleeve notes by by Klaus Schulze, Werner Herzog, Gerd Augustin, Manfred Gillig-Degrave and Michael Fuchs-Gamböck.
The Essential Album Collection Vol. 1 and the CDs are released on 26 April 2019.
Working on getting Amazon Australia on the widget, in the meantime here's the link
Working on getting Amazon Australia on the widget, in the meantime here's the link
Working on getting Amazon Australia on the widget, in the meantime here's the link
Working on getting Amazon Australia on the widget, in the meantime here's the link
Working on getting Amazon Australia on the widget, in the meantime here's the link
Working on getting Amazon Australia on the widget, in the meantime here's the link

Back of the vinyl box. Click image to enlarge
LP1:     AFFENSTUNDE (1970)
LP2:     HOSIANNA MANTRA (1972) 
LP3:     EINSJÄGER & SIEBENJÄGER (1974) 
LP4:     AGUIRRE (1975) – ORIGINAL SOUNDTRACK FOR THE WERNER HERZOG MOVIE "AGUIRRE" 
LP5/LP6: NOSFERATU (1978) – ORIGINAL SOUNDTRACK FOR THE WERNER HERZOG MOVIE "NOSFERATU" 
Affenstunde CD edition (digipak)
Ich mache einen Spiegel (Dream Part 4) 8:51
Ich mache einen Spiegel (Dream Part 5) 4:36
Ich mache einen Spiegel (Dream Part 49) 7:42
Affenstunde 18:35
Train Through Time (Bonus Track) 10:31 
Hosianna Mantra CD edition (digipak)
Ah! 4:48
Kyrie 5:23
Hosianna – Mantra 10:11
Das 5. Buch Mose:
Abschied 3:16
Segnung 6:07
Andacht Pt. 1 0:47
Nicht hoch im Himmel 6:18
Andacht Pt. 2 0:46
Maria (Bonus Track) 4:29 
Einsjäger & Siebenjäger CD edition (digipak)
Kleiner Krieger 1:08
King Minos 4:26
Morgengruß 2:56
Würfelspiel 3:08
Gutes Land 5:14
Einsjäger & Siebenjäger 19:24
King Minos II (Bonus Track) 1:55
Wo bist du? (Bonus Track) 5:42
Aguirre CD edition (digipak)
Aguirre I 7:24
Morgengruss II 2:58
Aguirre II 6:13
Agnus Dei 3:07
Vergegenwaertigung 16:47
Aguirre III (Bonus Track) 7:17
Nosferatu CD edition (digipak)
Brüder des Schattens 5:45
Höre, der du wagst 6:00
Das Schloss des Irrtums 5:37
Die Umkehr 5:57
Mantra I 6:15
Morning sun 3:21
Venus principle 4:41
Mantra II 5:23
Die Nacht der Himmel 5:03
Der Ruf der Rohrflöte 3:39
To a little way 2:33
Through pains to heaven 3:47
On the way 4:05
Zwiesprache der Rohrflöte 3:26